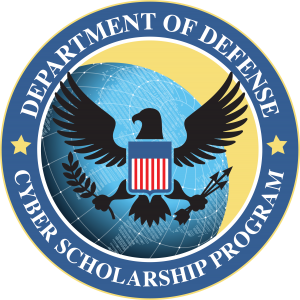 The Department of Defense awarded a grant to the Augusta University School of Computer and Cyber Sciences of more than $500,000 in scholarships within the Department of Defense Cybersecurity Scholarship Program (CySP).
The purpose of CySP is to increase the number of qualified students entering the fields of information assurance, information technology and cybersecurity to meet the DoD's increasing dependence on cybersecurity for warfighting and the security of its information infrastructure.
The grant will provide substantial scholarships to the six students who have been selected as Cyber Scholars of CySP. The overall grant includes funds to develop and to teach courses to high school teachers in the areas of computer science and cybersecurity, with the ultimate goal of better educating K-12 students in these technical areas. Dr. Michael Nowatkowski, associate professor in the School of Computer and Cyber Sciences, is the principal investigator, Steven Weldon is co-investigator and the teacher education portion of this project is co-led by Dr. Ashley Gess of Augusta University's College of Education.
Since 2017, 17 students from the School of Computer and Cyber Sciences have received this prestigious scholarship, with the total amount of funds awarded exceeding $1.5 million. Augusta University is the only university in the state of Georgia to receive these DoD grants for the last four consecutive years.
"Augusta University was the first in Georgia to receive this award, and winning this highly competitive grant for the fourth year highlights the quality of our undergraduate programs," said Alexander Schwarzmann, Dean of the School of Computer and Cyber Sciences.
"We are so proud of the students who have received this prestigious scholarship," says Nowatkowski. "I am extremely excited about the opportunities that the continued support of the DoD CySP brings not only to our students, but also to the growing cybersecurity community here in the greater Augusta area."
Students selected as Cyber Scholars receive the full cost of tuition, books, required fees, and potential travel for degree-specific events. Upon graduation, scholarship recipients are guaranteed employment with a Department of Defense agency.