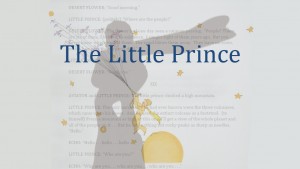 "One sees clearly only with the heart. What is essential is invisible to the eyes."  – Antoine de Saint-Exupéry
The Augusta University Department of Communications will host six performances of Antoine de Saint-Exupéry's classic novella, The Little Prince, beginning March 16 at the Maxwell Theatre. Two showings will be held exclusively for local area high school students and university students with a valid JagCard.
The Little Prince, widely hailed as one of the greatest children's stories of the 20th century, follows the journey of an aviator whose plane crashes in the Sahara desert. Upon exiting his downed craft, said aviator is greeted by a young boy in fine clothing whom he refers to as "the little prince." For eight days, as the aviator struggles to fix his plane, he and the little prince discuss, among other things, the inability of adults to comprehend and appreciate childhood creativity. A heart-wrenching tale of breaking the boundaries between adulthood and the mysteries of being a child, The Little Prince is widely regarded as one of the best children's stories of the 20th century.
Directed and adapted for the stage by Dr. Melanie Kitchens O'Meara, assistant professor of communications, the play remains true to de Saint-Exupéry's original work, first published in 1943.
"It's been an exciting little adventure so far," said O'Meara, assistant professor of communications.
As a lifelong lover of literature and fine art, O'Meara said directing and adapting The Little Prince has been something of a dream of hers.
"In grad school, I had a list of things that I thought one day, eventually, I'll do this," she said. "I didn't think I would get to do it so soon, though, and that's what I love about the story. I didn't have to take much out of the original text to make it work for the stage."
Even so, bringing a story like The Little Prince to life is a monumental task.
Today, the story is considered one of the pillars of French literature. As the fourth most-translated book in existence and one of the world's best-selling fiction novellas, The Little Prince had the distinction of being voted the best book of the 20th century in France. In honor of his literary contributions, author Antoine de Saint-Exupéry and his creation were even featured for a time on the 50 franc bill.
That said, O'Meara was surprised by how little most of her students knew about the tale.
"I don't think any of my students working on the show actually knew The Little Prince before we started," she said. "I thought everyone knew the story. That's one of the things we've been talking about lately. What are some of the more recognizable things we can do that members of the community will be intrigued by and interested in seeing?"
In an effort to draw more attention to the university's theater program, O'Meara said she and her students have been traveling to local high schools to answer questions about upcoming performances.
"I think it's important for people in the community and students going to area schools to understand that Augusta University is a good option for them, that we have these kinds of events and that there are things happening on campus that they can take part in now," she said. "A lot of the high school students they speak to are theater students, so it's important for our students to go out into the community and speak with them about what they're doing."
That kind of communication is crucial, especially when trying to explain the scope of a story like The Little Prince.
"One of the biggest challenges was finding a way to narrate a play without boring or confusing an audience," O'Meara said. "We've also tried to make it very visually and aesthetically pleasing so that, although you've got someone reading you the story, in a sense, you also have this beautiful scenery and dialogue to carry you through it."
Although the play features elements intended to draw in high school audiences, O'Meara stresses that the show's true message is for "older" kids.
"The story is really for adults, in a lot of ways," she said. "It's meant to remind us to tap into that childlike nature and maybe even give us some ideas about how to do that. That said, there are a lot of funny, fun moments for children, and the play as a whole is for everyone. "
For more information or to order tickets, visit or call the Maxwell Theatre Box Office at 706-667-4100.