During his address to faculty and staff gathered at the annual Fall Kick-Off, Augusta University Executive Vice President for Academic Affairs and Provost Neil J. MacKinnon, PhD, said he wants to work harder to build international partnerships on topics that are meaningful to Augusta University and the city of Augusta, the CSRA, the state of Georgia and beyond.
To that end, last week MacKinnon headed up a delegation that traveled to Scotland as AU continues to establish international ties, with a focus on rural health with our Scottish partners. The delegation included David Hess, MD, dean of the Medical College of Georgia, and Tanya Sudia, PhD, dean of the College of Nursing, and Gia Johnson from AU's Office of Protocol and Special Events.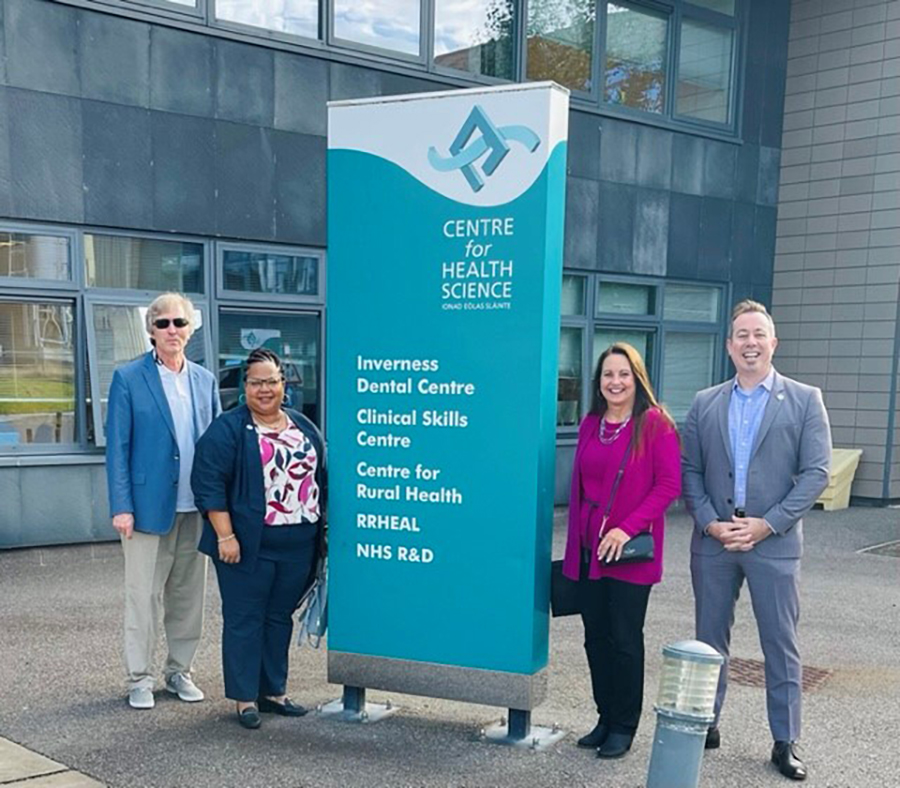 One of the primary focuses of the trip was awarding visiting faculty status to Professor Laura Chalmers from Robert Gordon University and Professor James N'Dow, MD, from the University of Aberdeen.
The two honorary appointments were based on their status as a faculty member and/or researcher at their home institution; record of research and scholarship in rural health matters and/or substantial clinical work in rural health settings; and interest in or experience with international research collaborations.
"This is an incredible time for Augusta University as we have the opportunity to work with two world-renowned universities through these new visiting faculty appointments," said Augusta University President Brooks A. Keel, PhD.
"One thing I continually emphasize is that we at Augusta University have one priority, and that is offering quality service to our students and patients, and this initiative will help us foster new, innovative conversations and ways of thinking to do just that. Professor Chalmers and Dr. N'Dow both possess strong backgrounds in health care, research and instruction, and I have no doubt that they represent the type of people we are seeking for this type of appointment. I am appreciative of the work that Provost MacKinnon, Dean Hess and Dean Sudia have done to pave the way for these quality international partnerships."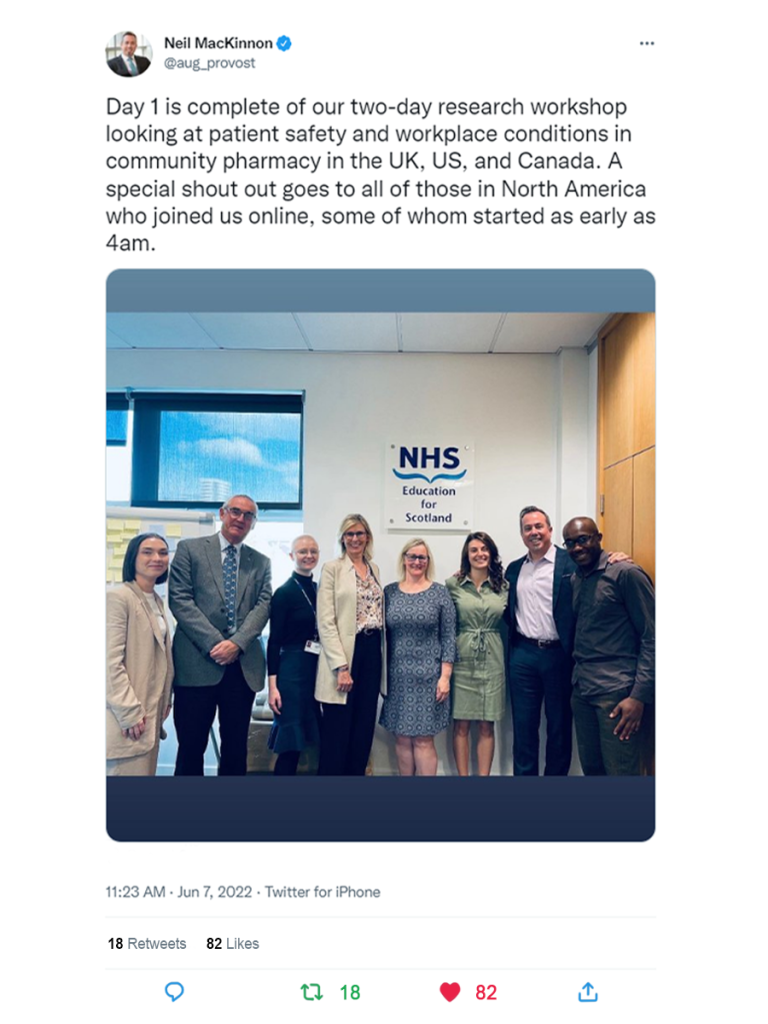 MacKinnon visited Scotland earlier this year in June to lay the groundwork for this and other opportunities for partnership. During that initial visit, he had the chance to participate in a two-day research workshop looking at patient safety and workplace conditions in community pharmacies in the United Kingdom, the United States and Canada. He also met with representatives of Robert Gordon University and the University of Aberdeen to plan partnerships around rural health.
"Augusta University is excited to welcome Professors Laura Chalmers and James N'Dow as Visiting Faculty appointments as both have strong backgrounds in practice, education and research and are working diligently to help advance rural health, both in clinical settings as well as in classrooms," MacKinnon said.
"These two visiting faculty appointments are a step toward really establishing deep, meaningful international partnerships for Augusta University based around topics that are impactful to our university, our city, our region, and our state. I am excited about this bourgeoning partnership between AU, Robert Gordon University and the University of Aberdeen, and what it means for Augusta University, our students and our patients."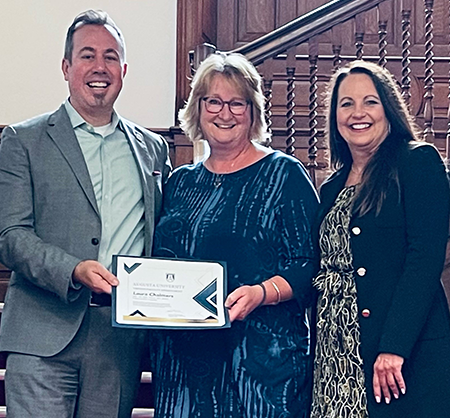 Laura Chalmers, MSc. BA RGN PGCert RNT SFHEA
Chalmers, who has a background in critical care nursing and education, is the head of the Center for Employability and Community Engagement and the Center for Collaborative and Interprofessional Practice at Robert Gordon University. She is also the convenor of the Values Based Practice Interprofessional Education and Practice Network at the Collaborating Centre for Values-Based Practice in Health and Social Care at St. Catherine's College at the University of Oxford. Chalmers is a member of the Centre for the Advancement of Interprofessional Education (CAIPE) board and is active in the Learning and Teaching, National Standard development group and the CAIPE international liaison working groups.
Chalmers is the clinical director for Schwartz Rounds at Robert Gordon and has introduced and developed the integration of Schwartz Rounds Reflective Practice across RGU. Leading initiatives to develop collaborative practice, Chalmers has also introduced the Deliberative Practice Network to RGU, bringing together the student voice in everyday problem-solving approach which balances personal, social and clinical factors in order to support effective, justifiable decisions.
"The College of Nursing is excited to expand our partnership with Robert Gordon University as we welcome Laura Chalmers to an inaugural Visiting Faculty appointment. Her expertise critical care nursing as well as her current scholarly work with interprofessional practice teams aligns for collaborative work between our nursing programs. I appreciate the graciousness of our hosts and look forward to new opportunities for further collaborative research and scholarship projects."

College of Nursing Dean Tanya Sudia, PhD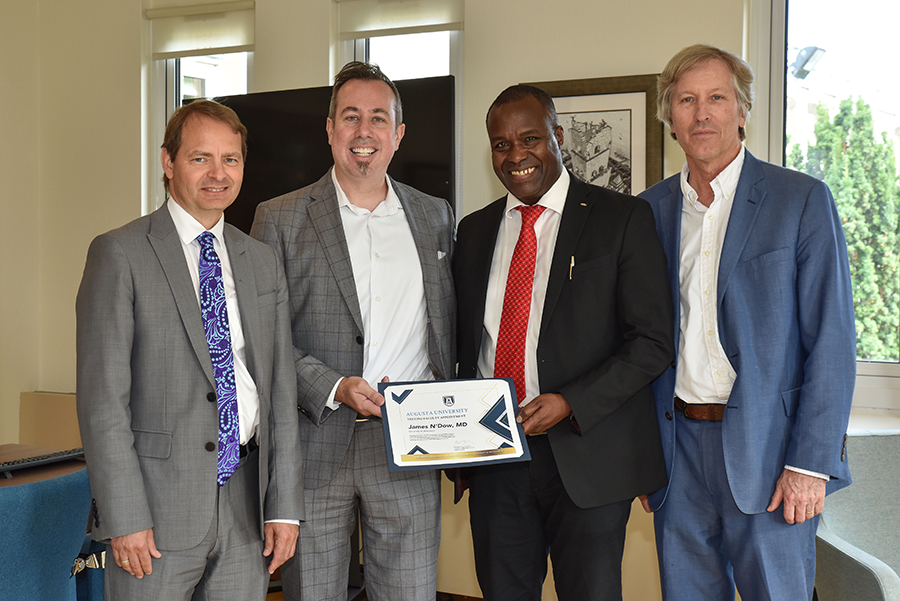 James N'Dow, MD
The chair in surgery at the University of Aberdeen, N'Dow has served as director of the Academic Urology Unit since its establishment in 2001 and is the coordinating editor of the Cochrane Incontinence Review Group. He is co-lead for the recently funded British Association of Urological Surgeons TUF Trials Unit awarded to Chart. Appointed chair of European Association of Urology Guideline Office Board in 2014, N'Dow is the co-founder and MD of UCAN. Under his leadership, the EAU Guidelines have become the most comprehensive and trusted urological surgical practice guidelines globally, endorsed by 75 countries. He is also founder and trustee for Horizons Trust UK charitable trust.
His research activity spans across evidence synthesis, trials, guideline development, implementation science and the use of big data to complement traditional trial data. He has consistently secured significant funding for research totaling over $50.5 million over the past 20 years. He is coordinator of the $12 million EU IMI-funded, five-year project on prostate cancer big data, a large European multidisciplinary consortium of 35 partners from nine countries to harness the power of big data to inform clinical practice recommendations. He recently successfully coordinated a second $25 million EU IMI-funded large consortium of 36 partners called OPTIMA researching prostate, breast and lung cancers.
"Dr. N'Dow reminded me so much of the best of our own faculty, an accomplished leader in every aspect of our tripartite mission and of theirs. I cannot wait for his visit here. In fact, we found the people and physicians of Scotland generally to be extremely nice, humble and accomplished. The generalists have a great deal of autonomy, they even make house calls, which was inspiring to see, and consequently know their patients well. Still, like us, they are working to manage problems such as not having enough physicians and nurses in those rural communities and an aging physician and nursing population that will soon take much talent and experience out of the important equation. I cannot thank everyone we met enough for their hospitality."

Medical College of Georgia Dean David Hess, MD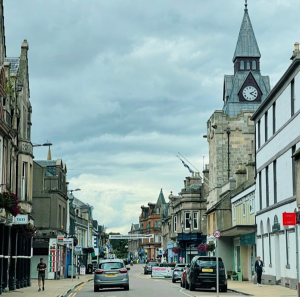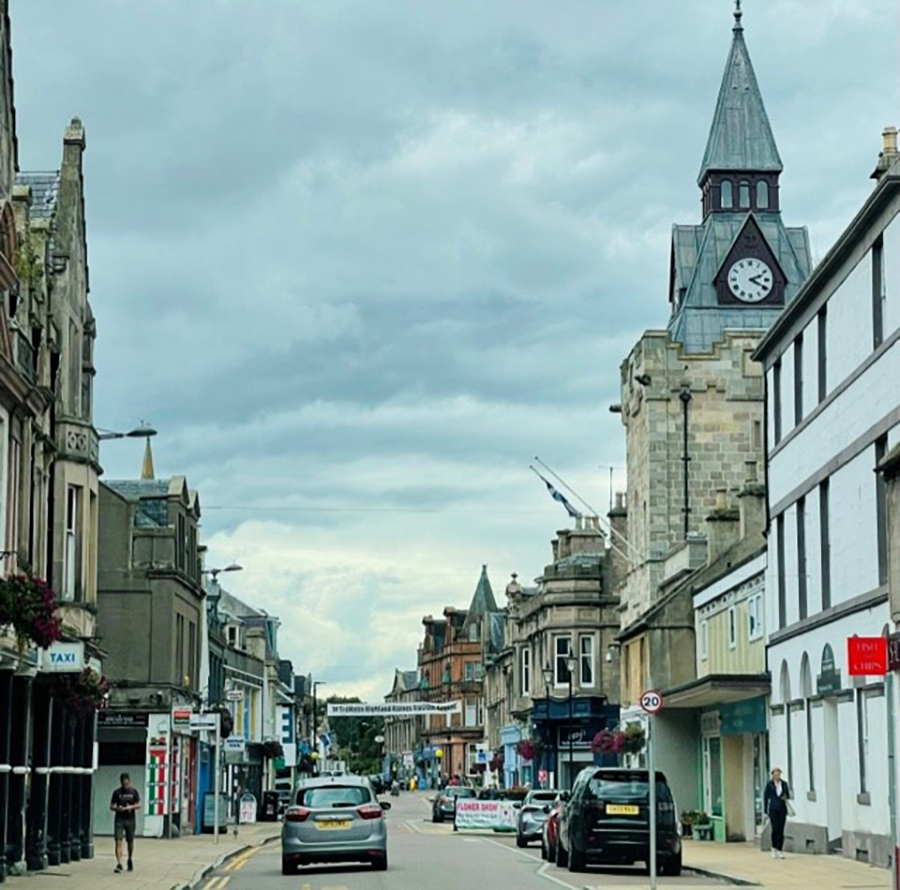 More about the trip
The week-long trip included a visit to the Centre for Health Sciences in Inverness, Scotland, where the delegation was a part of meetings about the newly-launched National Centre for Remote and Rural Health and Social Care and the Rural Credential Across Four Nations of United Kingdom.
While in Inverness, the group met with the leadership of NHS Education for Scotland, the national organization overseeing health professional recruitment and education. The delegation also visited a rural hospital in the village of Nairn, meeting with the physician leadership, physicians and medical students.
While visiting RGU in Aberdeen, the delegation group participated in several roundtable discussions with RGU leadership, the School of Health Sciences, the School of Nursing, and the Midwifery and Paramedic Practice, and the School of Pharmacy and Life Sciences.
The delegation also participated in a special symposium at the University of Aberdeen with the leadership from NHS Grampian, which is the local health authority, RGU, the University of Aberdeen and NHS Education for Scotland, as well as a discussion and presentations at the Suttie Center for Teaching and Learning in Healthcare, including Hess presenting on Rural Stroke Care in Georgia and Beyond, followed by presentations from Aberdeen faculty.