This time last year, Augusta University Online was comprised of a three-person leadership team. No students were yet enrolled, and the first academic programs to be offered under the umbrella of Augusta University's new online presence were still being determined.
With a lofty goal of launching three graduate-level courses by fall 2023, Marc Austin, PhD, and his team worked meticulously to meet the challenge head on and succeeded beyond even their own expectations.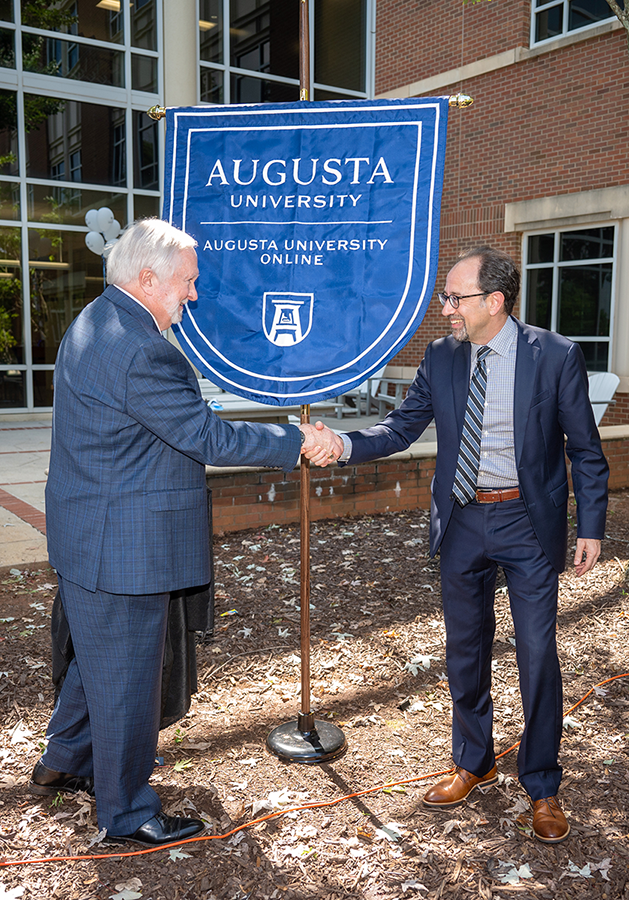 Austin, associate provost and dean of Augusta University Online, leaned heavily on the experience he gained while at George Mason University, as well as that of his two assistant vice presidents, Cristina Raecke and Corey Vigdor. Raecke heads up strategic marketing and enrollment management, while Vigdor is over online education operations.
The trio began identifying the ideal learners by using the resources already available at AU and implementing new practices and tools that would help catapult Augusta University Online into the online education spotlight.
Fast-forward one year, and Augusta University Online has enrolled 166 students into three graduate-level programs: Master of Public Health, Master of Science in Information Security Management and Master of Education in Instruction.
READ MORE: Augusta University Online ready to welcome students to first three graduate-level programs
"It's incredible to think that it's only been a year, and we've been able to launch some of the highest-quality online programming in the country," Austin said at a celebration held on the Summerville Campus. "I couldn't be more thrilled with the support we've received from the university and the students who have engaged with us, and from the faculty who have been amazing in helping us design something that was new and different."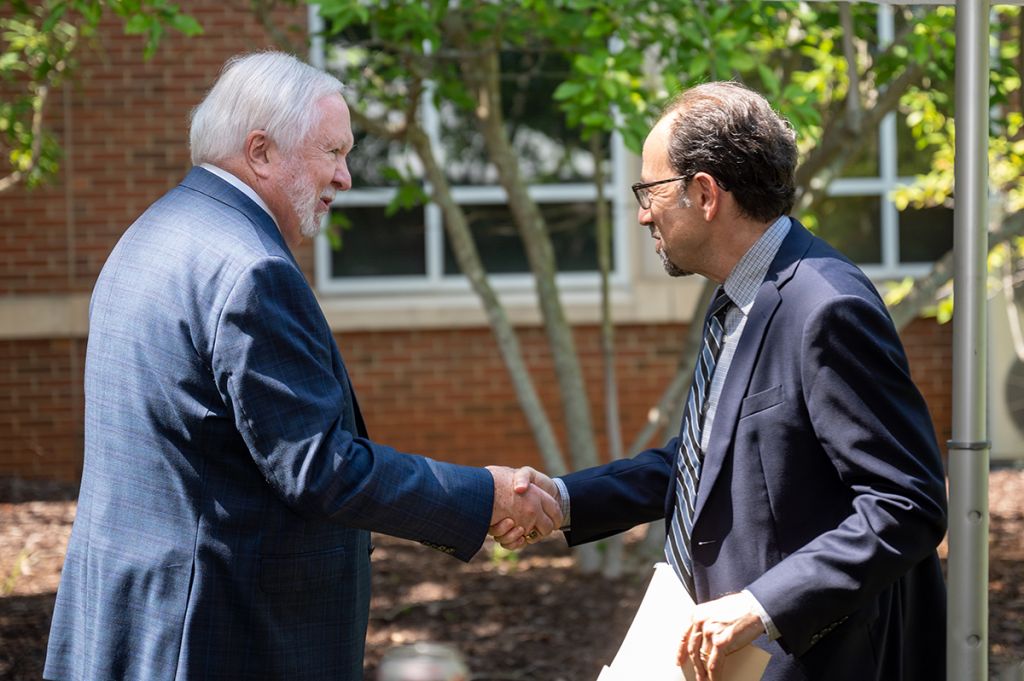 While the groundwork was being laid, Austin preached patience and promised the "race" to completion was a marathon and not a sprint. But the entire time, he had the full support and confidence of President Brooks A. Keel, PhD, and Provost Neil J. MacKinnon, PhD.
"This was a monumental undertaking and one that will certainly be key in helping Augusta University reach our aspirational goal of 16,000 students by the year 2030. But it's about more than just adding students and increasing enrollment," Keel said. "The landscape of higher education has changed tremendously since I entered the field almost 40 years ago, and it's going to keep changing. For us to keep up with those changes, we have to be innovative in the way that we adapt while still remaining true to the values and core mission that has made this university so successful."
Austin was hired in early 2022 following a successful stint at George Mason, launching new, innovative approaches to online, executive and adult learning programs. His knowledge of the business world and organizational transformation made it easy for MacKinnon and others to identify him as the person to launch a strategic initiative focused on growing the university.
"This all started with President Keel and his vision. It was almost exactly three years ago that I interviewed to come to AU, and part of my conversation with the president centered around this concept of online education," MacKinnon said. "Sometimes faculty and even deans view online education as a threat, but Marc has had the opposite approach in working collaboratively with our deans and faculty. Marc had done a lot of this already at George Mason, and the team he has formed since his arrival has been incredible."
Throughout the process of getting Augusta University Online off the ground, Austin worked closely with the deans, faculty and staff of the three colleges and schools whose programs were chosen to be the first three to launch. At the celebration, Keel, MacKinnon and Austin each thanked Judi Wilson, EdD, dean of the College of Education and Human Development, Alexander Schwarzmann, PhD, dean of the School of Computer and Cyber Sciences, as well as their faculty and staff, and those within the Institute of Public and Preventive Health, which is transitioning under the banner of AU's proposed School of Public Health.
"All of our decisions about which programs to launch started with the student: Where are they going to get jobs? How are they going to advance their careers? What skills are they going to be learning and developing through our programs that they can apply? That meant we had to understand the entire workforce in the nation, as well as in Georgia. It wasn't an easy task, but I think we made some great decisions as a result," Austin said.
Of the first 166 students to enroll in Augusta University Online, 92 students enrolled in the MED in Instruction program, 45 in the MPH program and 32 in information and security studies. Thirty-two students are already alumni of Augusta University, and 91% are from Georgia, with four other states and Washington, D.C., represented, including South Carolina, Arizona, Florida and Tennessee. In Georgia, there was a heavy concentration of students around the Atlanta area.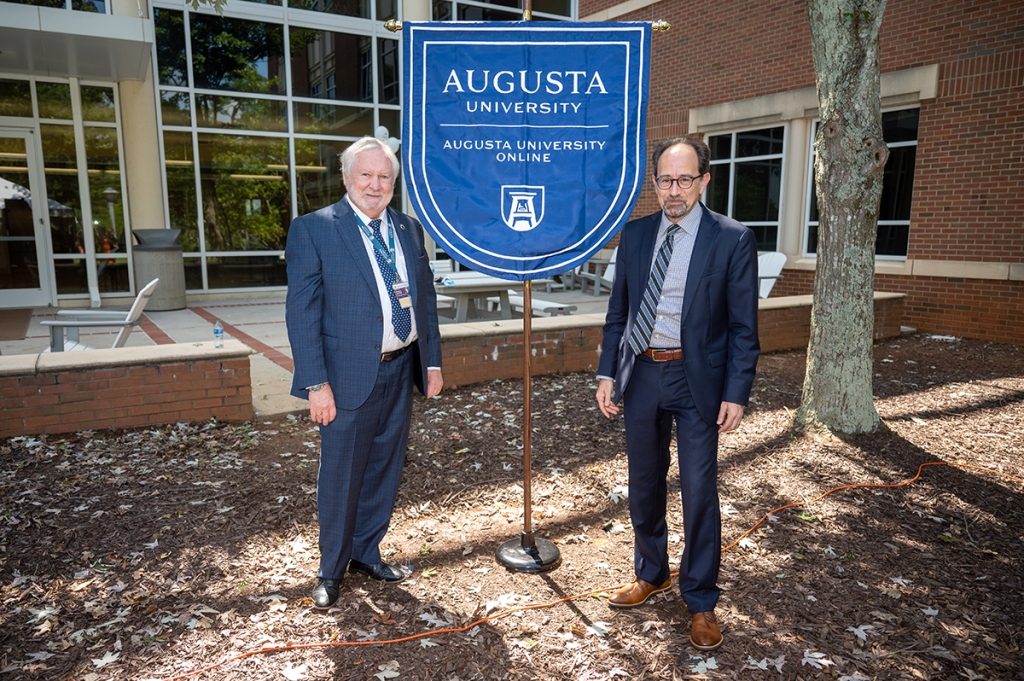 "That we have so many students from outside of Augusta enroll in our program says a lot about the Augusta University brand, that it travels so well," Austin said. "People recognize it as valuable, and they come to the university for a quality education. That was our aspiration: to attract the best and the brightest, and we have succeeded with that. I couldn't be more excited about the quality of the students that we have attracted to Augusta University, and I am excited to continue to expand AU's reach across the country and beyond."
READ MORE: Augusta University, U.S. Army Cyber Center of Excellence partner to create two online master's programs to better serve soldiers
In addition to the first three programs to officially launch this fall, Augusta University and Augusta University Online have also expanded a partnership with the U.S. Army Center of Excellence (CCoE) to allow service members stationed at Fort Gordon and around the world to have the opportunity to further their education at their own pace and from wherever they are located.
The programs include the Master of Science in Information Security Management, offered through SCCS and led by Schwarzmann and James Smith, DBA, and the Master of Arts in Intelligence and Security Studies, offered through Pamplin College of Arts, Humanities, and Social Sciences and led by Dean Kim Davies, PhD, and Craig Albert, PhD.
"We are extremely proud of the quality of education and the value of an Augusta University degree. When we began the process of creating Augusta University Online, we aimed to continue to increase the value of that degree, and we have successfully done so through innovation, engagement and collaboration," Keel said. "Throughout the process of creating, implementing and marketing Augusta University Online, we have been very intentional in the way in which we have added programs by looking at what prospective students want to study and what's needed most in the job market."