Augusta University's Division of Institutional Effectiveness (IE) recently hosted guests from Thompson Rivers University in British Columbia, Canada to discuss integrated institutional planning.
On campus to network were Jan O'Brien, director, and Dana Prymak, integrated planning project manager of TRU's Department of Integrated Planning and Effectiveness.
The AU and TRU teams connected through the Planning Institute led by the Society for College and University Planning in August 2020. Brittany Cipollone, senior planning and assessment coordinator at AU, met Prymak at the virtual workshop, and they made a connection right away.
Since then, both Cipollone and Prymak have been invited to join the society's Emerging Leaders Program.
During their visit, TRU learned about Augusta University and its Institutional Effectiveness team, AU's strategic and academic planning processes, and project management and institutional research at AU — but the focus was on integrated planning.
Integrated planning is a type of strategic planning that engages all units of an institution, including academic affairs, student affairs, information technology, communications and marketing and more to ensure planning efforts align both vertically (from the mission itself to daily operations) and horizontally (across divisions, departments and processes).
Integrated planning also prioritizes communication from all stakeholders, which, in higher education, includes faculty, students, staff, alumni, community members and more.
Augusta University employed integrated planning during the yearlong development of its most recent strategic plan, Creating a Legacy Like No Other, which launched April 27. Fresh off the planning process, IE had plenty of knowledge and advice to share.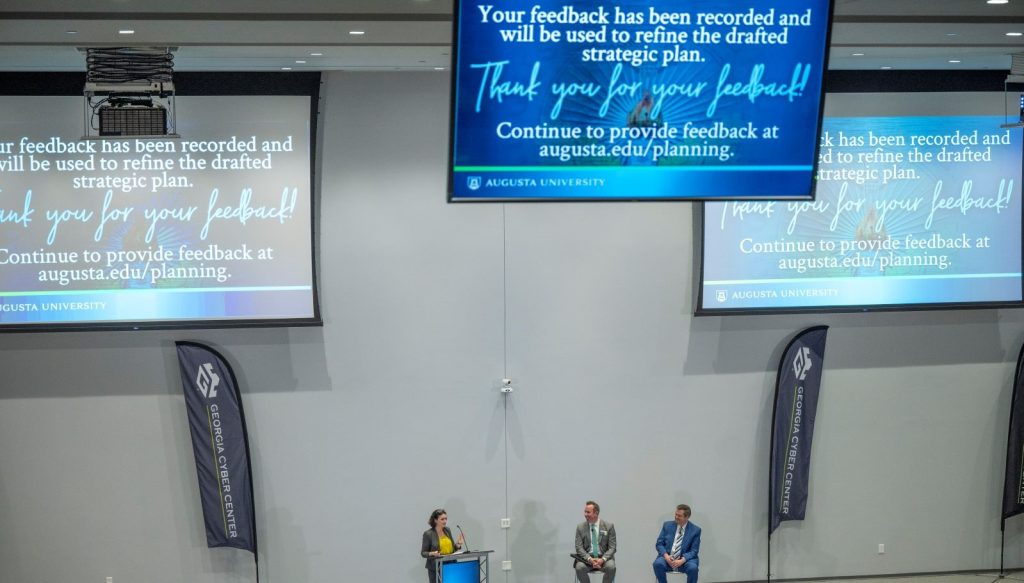 "This isn't our first time strategic planning, but this is our first time trying to integrate it, so it's great having the opportunity to see someone who's just a little further along on the path than we are, where the memories are still fresh," said O'Brien.
"I would say Augusta University's is one of the most advanced integrated strategic planning processes we have come across so far," said Prymak.
Augusta had much to learn from Thompson Rivers as well. As the TRU team learned from AU's integrated planning process, AU learned from their processes related to scenario planning and institutional research. The TRU team even shared their personal project templates.
Additionally, Mickey Williford, vice president of institutional effectiveness at Augusta University, was excited by TRU's diversity and sustainability efforts. She could potentially see them incorporated on AU's campuses in the future.
Both teams concur this in-person networking experience was worth the 2,800 mile journey.
"The benefit of having them come here is we're able to have so many more unfiltered conversations. And our conversations are allowed to go off topic and off agenda — whereas when we've done virtual meetings, that time is decided and it's pretty finite," said Williford.
As the partnership between the two universities strengthens, Williford thinks it's a far better model for institutional collaboration than the typical conference and workshop networking experience.
"It's something we should do more often in this way — not just going to conferences and sitting in sessions and maybe catching up with folks at the bar, which is so fleeting," she said.
Reflecting on the role of IE, both teams are passionate about institutional planning because it helps a university keep its promises — to both itself and the community it serves.
"In our mission, we only have one verb: 'To serve.' To serve our learners," said Prymak. "It's something that means a lot to me. We want to make those processes easier and better for our students — to make sure our stakeholders are prepared for tomorrow, for what's to come, and to prepare the future generation."
O'Brien knows that to accomplish this, they have to plan ahead.
"If the goals that you've set out are important, truly important, then you have to plan for them. That's honoring the goals. And I think the goals that we have at the university are worth our effort and our honoring," said O'Brien.
According to Williford, ensuring the institution 'honors' its goals can influence the university community's perspective on strategic planning and its value.
"There's that reputation of planning being the thing where you say what you're going to do, but it doesn't cause you to do what you're going to do. And so that's what integrated planning means: You continue to integrate many processes and efforts and initiatives and projects, and they all need to be integrated for coherence, and that that develops follow through," she said.
Review Augusta University's latest 5-year plan.