Jennifer C. Sullivan, PhD, dean of The Graduate School at Augusta University, has dedicated her research to better understand why blood pressure increases in hypertension and raising awareness to the dangers of not paying attention to heart health, particularly among women.
Throughout her career, Sullivan has been continuously funded by the National Institutes of Health (NIH) and the American Heart Association since becoming a tenure-track faculty member in 2008, and now she has a chance to take her research further after securing a five-year, $7.5 million grant to have Augusta University designated as a Specialized Center of Research Excellence on Sex Differences (SCORE) by the NIH's Office of Research on Women's Health.
It's a distinction that places AU among 10 other leaders in research for the field, including Brigham and Women's Hospital, Cedars-Sinai Medical Center, Emory University, Johns Hopkins University, Massachusetts General Hospital and Harvard Medical School, the Mayo Clinic, the Medical University of South Carolina, the University of Colorado and Yale University. The University of California, Los Angeles has two SCORE programs.

"I'm so proud and excited for this opportunity because this has been what I have focused my research program on for my entire career, and to be able to advance it with a program like this, where we can actually build a unique program focused on an area that can make a difference, is just so much fun," Sullivan said. "Just the fact that Augusta will be included on this list, attached to an organization of the caliber of NIH, will provide opportunities that we've never had before, especially for our students and younger researchers."
Sullivan's SCORE project, "Improving awareness of women with hypertension: ROAR (Rural, Obese, At Risk)," focuses primarily on the fact that, while young women are considered "protected" from hypertension and the associated cardiovascular risk relative to age-matched men, the elimination of hypertension is projected to have a larger impact on cardiovascular disease (CVD) mortality in women.
"The group of people with the highest risk of death from hypertension is in the rural South of the U.S., specifically Black women are particularly vulnerable to developing hypertension and CVD," Sullivan said.
According to Sullivan's research and information available from the American Heart Association (AHA), approximately 19 million deaths were attributed to CVD globally in 2020, an increase of about 20% from 2010. Both Sullivan and the AHA state that cardiovascular disease remains the leading cause of death for both men and women in the United States, and that hypertension is a major modifiable risk factor for CVD.
Sullivan said, "It has been suggested that eliminating hypertension would reduce CVD mortality by over 30% in men and 38% in women, but a critical barrier to limiting premature death from CVD is lack of awareness surrounding the risks of CVD. Our overall goal in this new funded project is to transform academic and community understanding of sex as a biological variable in the consideration of hypertension."
The three research projects include Sullivan's lead project on high fat diets, a project on systemic lupus erythematosus (SLE) disproportionately affects young women led by Erin Taylor, PhD, at the University of Mississippi Medical Center, and another project looking at the role of inflammation and how immune cells are activated in SLE led by Michael Ryan, PhD, at the University of South Carlina's School of Medicine.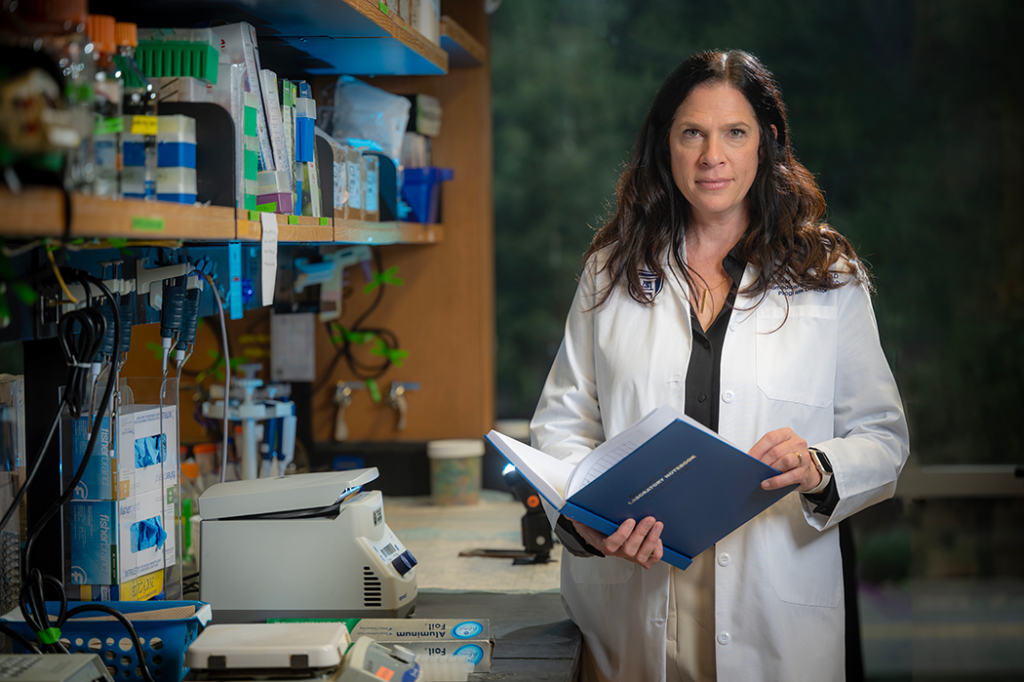 But there is more to SCORE than just conducting research. Each SCORE team is also responsible for a career enhancement core and a leadership administrative core.
"What really sets these grants apart are the emphasis on the career enhancement and leadership administrative cores. The Career Enhancement Core is designed to be a bit open ended for each SCORE, but in talking to the NIH, what they were most excited about in our project is the community outreach piece we designed.
"Our grant includes people across the entire campus, including Augusta University's Medical College of Georgia, the College of Allied Health Sciences, the College of Education and Human Development and multiple campus partners including some of our sororities on campus and the Center for Writing Excellence," Sullivan said. "More specifically, the COEHD is able to extend our outreach efforts to our local schools to begin educating children on the importance of screening, and our sororities are obviously connected with other chapters across the southeast which helps us spread our message, as well."
Sullivan notes that, through this portion of the project alone, there will be numerous opportunities to include students from Augusta University's CAHS, College of Nursing, Department of Kinesiology, the Biomedical Sciences PhD program and the proposed School of Public Health.
Marlo Vernon, PhD, associate professor at MCG and researcher for the Georgia Cancer Center, and Amanda Behr, chair of the Medical Illustration Program in CAHS, are also involved in various stages of the project.
"The other thing the Career Enhancement Core will do is provide pilot grants to three research projects each year for early-stage investigators. We'll also be able to fund sabbaticals for graduate students or postdocs to go someplace else and learn cutting edge techniques from other experts, so there is a lot built in that will help us support up-and-coming researchers," Sullivan said.
"We're now part of this consortium, and they have a once-a-year, in-person meeting at the NIH offices, so we'll go to that for the first time this year, and what's neat about it is they're really promoting young investigators. Each grant can bring up to eight people, the our hope is that we will have the investigators funded by the pilot projects attend next year, giving those folks the opportunity to present and talk to program officers with the NIH and develop a pipeline of investigators committed to studying women's health and sex as a biological variable."
Sullivan is also looking to designate some of her summer graduate and undergraduate research positions to the project beginning next summer.
"The Graduate School already has a summer program to support undergraduates that we will be able to piggyback off of. We have set aside five slots in that program for this that will go to students studying the sex as a biological variable, and the applications for that program, STAR, is already open," Sullivan said.
"We're also planning a symposium in collaboration with the Physiology Department in April 2024. This is an annual event sponsored by the department, and this year they selected sex differences as the topic, so we are hoping to help increase exposure and attendance."
SCORE
Each SCORE program serves as a national resource for translational research, at multiple levels of analysis, to identify the role biological sex differences have in the health of women. These NIH-supported Centers of Excellence are vital hubs for research on sex and gender that also provide pilot funding, training and education. SCORE investigators provide leadership in the development and promotion of standards and policies for the consideration of sex as a biological variable (SABV) and sex differences in biomedical research. Identifying the contributions of biological sex can assist in understanding the diversity of health outcomes and how this knowledge can be applied to the development of the next generation of interventions and medical treatments leading to improvements in women's health.
 
The current SCORE U54 program leverages over 15 years of prior investment to create a disease-agnostic research program focused on sex differences and major medical conditions affecting women in the United States. The former Specialized Centers of Research (SCOR) P50 program funded established scientists at centers across the country, with support from our NIH Institute and Center (IC) partners. Basic, clinical and translational research approaches led to seminal contributions to the study of sex differences related to women's health. The current ORWH SCORE program remains the only NIH centers program supporting disease-agnostic research on sex differences.
Each SCORE program has three highly integrated, synergistic research projects and an administrative core. The Career Enhancement Core is a new feature of the program whose goal is to support pilot research and train the next generation of scientists in the study of sex differences. As NIH-supported Centers of Excellence, the SCORE program's centers provide leadership and serve as a resource in the development and promotion of standards and policies for the consideration of sex differences in biomedical research.