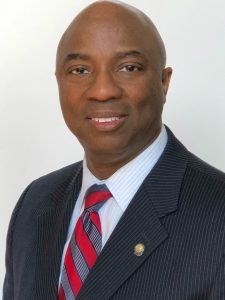 Timothy Gaillard, a health care executive with nearly 30 years' experience, has been named chief operating officer for Augusta University Medical Center, effective May 1.
In his new role, Gaillard will oversee the daily business operations of the medical center to ensure delivery and accessibility of quality health care services.
"Mr. Gaillard not only brings a wealth of knowledge to the medical center, but he has proven to be a results-driven leader with a record of operational success," said Augusta University Medical Center CEO Lee Ann Liska. "We are fortunate to have his quality of expertise at our institution, and we know he will work hard in taking our patient experience to the next level."
Gaillard previously served as senior vice president and COO for the University of Wisconsin Hospital and Clinics, chief administrative officer at the University of Iowa Hospitals and Clinics, director of engineering services at Palmetto Health and a staff sergeant in the United States Army Health Services Command.
"I am excited to join this team of dedicated professionals focused on providing the highest quality of patient- and family-centered care to the Augusta area and beyond," Gaillard said. "The medical center has a respected level of prominence throughout the southeast, and I look forward to helping our team drive growth and advance patient care."
Gaillard is a member of Vizient and a fellow of the American College of Healthcare Executives. He serves as chair of the board of the Madison Regional Economic Partnership and treasurer of the board of the Urban League of Greater Madison. He is also a board member of the Wisconsin Dialysis Institute and the University of Wisconsin Inpatient Rehabilitation Hospital.
He earned a bachelor's degree in restaurant and tourism and a master's degree in health care administration, both from the University of South Carolina. He also received an MBA from Boston University.