Being born and raised in Tehran, Iran, Ghazal Foroutan knows all too well the strict rules enforced on women to wear hijab headscarves and modest clothing in her home country. She is also aware of the harsh punishments that can occur if women don't abide by these rules.
"As a 6-year-old, you wore a headscarf and went to school. There were no exceptions," said Foroutan, an assistant professor of graphic design at Augusta University. "I moved to the United States four years ago, but I spent most of my life in Tehran. I had the full experience. We had a lot of limitations."
As an artist, these limitations often prohibited her from freely expressing herself while living in Iran, Foroutan said.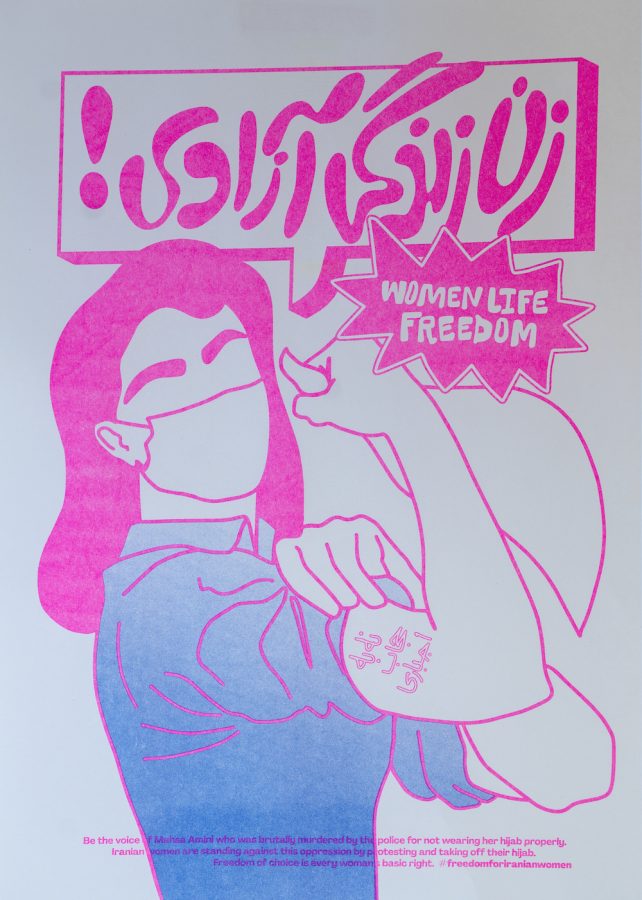 Foroutan, who has studied graphic design since she was 16 years old, won a well-known international student competition called the Khwarizmi Youth Awards in 2012 for her illustrations. This led to her being accepted to one of the best schools in Tehran, Alzahra University.
"I remember during my college years, we would try to express ourselves by wearing colorful clothes or colorful scarves just to show our personalities," Foroutan said. "You are young, so you want to wear what you want to wear, but we had to follow all the rules and regulations. It was a lot of pressure and stress.
"Just knowing that someone might pick on you or hurt you at any minute because of what you're wearing is really frustrating," she added. "Women in Iran feel that pressure all the time in their everyday life."
Fighting for women
For years, Foroutan has been interested in design activism and using art as a tool to protest injustices around the world, particularly the suppression of Iranian women.
"My thesis during my MFA at Oklahoma State University was a series of visual explorations in response to compulsory hijabs in Iran for Iranian women," she said. "The exhibition consisted of six different projects in various media. They were all reflecting the same message, which was the compulsory hijab for Iranian women and its effects on their daily lives and careers throughout history."
In September, Foroutan learned of 22-year-old Mahsa Amini, who was arrested in Tehran for "improperly" wearing her hijab. Amini was placed in detention, where she was brutally beaten into a coma and died three days later on Sept. 16.
Since Amini's death, there has been an uprising of protests around the world to express solidarity with Iranian women. Demonstrations have taken place across the globe in cities such as London, New York, Paris, Washington, D.C., Seoul, Sydney, Berlin and Zurich.
Over the past two months, Iranian women have burned their headscarves, cut their hair and chanted Amini's name during massive demonstrations. A group of Iranian schoolgirls was even seen ejecting officials from school grounds and hanging signs in their classroom that read "woman, life, freedom."
While the protests have opened the world's eyes to the oppression of women in Iran, it has also come at a tremendous cost. Hundreds of people have reportedly been killed by state security in Iran during these demonstrations.
A 16-year-old named Nika Shakarami was involved in one of the public protests in Iran and she suddenly disappeared after being chased by security officers. Nine days later, the police showed her mother images of a dead body, which she identified as Sharkarami.
"Her cheeks were broken. Her teeth were broken. She had received a severe blow behind her head, and her skull was dented," her mother told The Guardian last month.
Protesting through graphic design
After seeing the demonstrations in her country, Foroutan knew she needed to help shine the light on the suppression of women in Iran.
"When I saw what was going on, I told myself, 'I have to be a part of this,'" Foroutan said. "While I don't see myself as a person who goes to protests, I knew I could make a statement using my skills in graphic design. I have that power."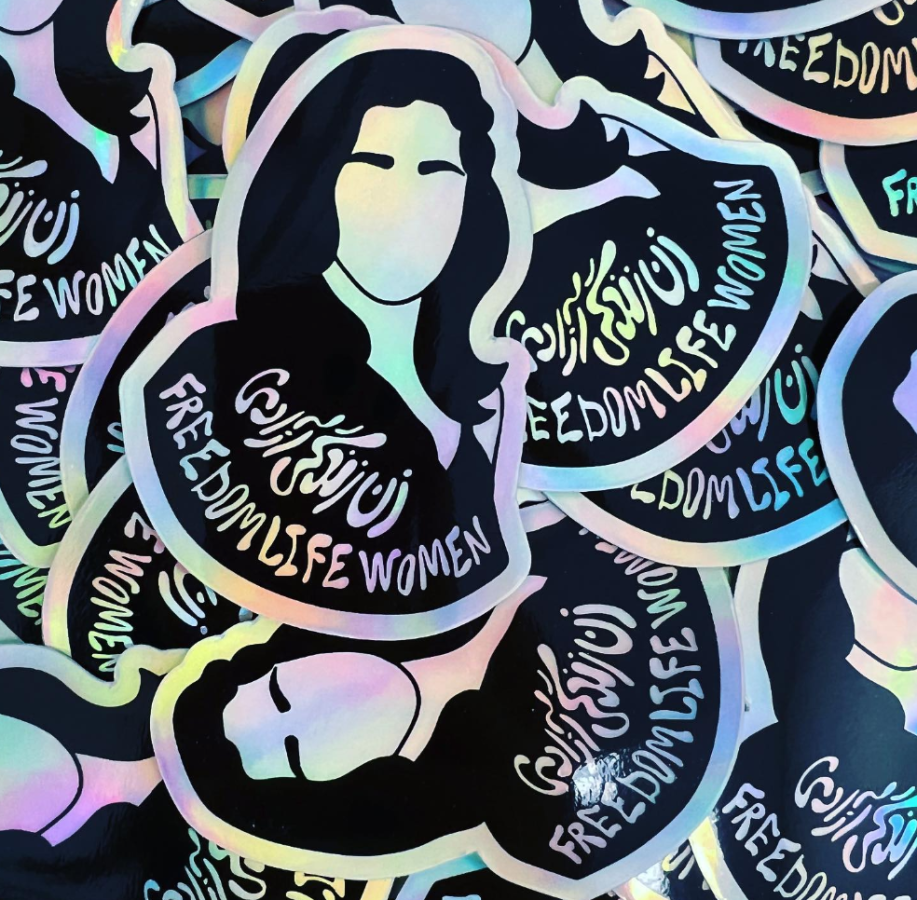 Foroutan joined designers from around the world who are creating protest imagery and sharing it on social media to express solidarity with the women of Iran. For Foroutan's design, she adapted the iconic 1940s image of Rosie the Riveter into an Iranian woman demanding freedom.
"My version of Rosie is an Iranian woman who has a tattoo on her arm that says, 'No to compulsory hijab,'" Foroutan said. "She has a white head scarf that she has taken off and is holding it in her hand as a sign of peace."
Foroutan decided to make her design using a Risograph printe, which "has fluorescent and vibrant colors that really stand out, but this kind of machine was also made for fast news," she said.
"For many years it was used for printing news that people wanted to hand out on the street, like flyers. Something that can be printed really quickly," Foroutan said. "So, I thought we're trying to bring awareness to this movement and it's happening at a fast pace, so this machine makes perfect sense to be used as a technique for my design."
An international response
After posting her design on Instagram, Foroutan said the response to her artwork has been positive.
"I only posted it on my Instagram account, but I got more than 16,000 views in just a few days," she said. "People began asking me for the file, so I uploaded the file for everyone to print. I've been getting photos from all over the world like Turkey, Switzerland, Canada, Germany and London of people using my poster everywhere. Some people made it into a sticker and are sticking them all over the place to spread awareness."
Foroutan had already developed another sticker for a previous show featuring a collection of visual explorations in response to Iranian women's rights. She posted those stickers on Instagram as well, and she quickly began getting requests for the stickers from people around the globe.
"I mailed the stickers to a lot of people who asked for them free of charge and as a donation," she said, adding that she has also developed T-shirts and sweatshirts featuring designs she created with an Iranian-American woman from Oklahoma City who has a print shop. "We are trying to give people a chance to buy the T-shirts at a reasonable price so they can wear them and show support for this cause."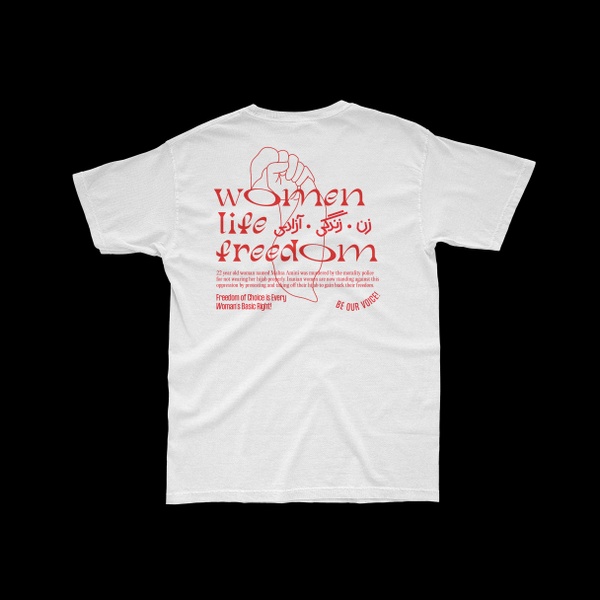 In October, Foroutan's design was featured in two stories by international media outlets: The Guardian and Design Week. She was also recently featured in the podcast, "Unladylike," hosted by Cristen Conger.
"I really appreciate that the media is trying to bring awareness to this cause," she said. "There were several artists featured in both articles and they are all doing amazing work. And I think all of the artists and designers are getting the feeling like, 'It is time for us to be involved.' Honestly, I think this is the first time that we are seeing Iranian artists being so responsive to a movement that's happening, which I think is amazing."
A few weeks ago, Foroutan and some of her family and friends attended one of the protests for the first time in the United States. It was organized to show support for Iranian women's rights.
"I started putting stickers everywhere," Foroutan said, laughing. "I also wore the T-shirts I designed and held my posters for the first time at a protest. I'm trying to do anything I can on my part to express my support for Iranian women and to end the brutal violence that is happening in Iran."
She continued, "There should be more light shed on this issue. People need to be more aware. This is the first time we are witnessing a revolution and movement started by women in Iran; therefore, I'll do anything in my power to help it succeed. My family, friends and the beloved people of Iran deserve freedom and a chance at a better life."
To order a T-shirt or sweatshirt designed by Ghazal Foroutan, shop Peelē. Visit Foroutan's Instagram page to view her poster designs, stickers and shirts.