Augusta University remains vigilant amid the COVID-19 pandemic and has seen relatively low case numbers since bringing students back to campus in August.
"We've actually proven ourselves to be a safer college because we've had really low numbers for positive COVID-19 cases," said Dr. Susan Davies, vice president for Enrollment and Student Affairs.
Davies believes this success is largely due to AU students. "Our students have been doing an extraordinary job following the public health guidelines. Actions like wearing a face covering, practicing social distancing, using the hand-sanitizing stations, and staying informed are really making a difference on our campus," she said. "We thought our students deserved recognition and thanks for that—and that's what inspired the #JaguarsMaskUp T-shirt campaign."
From Monday, Sept. 28 through Friday, Oct. 9, the Division of Enrollment and Student Affairs hosted "Thank You Crews" on the Summerville and Health Sciences campuses. These crews, consisting of faculty, staff and student volunteers, handed out free T-shirts to students who were spotted complying with public health recommendations on campus.
Volunteers included several academic deans and Augusta University President Brooks A. Keel, PhD.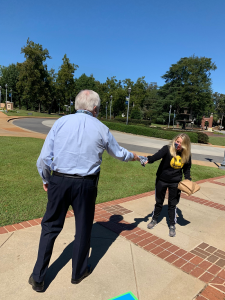 "Our crews passed out 500 T-shirts over the course of 10 days, so about 50 shirts per day across our campuses. It was such a coordinated and collaborative effort," says Dr. Patrice Jackson, associate vice president for Student Affairs.
One of the campaign's student volunteers, freshman pre-nursing major Corinne Knight, thought the campaign was a fun way to show appreciation for students.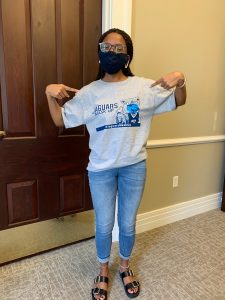 "I enjoyed giving shirts out to students and being able to see them light up. Receiving a T-shirt made me realize that even though it's a tough time, our school appreciates us following the guidelines," she said. "These T-shirts served as a positive reinforcement for students to continue following directions. This campaign was a great way to bring a sense of community to campus and helped students feel even more welcomed here."
Due to the positive response, Enrollment and Student Affairs looks forward to another T-shirt campaign in the spring.
"This campaign exceeded all of our expectations. I knew I missed interacting with students, but I didn't realize how much until working on this campaign," says Dr. Scott Wallace, associate vice president and Dean of Students. "I think we found our students needed the interaction, too, and because of that we're planning another campaign at the beginning of spring to not only engage our students, but also remind them that following the 'three Ws' works and is an important aspect of being a Jaguar."
Learn more about the Division of Enrollment and Student Affairs.