Students in Augusta University's Department of Communication, part of the Pamplin College of Arts, Humanities and Social Sciences, are getting a head start on their careers — and increasing their postgraduate marketability — by earning professional experience at the same time as their degrees.
Carlos Rodriguez, a junior communication student, keeps himself busy on campus as a member of the men's cross country and track and field teams and as co-editor-in-chief of The Bell Ringer, the student newspaper. But he's taken on a new endeavor: entrepreneurship.
Combining two of his passions — sports and media — Rodriguez has started his own company, Crodfilms, where he creates highlight reels for athletes. His specialty is filming basketball.
"I had been interested in making basketball mixtapes ever since I was in high school. I played basketball, so I spent a lot of time watching big-time recruits get their own mixtape from different media outlets," he said.
"I realized in the CSRA we didn't really have anybody making videos like that, at least not at the time I was in high school. I wanted to create a platform to showcase the underrated talent of the area and eventually get to film high-level recruits. I've been able to do both as my brand has grown."
His work with Crodfilms has led him to film several big events, including the Nike Peach Jam.
Rodriguez credits his curriculum at Augusta University for helping him learn the tricks of his trade — and for helping him build a recognizable brand.
"I give credit to Professor Arthur Takahashi for jumpstarting my editing skills in Premiere Pro, which is what I use to edit the videos I make. In his class, I was able to learn the fundamentals of the software and create videos that would help me while editing my basketball videos," he said.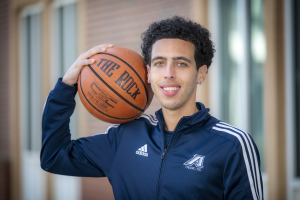 "Learning the basic skills of editing here at AU has helped me tremendously. I had no idea how to work the Adobe software, so taking the
COMM 3030
course got me to learn new skills that eventually led to making a name for myself not only in the city but around the state. If it wasn't for the class, Crodfilms wouldn't be what it is today. At any gym I go inside around town, somebody knows who I am due to my work."
Rodriguez is preparing to declare a minor in business administration to keep his company running smoothly, and after graduation, he plans to head straight to graduate school for a sports management or sports communication degree.
Other communication students are building professional experience with part-time work. Students Chris Rickerson and Shelbie Summerlin, Rodriguez's colleagues on The Bell Ringer staff, have been covering high school sports for The Augusta Press, a local online newspaper. They were connected to the opportunity thanks to Dr. David Bulla, chair of the Department of Communication.
"I took Dr. Bulla's sports communication class during the fall and he said The Augusta Press was looking for students to cover high school football on Friday night. I began covering football for them and loved it. I also am covering some high school basketball for them now," Rickerson said.
"The job has taught me how to work as reporter and actually have a deadline at a certain time. It prepares me for when I get a real job."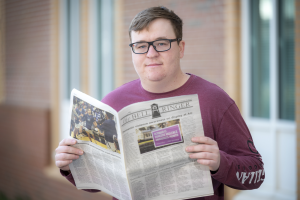 Rickerson, like Rodriguez, credits his coursework at Augusta University for preparing him for the responsibility of professional work.
"I never knew how to write news or do any of this before my classes. I only knew how to write research papers. Mrs. Rachel Balducci, Dr. Debbie van Tuyll, Dr. Bulla and other teachers have helped my writing improve dramatically. The classes have also helped me build more confidence in my writing and when I talk to sources," he said.
After originally considering a business-oriented degree, Rickerson is glad he chose to follow his passion.
"I wanted to work in accounting for a while, but deep down I have always wanted to try and do something with sports, but thought it was not realistic," he said.
Rickerson's goal after graduation is to get a job in sports writing or reporting and he's hoping to be a play-by-play announcer one day.
Summerlin, like Rodriguez, is also a student athlete who plays softball for Augusta University. A junior and recent transfer student, Summerlin started her college career undecided, but quickly switched to a communication major due to her passion for sports reporting.
She said the Department of Communication began connecting her with opportunities from the very start of her transfer process.
"I had a visit at AU last summer during my transfer process. Coach Melissa Brocato set me up in a meeting with Dr. Bulla and we talked about my past internship with Softball America, an online newspaper, and he mentioned I should write for the student newspaper when I arrived in the fall," she said.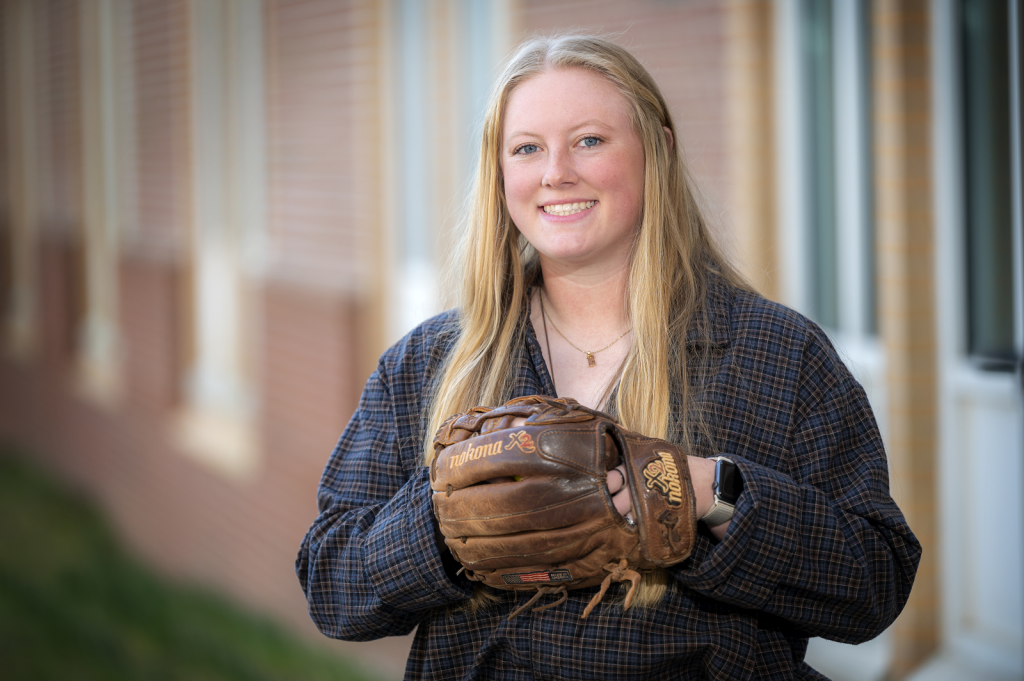 In addition to referring her to
The Bell Ringer
, Bulla later connected her with
The Augusta Press
, as he did for Rickerson. The opportunity was a great fit for Summerlin, who had never covered football before.
"I've always wanted to cover football as well, and it was a great experience that taught me a lot about paying attention to the little things. I worked a lot of Fridays in football season," she said.
Summerlin credits one class in particular with readying her for professional reporting.
"The sports communication class I took with Dr. Bulla last fall really helped prepare me for a more serious level of writing. I think taking that class is honestly how I ended up working for The Bell Ringer and The Augusta Press, and I'm grateful for those opportunities. I'm also grateful for Dr. Bulla always pushing me and helping me out," she said.
Bulla admires this group of students for going above and beyond the expectations of their curriculum.
"We usually have about a dozen internships per semester. Thus, most of our students do get plenty of on-the-ground experience. However, it is a bit unusual to have them already working for pay, either as stringers for newspapers or building their own businesses," said Bulla.
Bulla thinks that regardless of what students choose — an internship, part-time work or entrepreneurship — getting professional experience is crucial to set graduates apart in the competitive communications space.
"In reality, most media jobs are almost as much about an apprenticeship as a preparatory degree," he said. "Accordingly, I encourage our students to go after opportunities to work for TV stations, newspapers, public relations or marketing firms, in work-study on campus, et cetera."
Bulla credits his faculty for preparing students so well, noting that they thrive on teaching by experiential learning.
"That's the way these hands-on classes are. There aren't too many lectures; just go and learn, and then get feedback from the professor and peers. You see the same thing in the theater classes. This is what COMM does best."