If you were playing hide-and-seek on the Summerville Campus, the deodar cedar at the main entrance would make a great place to hide. Recently designated the largest of its kind in Georgia, you — and a couple of friends — could easily go unnoticed behind its 17 feet of trunk circumference.
Many deodar cedars (Cedrus deodara) thrive on the Augusta University campus, but this particular tree near University Hall was named a Georgia Champion Tree by arborist Seth Hawkins with the Georgia Forestry Commission during his campus visit in May.
"It was like two tree geeks walking and talking about trees," said Scott Davis, manager of Landscaping and Grounds in Facilities. "But when we walked to that one particular deodar, he (Hawkins) was so excited to see such a specimen. 'This is such a magnificent tree,' he said. 'I think this is a Georgia State Champion deodar cedar.'"
Hawkins was correct. The tree met all the champion tree criteria, including:
Being the largest known tree of a particular species.
Having an erect, woody perennial stem, or trunk, at least 9.5 inches in circumference, measured 4.5 feet from the ground.
Having a definitely formed crown of foliage and a total height of at least 13 feet.
Being recognized as native or naturalized in the continental United States.
The Champion Tree Program coordinator provided measurements of the tree, which boasted a circumference of 201 inches and a height and crown spread of 83 feet each.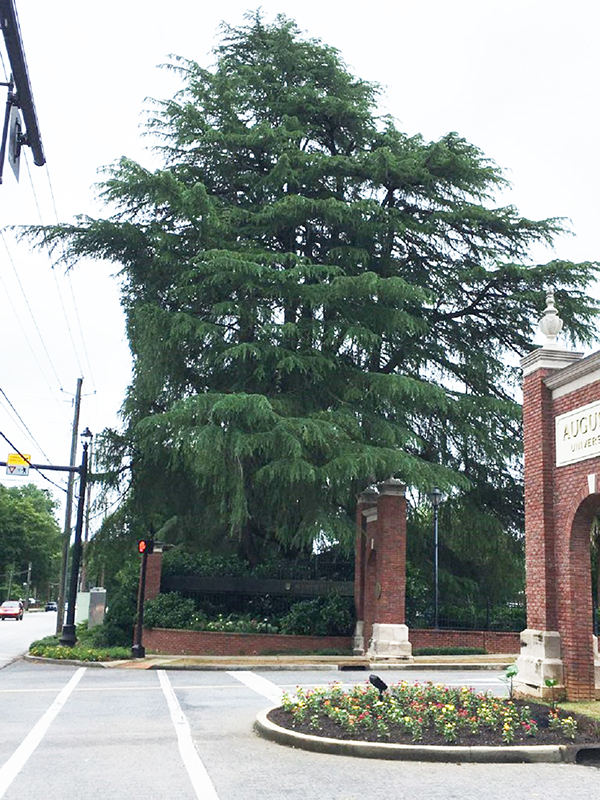 Talk about throwing shade — this enormous tree sure does it.
The deodar cedar is "a good specimen for the southeastern U.S., because it tolerates acidic soil, mild winters, heat and humidity, and is drought-tolerant once it is established," according to a brochure on the university's Summerville trees printed in 2013.
Another huge tree on campus at one time was the famous Arsenal Oak, which was removed in 2004. Pieces of the storied tree were used in 2016 to create the Augusta University seal and mace and in 2018 to build a cap for the historic Arsenal Bell.
A descendant of the Arsenal Oak tree was planted on Summerville in 2016 to commemorate Arbor Day. Every Arbor Day in Georgia, Facilities gets students and staff involved in planting new trees across the Augusta University campuses to replenish those that have been lost to natural disaster or disease.
The Georgia Forestry Commission asserts that people who live, study and work among trees are generally healthier, because trees provide oxygen, absorb carbon dioxide and filter harmful pollutants from the air. That's great news for students, faculty and staff at Augusta University where more than 60 species and hundreds of varieties of different trees flourish. Some of those are American holly, Bradford pear, Carolina laurel cherry, Chinese elm, Japanese maple, longleaf pine, crape myrtle, bald cypress, dogwood and pecan.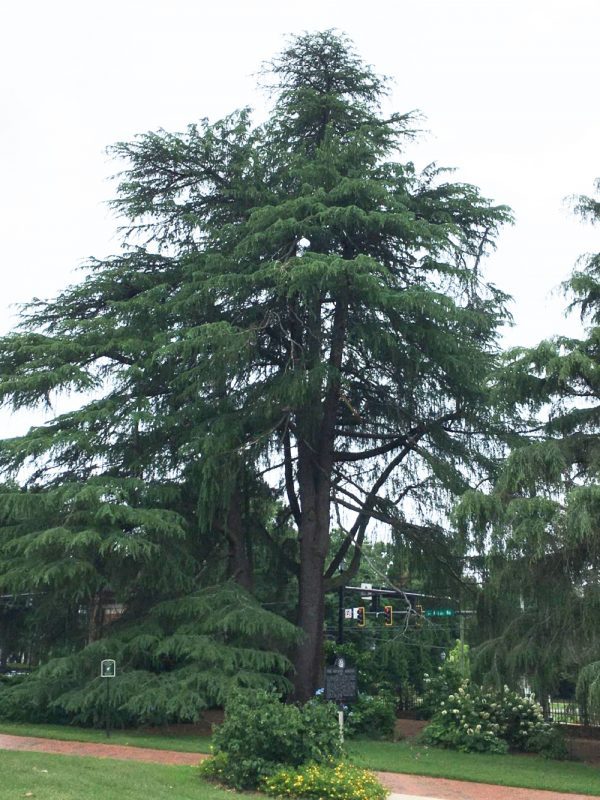 Davis has a couple of personal favorites: the incense cedar near the Summerville greenhouse and the black walnut near Bellevue Hall.
"The incense cedar is uncommon in our area as we are a little too far south," said Davis. "We are very fortunate to have one so old on campus."
As for the black walnut, Scott is not the only one who admires it.
"I already have several woodworkers who have asked for a piece of its wood should we ever have to remove the tree." But Scott hopes the tree remains healthy and strong, because it is the only black walnut at Augusta University.
You may visit the Georgia Champion Tree along the History Walk at Walton Way where it begins on the University Hall side of the main entrance on Summerville. Davis hopes to have a marker made and placed soon.
To learn more about the trees and plants at Augusta University, please email Scott Davis.