During FY 2022, Augusta University awarded an all-time high 2,543 degrees, marking a 4.1% increase from the previous year and an increase in undergraduate degrees conferred, according to the University System of Georgia.
"We are excited to have awarded the most degrees ever here at Augusta University during the last academic year, and what that means for the strength and growth of our university," said Augusta University President Brooks A. Keel, PhD.
"This is an incredible time for our university, and that is shown in the growth of our student body and in the number of successful graduates our academic programs produce," Keel said. "We have one priority at this university, and it's our students and our patients. Everything we do at this institution is grounded on the concept of providing our students with the absolute best state-of-the-art education and training opportunities for Augusta and beyond. That's what drives this university, and it is shown in the growth we have seen in the number of degrees awarded each year."
In areas where job demands are greatest in the state of Georgia — computer and cyber sciences, education and health care and related clinical sciences — AU conferred 1,706 degrees, more than 67% of the total number of degrees awarded.
"On top of conferring a record number of degrees overall, Augusta University continues to see strong growth in the number of graduates we produce in areas that are most in demand, both in our state and region," said Executive Vice President for Academic Affairs and Provost Neil J. MacKinnon, PhD.
"Augusta University graduates excel in the workforce in all areas, including computer and cyber sciences, healthcare ,education and more, and we are committed to continuing to produce strong graduates across all of our 155 programs. Our programs are innovative and cutting-edge and are appealing to a lot of students, and that is shown by the number of quality graduates our university sends out into the workforce."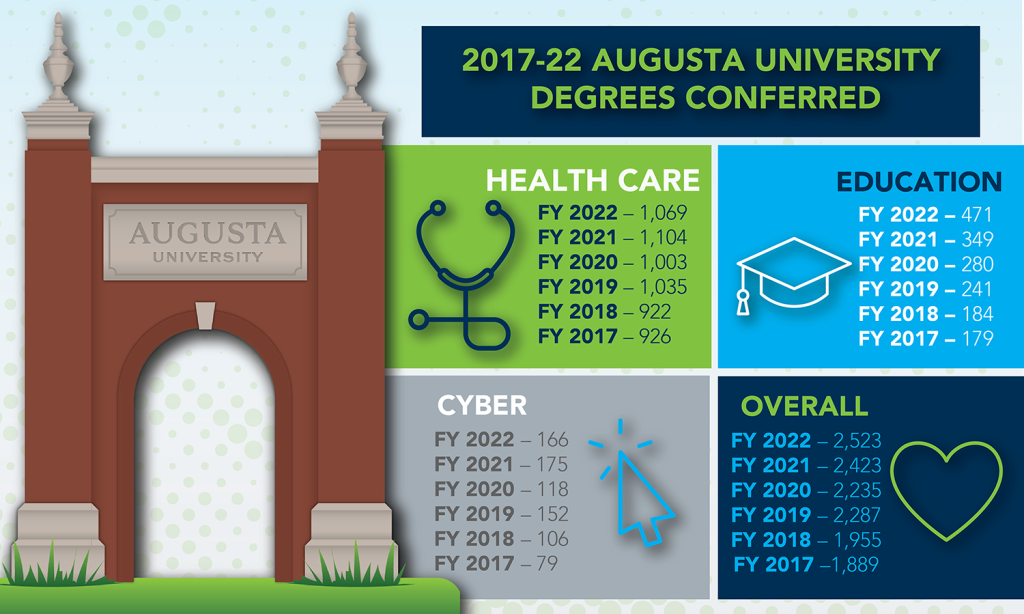 Computer and Cyber Sciences
Augusta University conferred the most undergraduate degrees in its history for computer and cyber sciences with 161, up from 79 in 2017.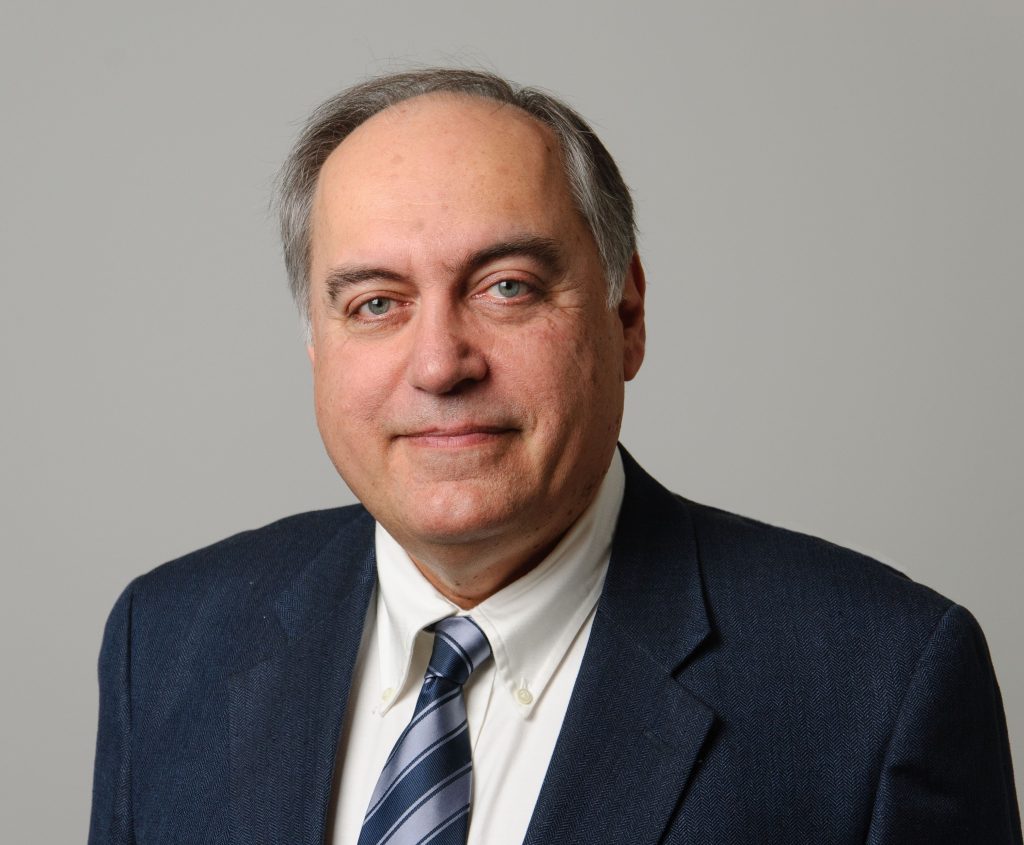 "Many of our graduates go on to be dynamic cyber security professionals, yet nationally there are more than half a million of cyber security jobs that are left unfilled. With a record number of applicants to our school each year we are helping to bridge that gap. We have quadrupled our faculty to 40 full-time professors and instructors, many of whom bring valuable, practical skills into the classroom. We are also offering students rigorous one-of-a-kind programs, including a program in cybersecurity engineering and a PhD. program that includes a cybersecurity breadth requirement."
As a student in high school, Luterra Fulks got her first experience with the world of computer programming through an organization called Girls Who Code, and that stoked a fire for her to succeed in a career that has largely been male dominated.
"Expanding my knowledge, I learned that coding was looked at as a man job, and ever since that has been my mission to prove all eyes wrong," said Fulks, now a senior computer science major.
"Coding isn't defined by gender but by the language programmed. After transferring from Paine College, Augusta University was the best fit for me when it came to moving over credits and exceling towards my degree."
READ MORE: Living Learning Community connects cyber, computer science students with tech opportunities
Education
In education, 471 degrees overall were awarded, showing an increase of 35% from the year before (349) and a 163% increase from FY17 (179), including 402 graduate and professional degrees. That mark is up from 289 the year before, showing a 39% increase from FY 2021, and 247% increase from 2017.
"Everyone is aware of the ongoing national teacher shortage," said Judi H. Wilson, EdD, dean of the College of Education and Human Development.
"Unfortunately, even in October, there are still openings for educators in almost every district across the state of Georgia. We desperately need classroom teachers at every level, educational leaders, and school and mental health counselors. At AU, we are doing all we can do mitigate that through our creative partnerships with our local school systems."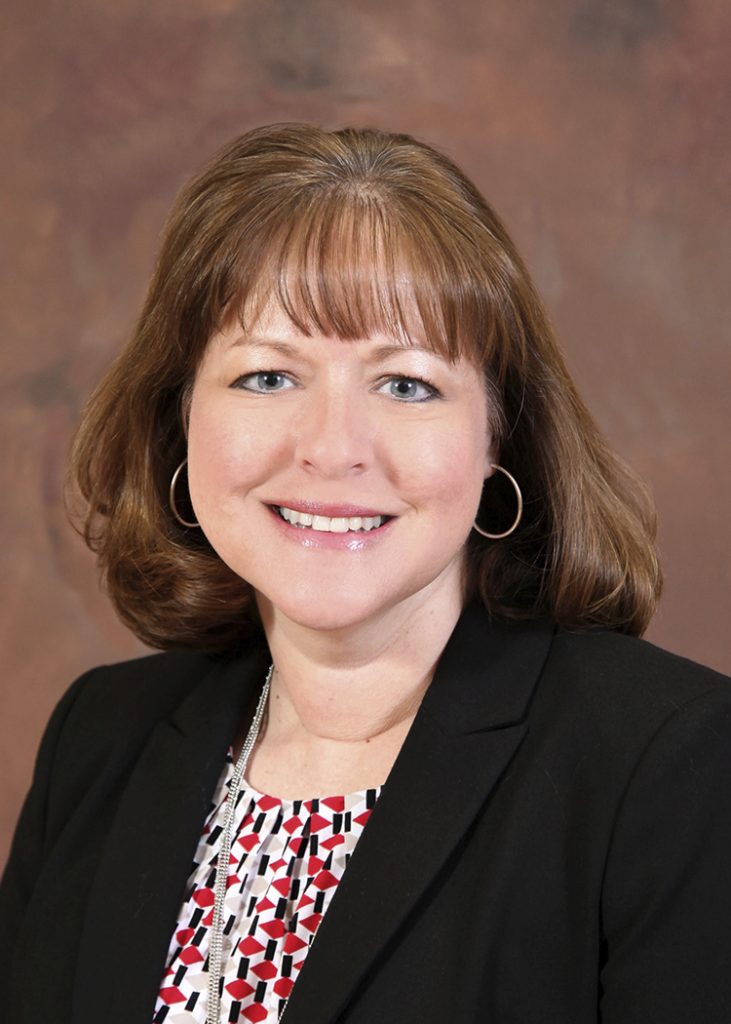 For senior English major Ellie Polhill, Augusta University offered the best, most well-rounded route on her path to becoming an educator.
"I chose AU because it offered me a high-quality education with a low student-to-teacher ratio and a plethora of opportunities to get involved in the academic and social life of the campus," said Polhill.
"As an English major with a concentration of secondary education, I truly get the best of both worlds. I have grown so much through the relationships I've formed and instruction I've received from the English Department and the College of Education and Human Development. I chose this program because it has allowed me to develop and pursue two of my greatest passions: learning (and instilling the love of learning in others) and literature."
READ MORE: Augusta University alumni are local Teacher of the Year finalists
Health Care
In health care, 1,069 total degrees were awarded across the various medical programs in FY22, up from 926 in FY17 (15.4% increase), marking the fourth year in a row of over 1,000 health care and related clinical sciences degrees being conferred.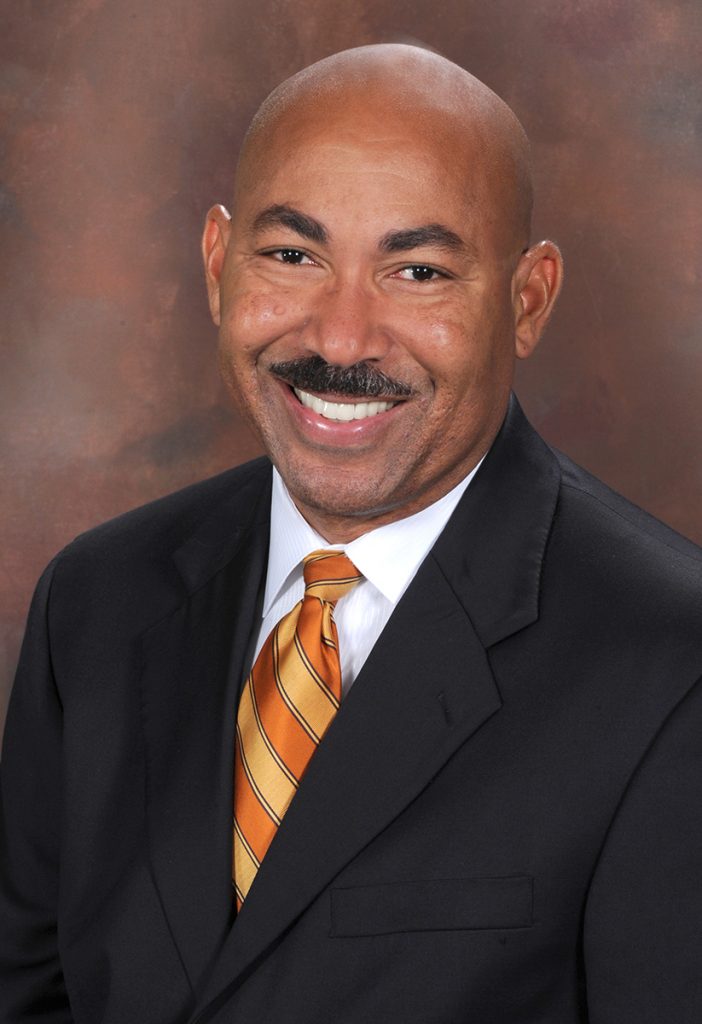 "Augusta University health science programs occupy a vital place in providing healthcare professionals for Georgia and beyond," said Dean of the College of Allied Health Sciences Lester Pretlow, PhD.
"For FY22, we conferred over one thousand degrees to new professionals who will help promote good health to the state. Also, our health science programs are powerful economic and aspirational drivers for all Georgia providing for our citizens on professional, financial, and personal levels. Please note, AU is in the process of developing even more health science professional programs to expand our reach in Georgia."
When looking for a program to prepare for a rigorous career in health care, graduate student Jeremiah Oh knew of Augusta University's reputation for preparing leaders in health care fields.
"I chose to study Clinical Laboratory Science at Augusta University because I know that the reputation and history of Augusta's program is established and proven through the quality of medical laboratory professionals developed here," Oh said. "There was no question as to where I wanted to go to pursue this career and I'm glad to have started my journey with Augusta."
READ MORE: Programs take shape for Augusta University's new School of Public Health
From USG
The number of degrees awarded by USG institutions increased in FY22 to an all-time high of 74,446, a 2.1% increase over the previous year.
"By preparing students for good jobs and helping create the jobs of the future, Georgia's public colleges and universities are a great value for students and a major contributor to our state's economy," USG Chancellor Sonny Perdue said. "This record in degrees awarded only confirms that the hard work being done across the university system is having an impact on the success of both our students and Georgia."
The continued rise in the number of degrees awarded also comes as the value of a USG degree has shown to be significant. Graduates from the Class of 2021 will earn over $1 million more during their lifetimes than they would have without going to college and earning their bachelor's degree, according to a recent analysis. Graduate and professional degrees only increase those average career earnings.
To help students and families work through critical decisions about college affordability and value, USG has also launched the new website called Georgia Degrees Pay.
Georgia Degrees Pay provides an array of public data on USG's 26 public colleges and universities and allows comparisons about the overall cost to attend college, majors and fields of study, average student borrowing and average career earnings of USG graduates.
The annual degrees conferred report for FY22 is available online at USG's website.