Augusta University's Kai Brickey is known as a talented cross country and track and field runner, but after graduation, he aims to be recognized for the sports marketing skills he learned during his time on campus.
Since coming to AU as a freshman in 2018, he has achieved several accomplishments, most recently helping the men's team reach its fourth consecutive Peach Belt Conference Cross Country Championship. He credits his parents as playing a big part in helping him achieve both his scholarly and athletic goals.
"No one in my family has ever pursued sports, but when I was in high school, their mindset was that to get into college, I had to either get really good grades for scholarships or get really good at a sport," Brickey said.
Brickey said AU offered a more affordable education than many of its competitors in the state, along with the help of athletics scholarships.
"Not only was tuition a lot cheaper, but I was also offered more money to run here than I would've gotten with the HOPE Scholarship," he said. "While there were other schools out there, coming to AU just made sense to me."
Brickey is set to graduate this semester with a double major in English and communication in Pamplin College of Arts, Humanities, and Social Sciences. Along with running for the Jaguars and being a student, Brickey also has his own YouTube channel, where he records cross country and track and field events for both the men's and women's teams.
For him, what once was a hobby in his spare time has quickly become a passion.
"Videography was something that I've always done on my own since high school," he said. "When my teammates would be racing and I was injured and couldn't compete, I would just get some video of them. I've naturally found a passion for it, and because I've had knowledge of different editing styles, it has helped me push the envelope of my style for sports edits."
Brickey's passion for digital media also led him to a summer internship with the Atlanta Track Club in 2021, where he was able to gain valuable experience working on different projects.
"I was originally supposed to be a marketing intern," he said. "Once they found out that I have experience with social media and marketing, I was put on the team and spearheaded a couple of social media programs to help get them running again. I was able to do a whole lot with the program."
After his internship, Brickey has several dream jobs in mind, but hopes to work with the organization again when he graduates.
"I hope to work with the Atlanta Track Club because I had the internship there, so I'm hoping to slide right back in," Brickey said. "Later down the road, maybe World Athletics, but the goal is to get to do some professional freelance work as well."
One of his bigger projects as a Pamplin student involved organizing the spring 2022 CommuniCon, an annual event that highlights communication students at AU. He said it was a great experience that offered an opportunity to learn more about himself.
"Organizing that event was awesome," he said. "What was so great about that project was how everybody took it so seriously. It wasn't just the group members; people were asking for donations and getting other people involved. It was my first experience hosting, planning and proposing an event like that, and that event not only helped with group projects but also my internships as well. A lot of what I did for that kind of work carried into my real life."
Brickey is also enrolled in a literary editing and publishing class, where he works on developing the Sand Hills Literary Magazine, AU's national literary magazine since 1973.
Spencer Wise, PhD, assistant professor in the Department of English and World Languages and the faculty advisor for Sand Hills, said Brickey's experience in digital media has helped grow the magazine's outreach.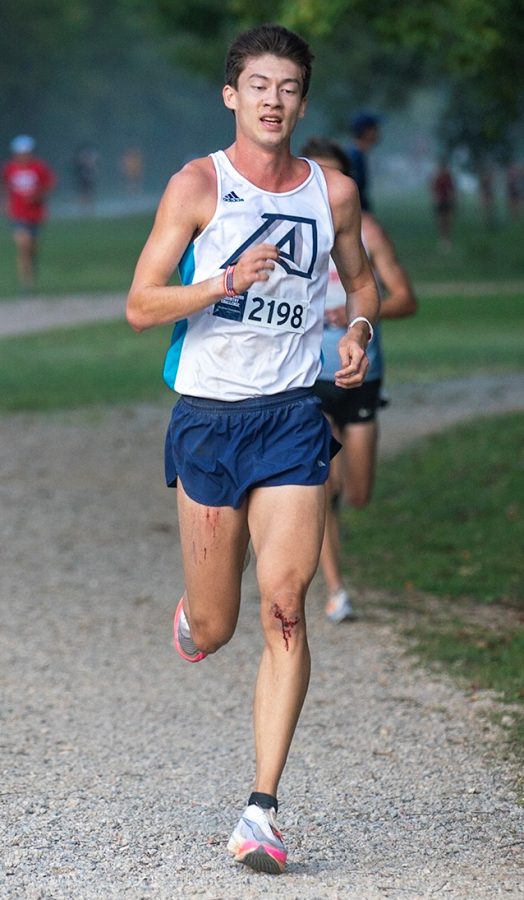 "Kai's taking the class for the first time, and he's already been an enormous asset," Wise said. "Kai jumped into the role of our social media guru, and he's been savvy and intentional about optimizing Instagram's promotion services to help grow our brand. He has insight into how social media advertising works, and that's been a great help to us."
That insight has led to measurable growth, according to Wise.
"Since he's been with us, we've seen a substantial growth in terms of the number of national submissions we receive and the number of followers on social media," he said. "Each post represents its own rhetorical challenges to explain who we are and what we want, but Kai has shown a knack for making appealing posts that reach a wide audience."
With a short time to go before graduation, Brickey said his final classes have created a bit more stress than he's used to, but he has gained valuable experience in a professional setting.
"If I had to sum up my time at AU, I learned how to present myself," Brickey added. "Being a professional, whether that's with proposals or requests, was very big, but also learning how to develop a digital footprint is something that I'll definitely take with me when I graduate."