The Augusta University Employee Advisory Council has announced the winners of the 2022 EAC Awards.
Winners were personally presented their award within their departments.
Clay Adamson Award
Dina Walker, environmental services technician, Facilities Management, nominated by Charlene Jackson. This award recognizes excellent job performance by a Division of Facilities Services employee.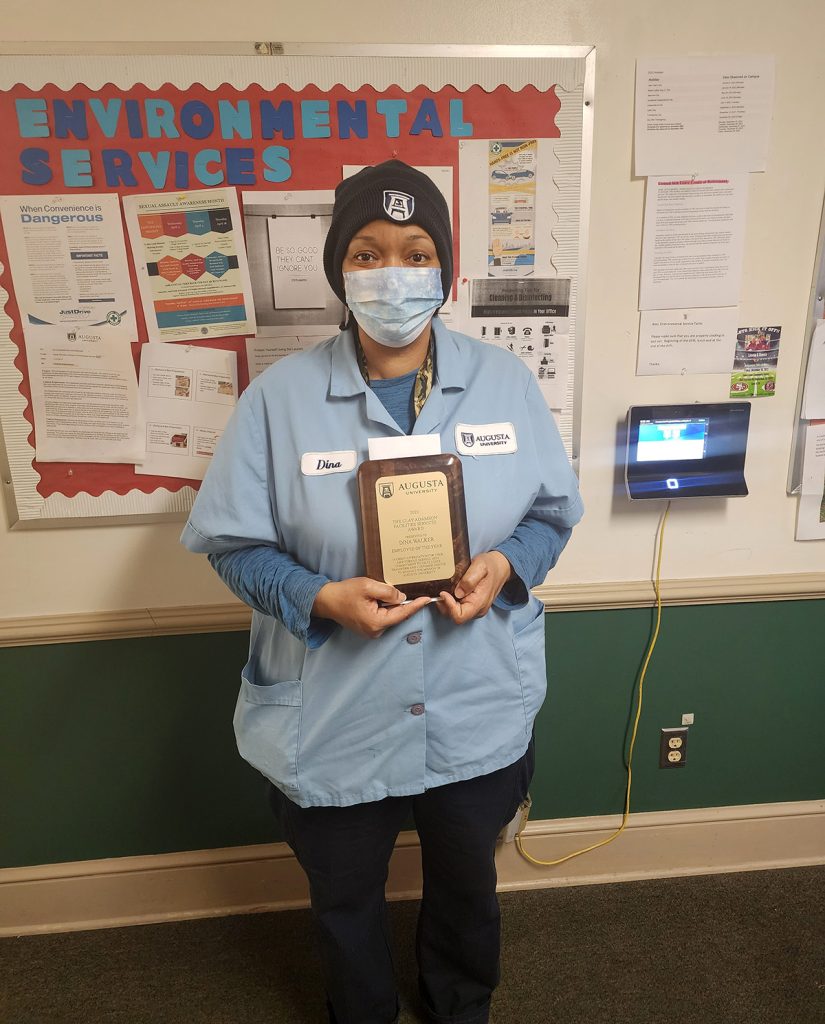 James A. & Erie P. Blissit Award
Krista Green, executive assistant, Philanthropy & Alumni Engagement, nominated by Brandon McCray. This award honors an employee who performs outstanding administrative support services and promotes a positive image for Augusta University.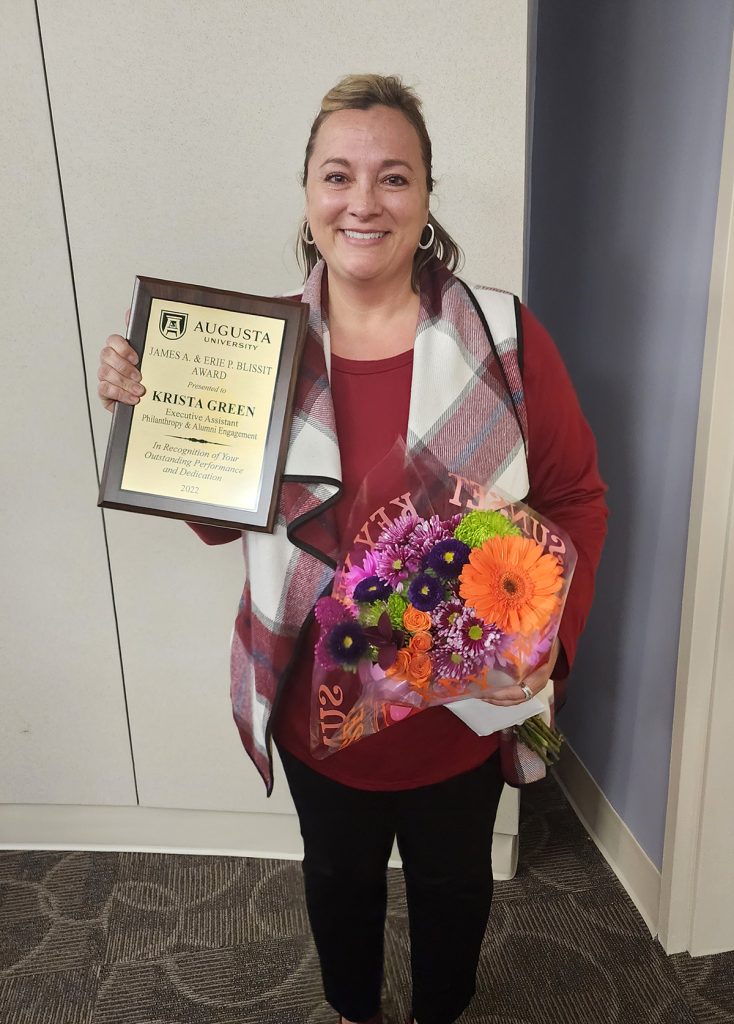 Golden Pen Award
Brandy Gunsolus, PhD, manager, Pathology Lab Utilization, nominated by Kellie Vinson. This award recognizes an employee who has reached a significant level of achievement and excellence in both their professional career and in their promotion of Augusta University and AU Health by publishing and/or presenting outside Augusta University.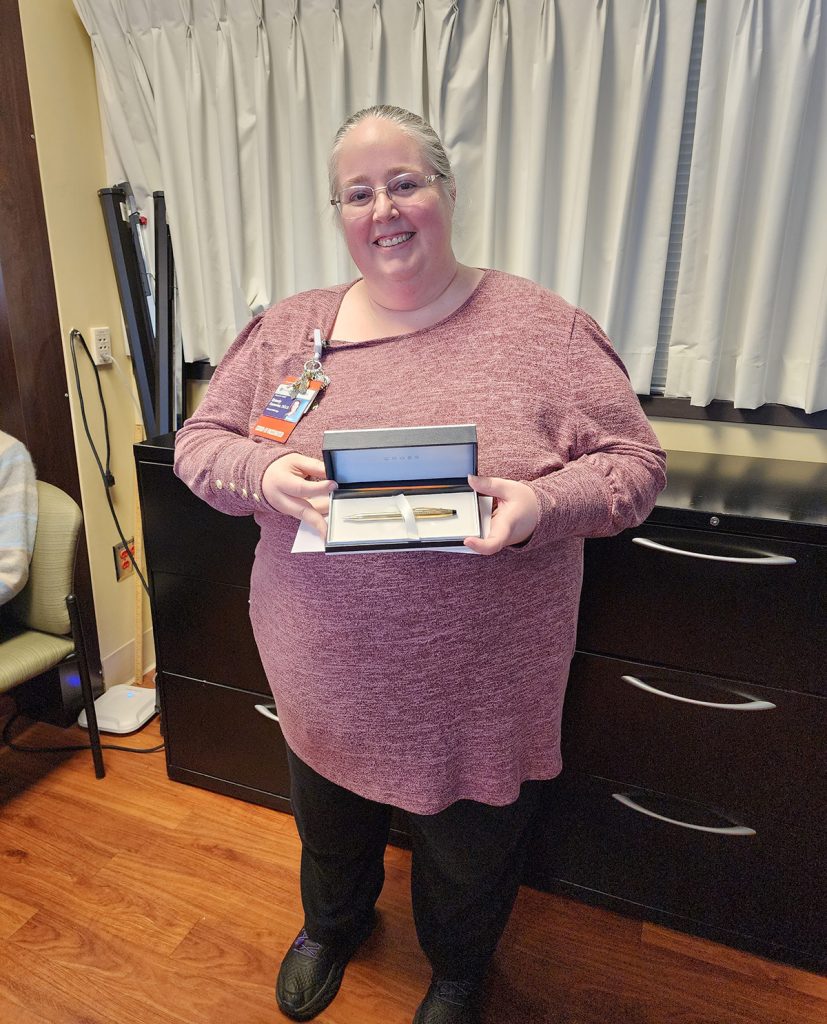 Hospital Quality Award
Alicia Arnold, PhD, associate professor at the Medical College of Georgia and surgeon/surgical oncologist at the Georgia Cancer Center, nominated by Steven Holsten, MD. This award recognizes an individual who significantly impacts the care AU Health provides to patients and families by consistently promoting a culture of quality.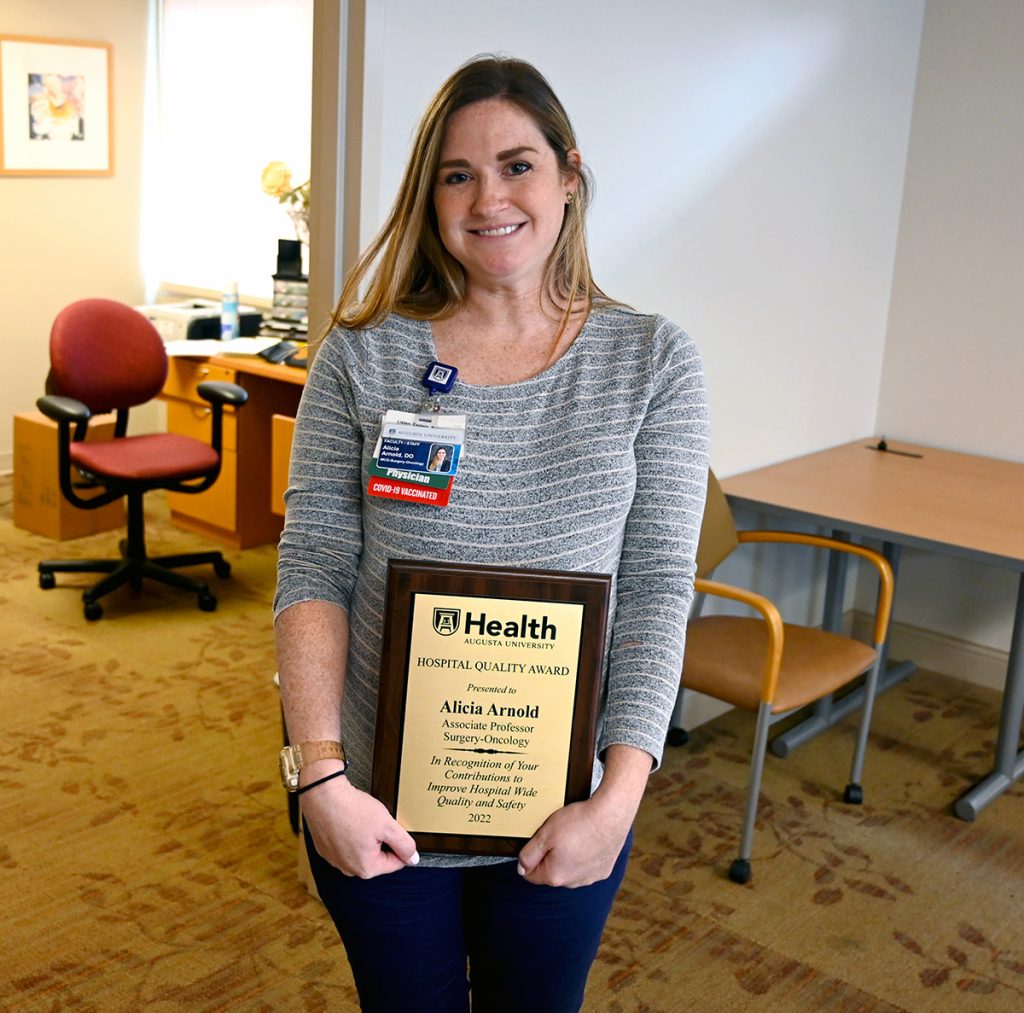 Teamwork Award
Complete Health Improvement Program (PIVIO-CHIP), nominated by Richard Sams. This award recognizes a high-performing team that models open communication, trust, cooperation and respect for differences by building effective and collaborative relationships to accomplish organizational goals.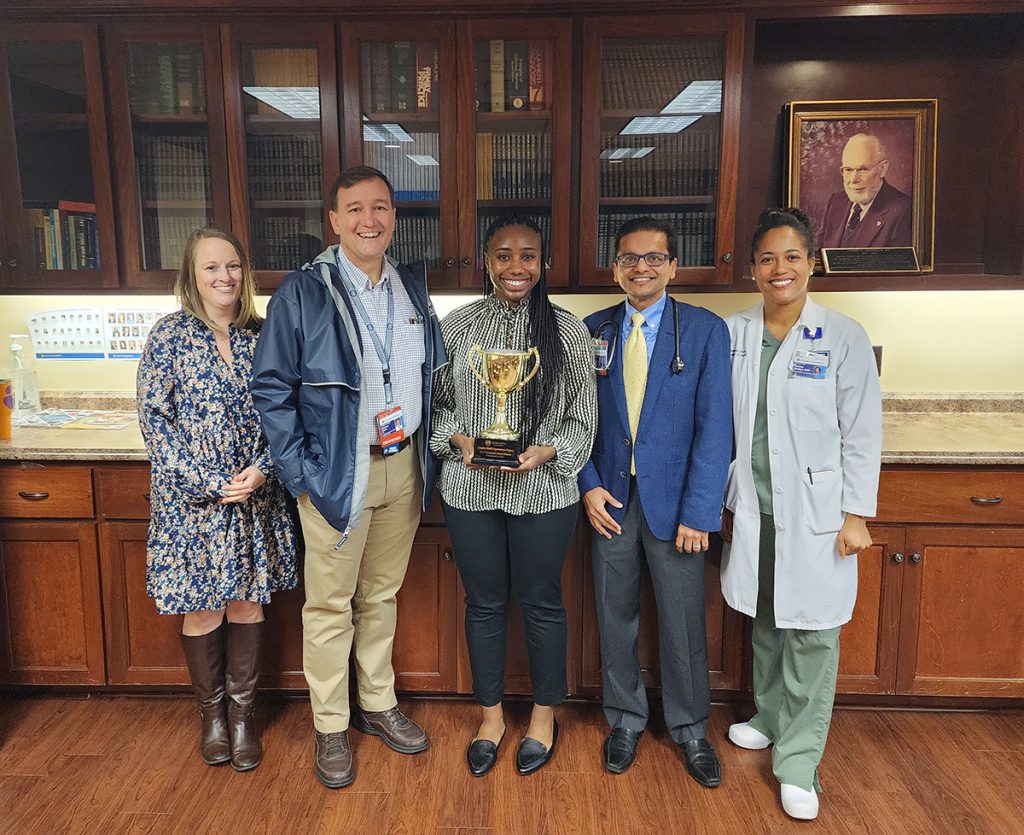 Service Excellence Award
Jeffrey Boja, sterile processing technician, Central Sterile Reprocessing, nominated by Nick Bennett. This award recognizes an employee who shows outstanding performance and service to the Augusta University community through exemplary interactions with fellow employees, students, patients and their families.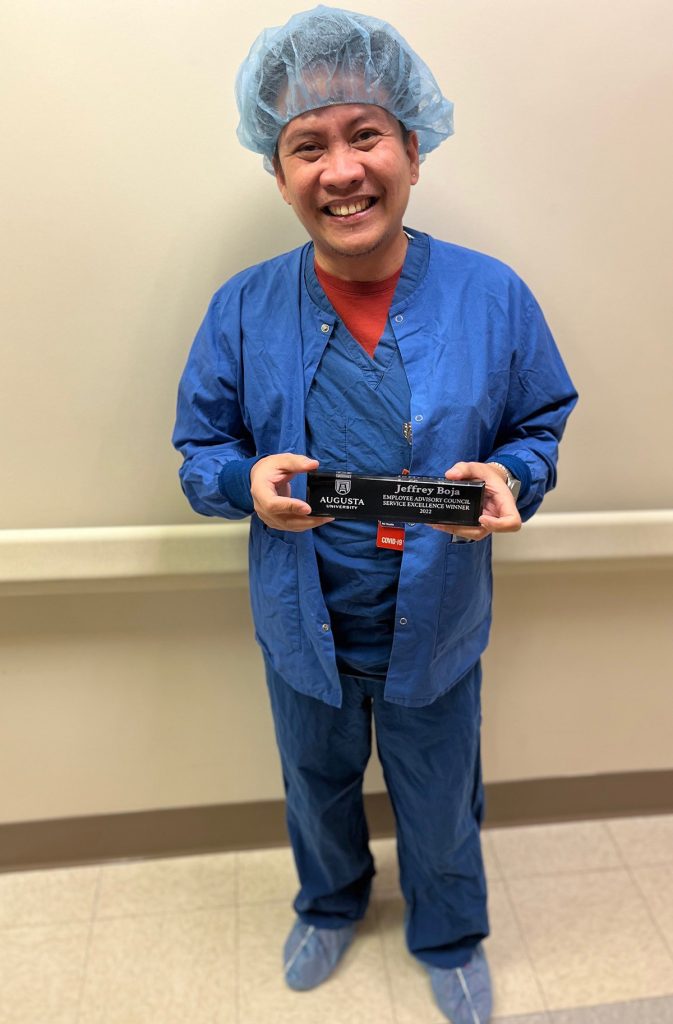 SPIRIT Award
Amy Pizio-Moore, research operations coordinator, Georgia Cancer Center, nominated by Carlee Leopard. This award recognizes an individual who embodies the values of Augusta University and AU Health. It honors someone who consistently sets the ethical bar high in managing resources, making daily decisions and delivering service.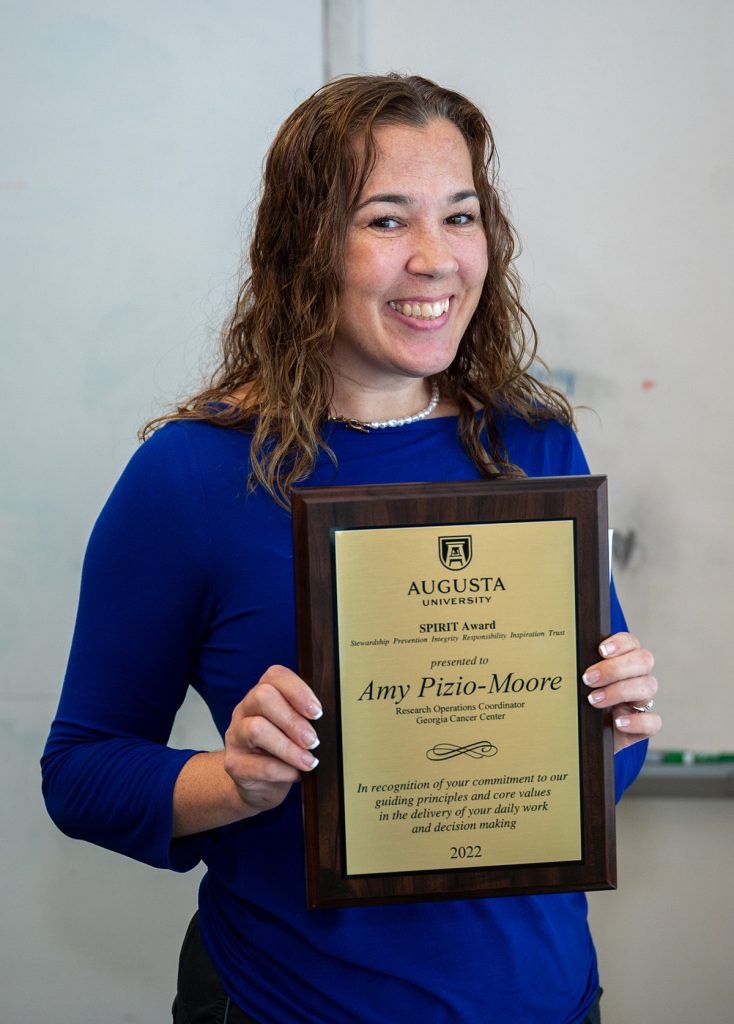 "I want to congratulate the 2022 winners and nominees of these awards, but I also wish to extend my gratitude to our over 12,000 employees who continue to put Augusta University and AU Health at the forefront for research, education and patient care," said Augusta University President Brooks A. Keel, PhD.
Learn more about the award criteria.