Augusta University has announced the recipients for the institution's 2022 Distinguished Alumni and Outstanding Young Alumni awards. The winners will be formally recognized at their college events during the university's Alumni Weekend from April 22-24.
Alissa Eckert MS '06, Distinguished Alumna
Melania Velasquez-Garcia BS '09, MPA '13, Outstanding Young Alumna
Carey Anne Cushman BS '04, MEd '06, EdS '07, Distinguished Alumna
Crystal Crawford BA '09, MEd '12, EdS '16, Outstanding Young Alumna
Sue Ellen Abney Roberts MSN '86, DNP '14, Phoebe Kandel Rohrer Distinguished Alumna
Thayer McGahee PhD '98, E. Louise Grant Distinguished Alumna
Sidney Llorance MSN '16, Outstanding Young Alumna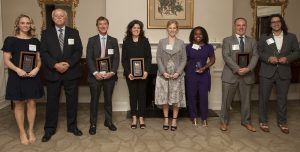 Read more about the 2020-21 alumni award winners.
Phillip Coule BS '92, MD '96, Distinguished Alumnus
Daniel Gray BS '08, Outstanding Young Alumnus
Kathleen Robinson BS '81, DMD '90, Distinguished Alumna
Kajuana Farrey Sutton DMD '09, Outstanding Young Alumna
Alan Griffin BBA '82, MBA '87, Distinguished Alumnus
Cole Watkins BBA '12, Outstanding Young Alumnus
Stephen Clements MD '66, Distinguished Alumnus, Professional Achievement
Bill Brooks MD '67, Distinguished Alumnus, Loyalty
Leslie Wilkes MD '65, Distinguished Alumnus, Posthumously
Natasha Savage MD '07, Outstanding Young Alumna
Maribel Brown BA '14, Distinguished Alumna
Raysean Ricks BA '17, Outstanding Young Alumnus
Doug Burks BS '05, Distinguished Alumnus
Jeremy Garcia BS '18, Outstanding Young Alumnus
Keenan Mann BBA '92, MBA '96, Distinguished Alumnus
William Bornstein MD '76, PhD '78, Distinguished Alumnus
Jennifer Iddings PhD '15, Outstanding Young Alumna