Mario Cruz reminisced about his time at Augusta University during his drive into town on May 24. He was in the old facility during his first semester before the Health Sciences Building opened.
"The drive in brought back a lot of memories from the classes and the exams and practicals," said Cruz, who graduated from Augusta University's legacy institution the Medical College of Georgia. "This is my first time back since then but I'm very excited to be here and very thankful and honored for the opportunity."
Cruz, who is the head of sports medicine for Atlanta United FC of Major League Soccer, spoke to all cohorts of students from the Department of Physical Therapy, giving them an insight into a "day in the life of Mario."
"We're going to talk about professional development, and for those who are either in school right now or close to graduating, give them an idea of what it's like to work in the world of sports therapy and in sports medicine," he said. "They all have their own paths and the nice thing about physical therapy right now is that you finish as a generalist and then you get to select a specialty followed by a residency or fellowship. What I'm going to share is how my path was and the things that you can do to get there."
Cruz continued, "Obviously keeping in mind that not everybody has an interest in sports medicine, but the point is to kind of speak a little bit about what it's like to work as a clinician in this environment, the things that you need to do to be successful at, such as your communication skills and your teamwork abilities."
Another part of his talk focused on evidence-based medicine to the third-year DPT students, which he said is "kind of the foundation of how we practice."
"But I'm going try to and present how we, or I personally, use evidence-based medicine that is more related to clinical right," Cruz added. "It's one thing when you follow the literature, but you have to relay that information and apply it to your daily clinical situation."
Dr. Lori Bolgla, a professor in the Department of Physical Therapy in the College of Allied Health Sciences, said it was important for cohorts to hear from someone like Cruz, as an alumnus and a professional using his craft.
"It is huge because Mario literally sat in the same seats as the current cohorts. It shows that students who graduate from our program can achieve their dream with a lot of hard work and perseverance," Bolgla said.
Cruz originally came to the United States from Colombia in 1997 as in exchange student. He graduated with his bachelor's in sports medicine/athletic training in 2005 from Georgia Southern University before earning a doctorate in physical therapy in 2009 from the College of Allied Health Sciences.
During his soccer playing days, he knew he wanted to be around athletics and soccer. Once he came to the United States and saw how soccer began to develop at the professional level, he felt it was the path for him, with the ultimate goal of working in MLS.
"I didn't care to play professionally, but I did care to help from the medical side of it," said Cruz, who has also worked for the Chicago Fire Soccer Club of MLS in 2016. "I was actually going to study architecture but the more familiar I became with how sports medicine works here, I decided that was what I wanted to do. I made enough connections [during my playing time] to be able to start the path and do sports medicine along with the follow-up training.
"Doing physical therapy was a good complement to what I wanted to do and it will give me a good skill set to be able to handle the rehab side of it."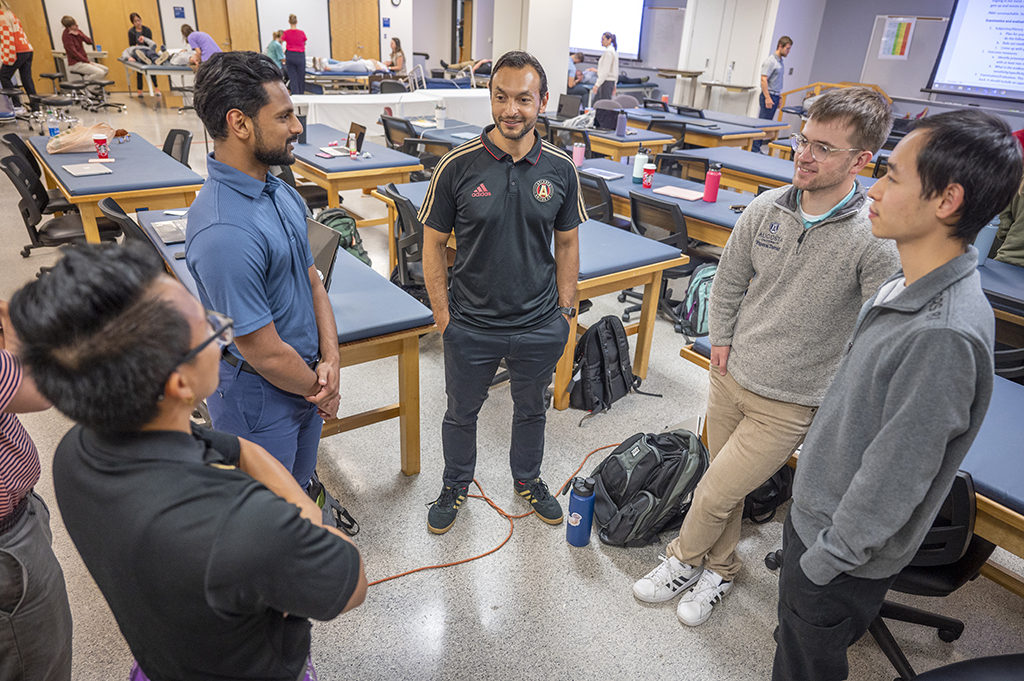 He said there are misconceptions about what a head trainer for athletics does, with some thinking it's a fancy and glamorous job. But Cruz explains the effort and the work that goes into doing the job properly.
"We don't just deal with our players, but we also deal with their families and what other situations may be going on in their lives and the job takes a lot of time and it takes you away from home a lot," he said. "While it sounds fun to be able to do this at the professional level, there are also a lot of sacrifices that you have to make, not only to get there, but also to be able to stay and be able to provide a good job doing it."
Cruz relished the opportunity to talk with the cohorts while giving them some real-life experiences in the process.
"I've always had an interest to help other people get to their goals and being able to speak to them that are close to graduating and trying to find their path, which is very important," he said. "In school we learn all the professional side of things, the literature and the research. Sometimes it's important to also relate what it's like in the clinic. I think being able to speak to them about those experiences and relating the experiences that I've had will help them."
Bolgla said it was special for her to have Cruz come back and share his experiences. The pair have collaborated on published papers throughout the years while exchanging updates in the medical field. After listening to Cruz, she hopes the students believe AU's physical therapy program provides the framework for them to achieve their professional goals.
"It was so special and an honor to host Mario," Bolgla said. "He has kept in touch with me since he graduated. He is an amazing clinician and truly embraces lifelong learning. He is so knowledgeable and I have loved every minute hearing about his accomplishments!"