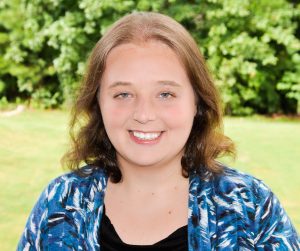 Try fitting everything you own into two 50-pound bags, a 30-pound carry-on and a 20-pound backpack.
It isn't easy.
Augusta University alumna Michelle Bureau (BA '15) learned that the hard way earlier this summer when she embarked on what could potentially be a five-year stay in Yosano-cho, a small town located in Japan's Kyoto Prefecture. There, she will live and work as an assistant language teacher on behalf of the Japanese Exchange and Teaching Program (JET), an international education exchange initiative sponsored by the Japanese government.
While exciting, the trip is far from a vacation, however. As a JET participant, Bureau will live among Yosano-cho's 24,000 residents, moving from school to school on a weekly basis to assist native Japanese teachers in the classroom. During her stay, she will work with a mix of elementary and junior high students as a sort of "English" friend.
"I'll be the one that helps students with their pronunciation," she explained. "I'll be the person they can talk to in English."
Bureau said the opportunity was the chance of a lifetime.
"I love Japan's wildlife, and I love the architecture," she said. "I love all of the country's little quirks. I've always loved looking at other cultures and seeing how they're different from my own."
That trait, which has since shaped her life in almost unimaginable ways, she attributes partly to her childhood interactions with a penpal from Australia.
"I remember telling him once that I was excited to be off for Thanksgiving break," she said. "He asked me, 'What's Thanksgiving?' That was kind of when it dawned on me that I wasn't living in the only country in the world that mattered."
Though her dream of traveling to Japan began almost a decade ago, Bureau said she has Augusta University to thank for getting her there. And the path she took, some might call fate.
"Participating in Study Abroad, that happened on a whim," she explained. "I was walking down the hall in Allgood Hall one day in 2014, in a hallway I'd never been in before."
Bureau said she didn't know why she chose to go the way she did, but there, hanging on a wall, was a poster for the 2015 College of Education Study Abroad Japan trip.
"I took a picture of it and texted it to my mom," Bureau said. "I said, 'I'm going. If I want to teach there, I should probably go.'"
So, she did.
Traveling alongside Dr. Misato Yamaguchi, assistant professor of education, and Matthew Buzzell, assistant professor of communications, Bureau and a handful of Augusta students journeyed to Tokyo. There, Bureau learned firsthand what to expect while teaching in a foreign country.
"When we were in Tokyo, we got to work in the schools for a few days," she said. "Dr. Yamaguchi made sure I got to talk to all the principals and all of the teachers we met and let them know that I wanted to teach in Japan. I got to sit down with all of these people because she made sure every door possible was open by the time I left."
Bureau also said those interactions, combined with the experience of the trip itself, were instrumental to earning her a spot in the JET program.
"I would say getting this job is a direct result of the Augusta University Study Abroad program," she said. "JET gravitates toward people who have been abroad, and the fact that my study abroad trip was to Japan for education studies only made my essay and application that much stronger."
But that spot didn't come easily.
The application process began in July of 2015, shortly after Bureau returned from Japan. The JET program accepts applications once a year for one month, and the process is extremely competitive. Bureau submitted her essay, a requirement of the program, before waiting several months for a face-to-face interview. After her interview, Bureau waited for months for an answer. Unfortunately, it wasn't the answer she was looking for.
After more than 11 months of waiting, hoping and dreaming, Bureau discovered she'd been placed on a waiting list. The news was crushing, but Bureau said it didn't diminish her dream in the slightest.
"They tell you to make a cutoff date," she explained. "At a certain date, if you haven't been upgraded from the wait list, you have to make a decision: Do I keep waiting, or do I move on with my life?"
Bureau, whose determination had already carried her through nearly a year of waiting already, said she started looking for new opportunities immediately.
When she received the call telling her she'd been upgraded in May, she had very nearly reached her final cutoff date.
"If I hadn't gotten the call when I did, I might be teaching up near Atlanta right now," she said. "I had told myself already, if I take this job and they haven't called me by the first day of school, I'm going to have to tell them no if they do call."
With the stress of waiting now out of the way, Bureau said she's found new things to worry about. Chief among them, shoes.
"You'd think shoes would be easy," she said. "Shoes are not easy. I've had to read articles about how to wear shoes in Japan. You can't wear outdoor shoes inside; you can't wear indoor shoes outside. I've had to relearn how to wear shoes just to live in Japan."
But for all the trouble relearning to wear shoes brings, Bureau said she's looking forward to her new future in Japan.
"The students here, they see Americans, and they think we're so optimistic," she said. "We get to do things. You can be anything in America. Well, I want to broaden their horizons because mine were broadened. I want them to see they can be anything they want, anywhere they want."