AU Health is temporarily restricting hospital visitation for friends and family age 18 and younger in an effort to help prevent the spread of influenza virus and other circulating respiratory illnesses. In addition, guests who are experiencing flu-like symptoms should not visit patients at AU Medical Center, or Children's Hospital of Georgia. "Modified Family Presence" posters have been placed at all of the hospital entrances to help spread the message to visitors.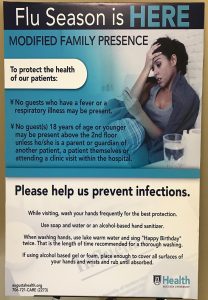 "We take the health and safety of our patients, families, and staff very seriously," said Lee Ann Liska, hospital CEO. "Hospital patients, especially those with weak immune systems or with severe underlying illnesses, are vulnerable to influenza, and we must take the necessary steps to protect them."
In addition, hospital officials have learned that this season's flu vaccine is not a close match to the commonly circulating strain, which is influenza A (H3) in the region that includes Georgia and South Carolina, according to the Centers for Disease Control and Prevention.
"Because flu virus is very contagious and spreads rapidly, the best way to keep it from spreading is for those infected to stay home and away from others while they are sick," said Dr. Kevin Dellsperger, chief medical officer. "There is a common misconception that we need to run to the doctor's office or the emergency room for a prescription medication, but, realistically, an over-the-counter medicine for fever reduction is all that most people need. Other than that, you should get plenty of rest, drink plenty of water, and let the virus run its course."
Dellsperger said symptoms of flu and flu-like illnesses include fever of 100 degrees or higher and any of the following:
Cough and/or sore throat
Runny or stuffy nose
Headache and/or body aches
Chills
Fatigue
Nausea, vomiting, and/or diarrhea (most common in children)
Besides limiting exposure, frequent hand-washing is a good preventive measure.
"While our modified family presence may be a minor inconvenience to some, it is certainly put in place for the greater good," Liska said.
For weekly updates on the influenza virus, visit the Centers for Disease Control and Prevention's flu page.