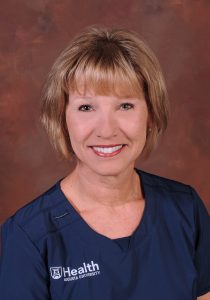 The American Association of Critical-Care Nurses recently honored Augusta University's Georgia Tucker with the 2019 Circle of Excellence Award.
Tucker works in the shock trauma ICU as a charge nurse and was selected for this year's honor due to her exceptional outcomes while caring for acutely and critically ill patients and their families.
The award seeks to honor those candidates who are relentless in their promotion of patient-driven excellence, effective in their decision making, can take on challenges while removing barriers to excellent patient care and demonstrate meaningful recognition of others.
Tucker will be recognized at this year's National Teaching Institute and Critical Care Exposition, May 20-23 in Orlando, Florida.