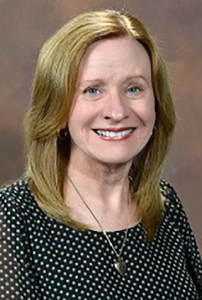 Fay Verburg, Assistant Professor of University Libraries, assumed the position of Associate Director at Reese Library on Oct. 1, 2018.
"Fay Verburg is well known to both faculty and students from her contributions to numerous campus committees, service activities, and through library instruction sessions," said Dr. Brenda Seago, professor and Director of Libraries. "She has a tireless dedication to teaching and engaging students in learning, and we look forward to her joining us in her new position."
Verburg has worked at Reese Library for the past 23 years in a variety of capacities and since 2013 she has led Reese Library's efforts in the areas of Reference, Instruction, and Government Information. She currently serves as the Chair, Reference and Education Services and as Interim Associate Director, Reese Library. Verburg was awarded tenure at Augusta University in 2006.
She currently serves as a peer-review panelist for the Southeastern Librarian and on the Editorial Board for the Georgia Library Quarterly. She is also on the QEP Curriculum and Assessment Committee, University Faculty Rights and Responsibilities Committee, the Library Advisory Committee, and is actively involved in the Augusta University chapter of Phi Kappa Phi.
In addition, Verburg holds memberships in several professional associations. In 2015-2016, Verburg was the Project Team Leader for a highly competitive Association of College and Research Libraries (ACRL) Assessment in Action project. The project, entitled "Integrating and Assessing Information Literacy Skills in a Core Curriculum Class," examined outcomes of student success and information literacy through library instruction. The results were presented at the Annual Conference in June 2016. In 2017, Verburg was selected as the University Libraries Outstanding Faculty Member.
About Bring Your A Game
"Bring Your A Game" features publications, successes, student awards, career highlights and more. Share them with us and every week we'll shout out some of Jaguar Nation's top accomplishments. Have something to brag about? Jagwire wants to hear about it. Submit Your News!