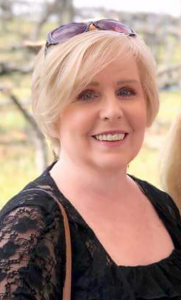 Susan Turner, a respiratory therapist at AU Medical Center, but an artist at heart, is showcasing her artistic talents for August and September's Healing Arts exhibition.
Among her many other hobbies and talents, she is a self-taught artist with interests in drawing, cake decorating and even crocheting! Recently, after a life-changing tragedy struck close to her heart, she began to find comfort and peace in painting.
Turner's main reason for developing her skills in abstract painting is that the perspective can be different for each viewer, meaning they have different interpretations and find different meanings in each piece. She believes this diversity in the abstract is comforting to the heart, soul and eye.
The full exhibition is located on the second floor of the medical center on the way to the Children's Hospital. The Healing Arts program is organized through the Office of Volunteer Services and Engagement to display work by local artists.
The exhibit will be up until Sept. 28. For more information, contact Jessica Tang or call (706) 217-6316.