In 1992, 11 hate crimes were committed in Montana, and Ben Klassen, white supremacist and founder of Church of the Creator, reissued hate literature titled White Man's Bible and Nature's Eternal Religion.
At this same time, one of the leaders of Klassen's church decided to defect. He contacted the Montana Human Rights Network and told them he knew how to get Klassen's literature out of circulation.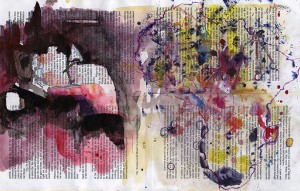 So, the Montana Human Rights Network ended up with Klassen's books and decided to use them for good. The group wanted to convert the books to art. They teamed up with the Helena Museum of Art, which organized an art show titled Speaking Volumes: Transforming Hate, put out a call to artists and asked them to use the literature to create art that would raise awareness.
Augusta University art professor Kristin Casaletto was one of the artists whose proposal was selected in the juried competition. She created 11 art-works, all paintings done on the pages of Klassen's books, in effort to pay homage to the victims of the 1992 hate crimes.
Casaletto's set of paintings depicts a twisted kingdom.
"It's a kingdom of illogic and twisted ideas, like the one in Klassen's hate literature," said Casaletto. "It's a kingdom with no powers or pursuits. Its only business is fear, resistance, suspicion and worry that some pigmented someone will somehow be a problem instead of a brother or sister."
She also incorporated aspects of Klassen's religion into her works.
"Since Klassen's 'religion' involves idolatry in which white races become gods, self-made kings who decree what they will, I made drawings that allude to a myopic realm of self-important courtiers and posers. They all show signs of decay, antiquation and disorder, as the system is flawed and cannot last."
For further inspiration, Casaletto looked at movie stills from D.W. Griffith's 1916 silent film, Intolerance.
"I was looking at movie stills that had been preserved," she said. "Some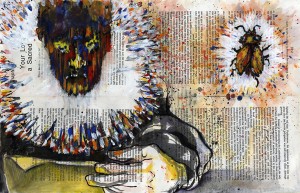 stills were decaying, and the actors wore weird, anachronistic costumes. I wanted to play on that."
As a final touch, Casaletto used the remaining pages of Klassen's literature as packing paper when she sent the paintings to Montana.
"For packing material, I shredded and crushed all the leftover Klassen pages used to make these drawings," she said. "I hope I've done my part in taking Klassen's work from hate, to art, to compost."
Speaking Volumes: Transforming Hate traveled for more than two years throughout Montana, beginning in 2008. The exhibit now travels nationally. This month, the show opens in New York, and from April 29 through June 3, Speaking Volumes will make its debut at the Gertrude Herbert Institute of Art in Augusta.
"The show hasn't had a south-eastern venue, so the first one will be in Augusta at the Gertrude Herbert Institute of Art," Casaletto said. "It's exciting because the exhibit has been shown all over the nation but has never been south."
After leaving Augusta, the exhibit will travel to Colorado. Casaletto is grateful to be a part of the exhibit and is excited about its success.
"It's nice to see the show have such a good reception in all these different communities," she said. "The exhibit has been a catalyst for community dialogue, and that's been nice to see."
Casaletto hopes that her paintings make viewers stop to think.
"I'm not about pushing a specific message," she said. "I'm about making art that raises questions and that I hope acts as something that can help inform consciences. I think an artist can't tell you what you should think, but I do believe that people need to think about what kind of society lets stuff like this happen and what each person can do to change this. This show is a nice opportunity for that. The art is up for interpretation, but it makes you think."
Above all, she believes Speaking Volumes is a perfect example of redemption.
"The guy that gave us the literature, he left the church," she explains. "This speaks to the possibility of redemption. People can change, and individuals can contribute to change. This guy realized he was a part of something bad and turned around and connected this project."
To learn more about Speaking Volumes: Transforming Hate visit their website.