The coronavirus has movie lovers like Augusta University alum Denton Adkinson hungry for information about theater openings and new releases, and when he clicked into an email from a local theater, he got a big surprise.
"I'm a Regal Crown Club member, and I got an email about their reopening policy because they're opening on Aug. 21," he said. "I scrolled down to their upcoming releases, and there was Tulsa."
Tulsa isn't just any movie: Adkinson served as director of photography for it last year.
Filmed entirely in Augusta, including at the Simulation Center at the J. Harold Harrison, M.D. Education Commons on the Health Sciences Campus, Tulsa opens on Friday, Aug. 21 — the first day Augusta's Regal Cinemas will be open after closing in March because of the pandemic.
A screening for cast and crew will occur on Saturday, Aug. 22.
The film, about a Marine Corps vet who finds love and purpose with a young daughter he didn't know he had, was co-directed by Scott Pryor, the movie's lead actor, and Gloria Stella, who earned an associate degree in TV and Cinema from Augusta State University before moving to Atlanta to pursue her film career. She is co-founder of En'val Entertainment, a production company responsible for producing several films, including Tulsa, alongside Pryor Entertainment.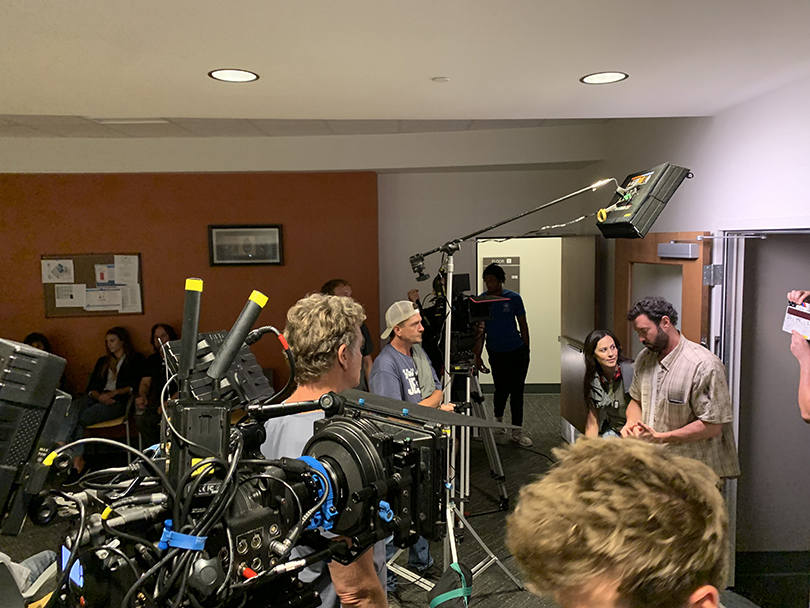 Tulsa was made with the help of several Augustans, including three interns from Augusta University.
"I really enjoy [having interns], because the film industry is really difficult to get into without experience, and you can't get experience without getting on a real set," Stella said. "So even though our departments all run at par without any interns, I always think that if we can even have one or two people in each department, it gives us a little bit more manpower, but mostly it gives them the opportunity to actually be on a set."
Eagle-eyed viewers will be able to catch glimpses of familiar places around town, including the Augusta Canal, the downtown Pizza Joint and of course the Simulation Center, which in this case simulates a doctor's office and a hospital setting.
"We shot for three overnights at the Simulation Center because we couldn't get into a functioning hospital to close down a wing," Adkinson said. "So the Simulation Center was a great stand-in for the hospital location."
Moviegoers will also recognize actor John Schneider, TV's Bo Duke from The Dukes of Hazzard.
Schneider brought some star power to the set of the independent film, something Stella says she enjoyed.
"Although they're very cooperative and very nice and everyone's very respectful, [established actors like Schneider] are very confident in their process and how they like things done, whether it's the logistics of how they're transported or speaking up when they think their character should go in a different direction," Stella said. "They're very confident in who they are and what they want and what they know they're good at, and I love that. Denton was one of those people, too, and I loved working with him because of that."
As director of photography, Adkinson was a leading voice in translating Pryor and Stella's vision to the screen.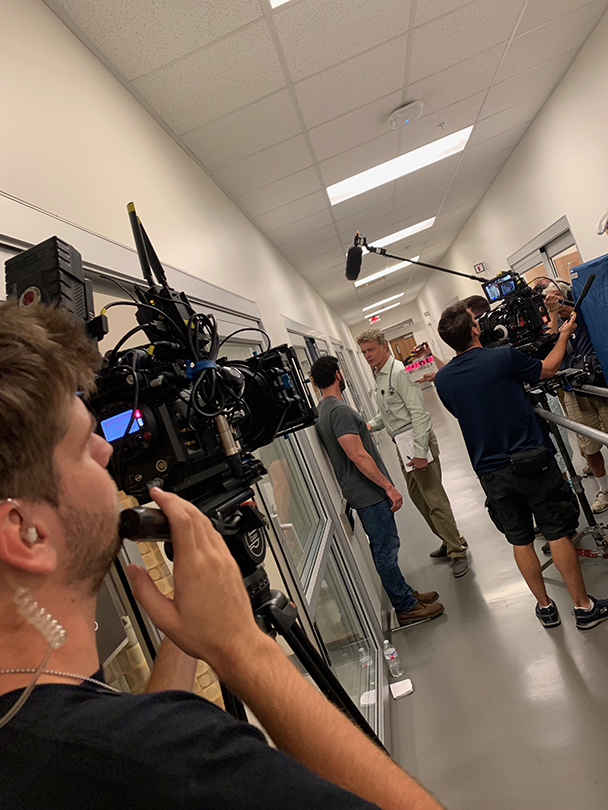 "I'm always trying to get the best out of the director's decisions, but I'll make recommendations that this angle or this location is going to look better on camera than another," he said.
Stella finds that kind of teamwork inspiring.
"I have no problems making decisions — I make decisions very quickly — but you hire people because they have a skill set to bring to the table, and that's one of my favorite things about filmmaking: the collaboration," she said. "It's not always just what I'm able to bring to the table — it's the best of what I bring to the table and the best of what someone else brings and then putting that together and making something even better."
Both Stella and Adkinson are happy with what that collaboration created.
"We had a crew where everyone had a common goal to make this the best movie they could," Adkinson said. "I've heard people who have seen the final result say that it looks like a bigger movie than it actually is, and that's from the crew working so hard."
Tulsa opens along with Regal Augusta Exchange on Friday, Aug. 21. For the latest information about the film opening and the cast and screw screening on Aug. 22, visit the Tulsa Facebook page.