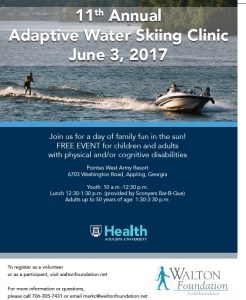 Augusta University Health and Walton Foundation for Independence are hosting the 11th annual Adaptive Water Skiing Clinic on Saturday, June 3, at Pointes West Army Resort in Appling.
The free event allows children and adults with physical or cognitive disabilities to adaptively ski, swim, tube or ride in boats.
Children's events run from 10 a.m. – 12:30 p.m. followed by lunch. Adult events begin at 1:30 p.m.
To register as a volunteer or as a participant, visit the Walton Foundation.
For more information, call 706-305-7431 or email markc@waltonfoundation.net.