Gregory Price, a senior mathematics major, won the best oral research presentation award regarding his research on computational magnetism at the American Physical Society March Meeting, which hosts more than 10,000 physicists.
For Gregory Price, his recent trip to Boston to attend the American Physical Society's March meeting was a life-changing experience.
Not only had Price, a senior math major at Augusta University's College of Science and Mathematics, never been on an airplane, but he'd rarely been outside the state of Georgia.
Price, 22, had also never seen more than a few flurries of snow in his lifetime.
All of that changed during the first full week of March, when Price got on a plane and flew to Massachusetts to attend an American Physical Society meeting and give an oral research presentation on computational magnetism to a panel of national and international physicists.
"It was a surreal experience, especially for me," Price said. "I'm someone who has really never been outside of Georgia and to go on a plane to this incredible conference was awesome. Then, I stepped off the plane and there was about a foot of snow on the ground."
While the heavy snow and bustling crowds in Boston were all exciting and new to Price, that was nothing compared to the thrill of meeting thousands of tremendously talented students and physicists throughout the week at the American Physical Society's meeting.
"There were these extremely intelligent people from all over the world talking about all the research they've done over the past several years," Price said. "The conference was amazing. You could be listening to a presentation and you wouldn't even realize that you were sitting beside someone who won a Nobel Prize in physics. It was unbelievable."
When it was time for Price to give his presentation on a research project he had done in collaboration with University of Tennessee regarding computational magnetism, he tried to calm his nerves by meditating and focusing on his work.
"I am not the best speaker in the world," Price said, laughing. "But I just tried to relax and think about exactly what I wanted to say."
The meditation and concentration on his research clearly worked because Price won the best oral research presentation award for his talk entitled, "Exact diagonalization RIXS studies of the doped 1d t1-t2-J model at the O K-edge," at the American Physical Society's March meeting.
While the title of his speech is a mouthful all by itself, Price explained that resonant inelastic X-ray scattering, otherwise known as RIXS, is a method for probing charge and spin excitations in quantum magnets.
If you need a little simpler explanation of his research, you're not alone.
"We study magnetism, but specifically we are studying exotic magnetic properties that exist inside of materials," Price said. "Basically, we shoot X-ray beams into a material and it tells us information about the properties the material could have in it. And we can study different types of materials and the limits of those materials."
Solving problems with physics
Price got interested in studying magnetism after his mentor, Dr. Trinanjan Datta, an associate professor of physics at Augusta University's College of Science and Mathematics, suggested that he join his student research team.
Over the past several years, Datta and some of his research students at Augusta University have partnered with Dr. Dao-Xin Yao, a professor in the school of physics at Sun Yat-sen University in China, to study theoretical and computational modeling to figure out how X-rays interact with magnets.
"So, the idea is that we currently use charges to transmit information and, as a result, your laptop heats up, right?" Datta said. "That's a problem because, when your laptop heats up, that causes your electricity bill to go up. We are trying to determine a way to cut down on those costs."
Therefore, Datta and his research students are studying the fundamental material properties of magnetic systems in order to find ways to mitigate heating problems and make electronic devices work more efficiently.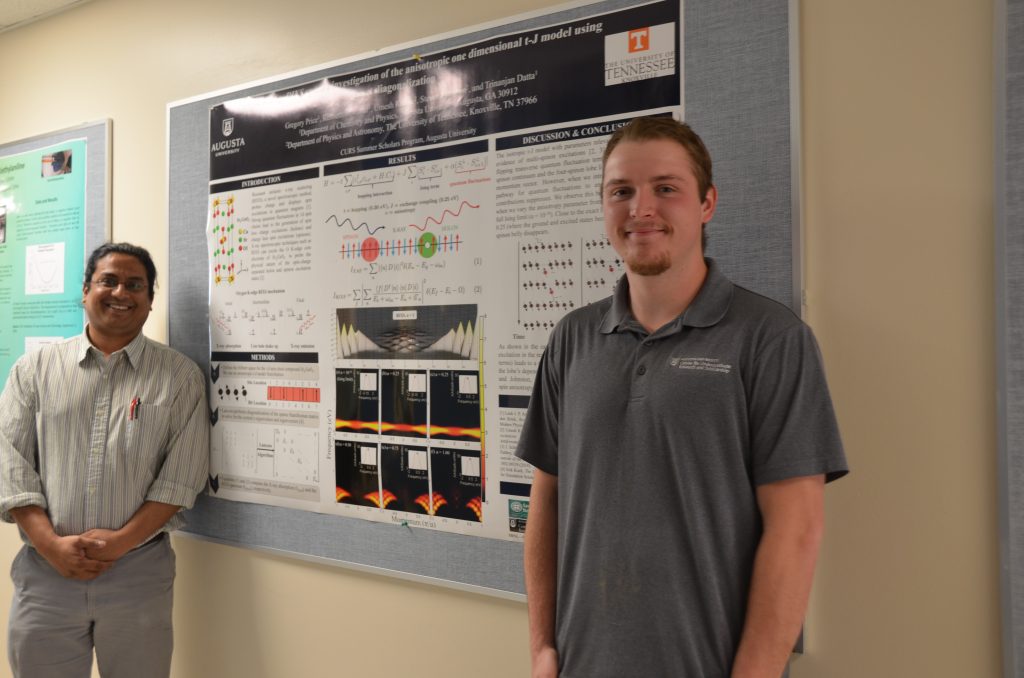 In order to do this, Datta and his team are researching the fundamental material properties of magnetic systems.
While Datta and Price are looking at technology that probably won't be available for another 20 years, they are building the groundwork for the future.
"You need to establish what I like to call the Newton's Law of Magnetism for these exotic materials," said Datta, referring to Sir Isaac Newton, one of the most influential scientists of all time. "That law doesn't exist right now, but somebody has to come up with it. Otherwise, you are going to be going around in circles with the same thing over and over again."
Over the past several years, Price said he has enjoyed every minute working with Datta and the other research students.
"Research has definitely changed my life," Price said. "A few years ago, I was going through a lot of financial issues. I was working 30 hours a week and still trying to go to school. As a result, my grades were suffering. Dr. Datta introduced me to research scholarship opportunities that gave me the ability to work only 10 hours a week and still go to school. He even helped me get an apartment."
Price said he owes a great deal to Datta's mentoring and instruction.
"He's a great person. He knows when to put the hammer down and he knows when to give you some space to figure things out for yourself," Price said. "I look at him as my best friend. I know that sounds kind of weird. But he's been there for me as a person. He's a great professor."
The proof is in the complete turnaround of his grades, Price said.
"Research has really helped me in academics. It has taught me how to learn," he said. "What I mean by that is, when you do research, you acquire better ways of learning. And if you look at my transcript, you can actually see, before research and after research, and how much my grades have improved. It is pretty cool."
In fact, Price said, if he could start over as a freshman, he would become a physics major.
"We started doing research at the end of my sophomore year and I just fell in love with physics because you can solve everyday problems," Price said. "Physics is everywhere and the applications are endless. So, honestly, I should be a physics major. If I was a freshman again, I would be a physics major."
A passion for learning
As a student in Datta's calculus-based physics class that studies electricity, magnetism and light, Price seemed naturally interested in the concepts of electromagnetism.
"In that class, Greg was showing some signs that, to me, are very important to be a good research student," Datta said. "One of which is a passion for learning. Not necessarily high grades. I don't go by high-grade students. I go by their interest in learning."
Datta begins recruiting research students by asking them to participate in a series of projects, he said.
"The first step is what I call a baby project, just for me to know that they can work," Datta said. "The second one is a big boy project which is where the University of Tennessee people came in regarding Greg's research into X-rays and magnetism."
It was clear from the beginning that Price was enthusiastic about learning new concepts and dedicated to the research.
"Right away, Greg was showing signs of good computational ability, which is the ability to code and understand physics," Datta said. "That's when he got into the micromagnetic simulation involving the X-ray scattering project."
These days, Price is a recipient of the Center for Undergraduate Research and Scholarship (CURS) — Savannah River National Laboratory scholarship and a two-time CURS Summer Scholars participant.
But now he has also won the best oral research presentation award at the American Physical Society March Meeting which hosts more than 10,000 physicists.
"Greg should be very proud because the competition is stiff," Datta said. "He's not just competing against students from Georgia. This is the entire country. You are talking about students from Harvard, Princeton, Yale, everywhere."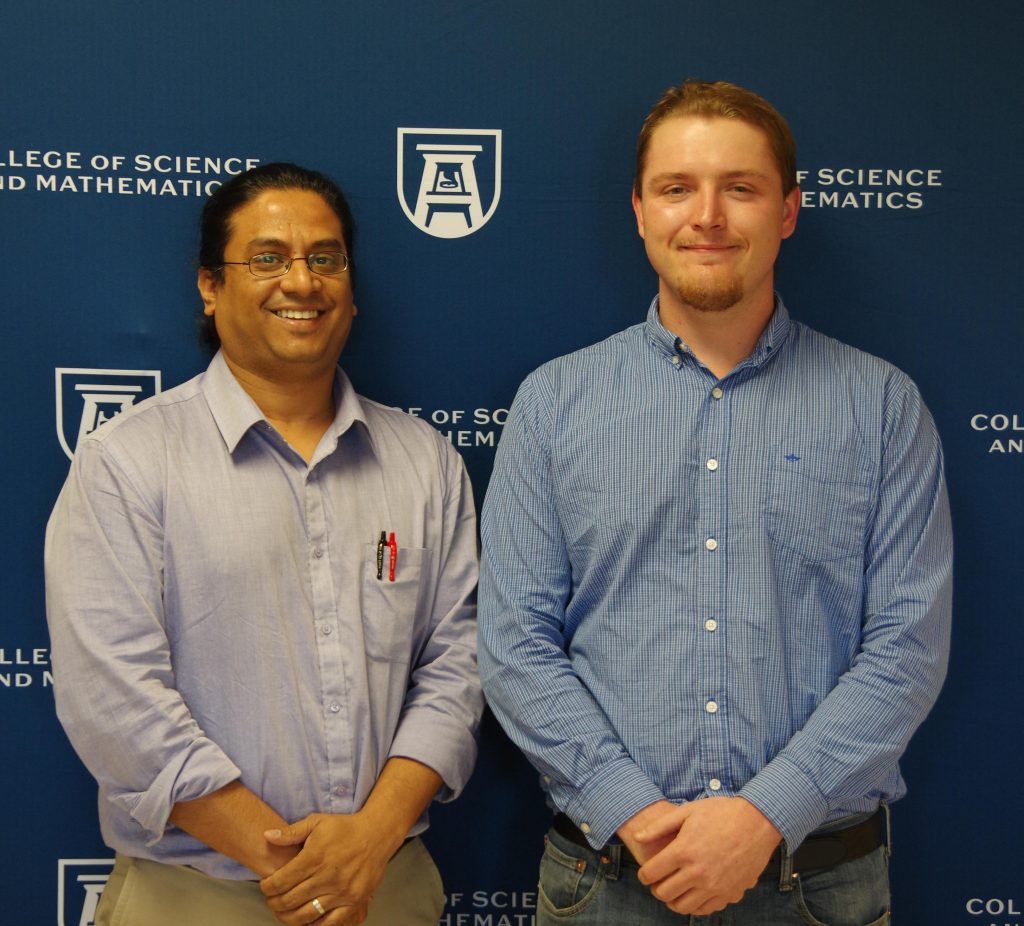 Even though Price was extremely proud of winning, he couldn't help but play a little joke on Datta after receiving his award.
"So, I go back to the hotel after the awards ceremony and I walk in and said, 'Awww. I didn't win,'" Price said, smiling. "Dr. Datta sat down and said, 'That's OK. You worked hard.'"
But Price said he couldn't keep the gag going for very long.
"I started smiling and then I said, 'Oh yeah. I did win. I actually won,'" Price said, laughing. "He didn't believe me. He had to go and check to see if I was telling the truth. I got him pretty good."
Datta admitted that he was fooled by the prank.
"I didn't believe him for a full hour," Datta said, smiling. "Usually when my students win, they will text me a picture of the award. When he didn't text me, I was like, 'OK. Maybe it didn't happen.' So, I was prepared to hear that he didn't win."
However, Datta has a tremendous track record of his research students winning American Physical Society awards.
"When I came here in 2007, one of my jobs was to set up an undergraduate research group," Datta said. "Then, the American Physical Society started doing these undergraduate oral presentation sessions beginning in 2009. And I have been taking students since then. I've had seven students present and five of them have won best research presentation awards. So, most of my students have had a good share of success there, which I am happy about."
But Price's win was particularly poignant because he has overcome so many obstacles and worked extremely hard for this success, Datta said.
"I was very happy for him," Datta said about Price. "I have had five students win this award over the years and, in almost every case, I was able to predict it. This one I could not. And I don't know why I did not. Greg gave a really good talk. But, going into it, I couldn't predict whether he would win or not. So, his win is one of the ones that I will savor the most."