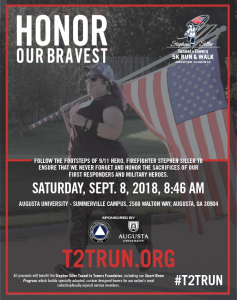 On Sept. 11, 2001, U.S. Army Major Stephen V. Long, an Augusta University graduate and ROTC alumnus, was in the Pentagon when a plane flew into the building.
Although Long made it out safely after the plane struck, he rushed back in to help as many as he could and is credited for saving three lives before dying of smoke inhalation.
Captain Peter Ahching, Assistant Professor of Military Science at Augusta University, will be running the Third Annual Greater Augusta Tunnel to Towers 5K Run and Walk in remembrance of Long.
Scheduled for Saturday, Sept. 8, the event was created in honor of the heroic life and death of Stephen Siller, a New York City Firefighter who lost his life on Sept. 11, 2001, while saving those he could in the Towers.
The run is an opportunity to honor all of those who lost their lives on Sept. 11, and support our first responders and military who make sacrifices everyday while in the line of duty.
Starting at precisely 8:46 a.m. in remembrance of when Flight 11 impacted the North Tower, the run will begin and end at Reese Library on the Summerville Campus at Augusta University.
The run is pet friendly, and medals will be awarded to the first 50 male, first 50 female and first 10 under-18 finishers.
Registration is $25 and available both online and in person on the day of the race. All proceeds will go to the Smart Home Program, which builds SMART Homes for wounded warriors.
Frequently Asked Questions can be found on the event webpage.