Stephanie Brantley is an avid runner. She trains three times a week and at least once during the weekend.
Brantley is also a mother. Her children, aged 25, 23 and 19, all battle with cystic fibrosis.
At times, the disease can be overwhelming.
"When your children are young, your hands are already full, and it was a challenge to have three young children who needed treatment three times a day," Brantley remembers. "You're just trying to keep your head above water and make sure they're cared for. Looking back, I have to say God gave us strength and carried us through."
As her children got older, Brantley decided she wanted to help families who were experiencing similar struggles.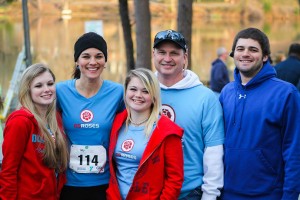 Brantley has been an aerobics instructor for almost 20 years and a runner for 10 years. She wanted to combine her love of fitness with a desire to support families affected by cystic fibrosis. After a bit of research, Brantley stumbled across Miles for Cystic Fibrosis, a nonprofit organization located in Atlanta.
Miles for Cystic Fibrosis was founded by two cystic fibrosis physicians who practice out of Emory University Hospital and Scottish Rite Hospital. Like Brantley, they were runners who decided to pair running with fundraising. All funds raised by 65Roses, the name given to Miles for Cystic Fibrosis teams of runners, are donated to the Cystic Fibrosis Foundation, whose focus is research, and the Cystic Fibrosis-Reaching Out Foundation, which provides financial assistance to cystic fibrosis patients and their families. This assistance may include insurance copays, mortgage payments or gas money.
"This intrigued me," Brantley said. "It really hits home when you can't pay your light bill. Just because you have insurance doesn't mean you don't have debt from trying to keep a cystic fibrosis patient healthy."
In 2012, Brantley started an Augusta chapter of 65Roses, a team of individuals who run and raise money to financially assist cystic fibrosis patients cared for at the Augusta University Cystic Fibrosis Center. This same year, 65Roses participated in what is now called the Augusta University Half Marathon and 10K.  The team was composed of approximately 25 runners, and together, they raised $15,000. And every year since, the team has raised $10,000 through the Augusta half marathon for a total of $46,000.
"I love running for my kids," Brantley said. "Running for a purpose gives you a totally different perspective. It gives me plenty of motivation."
Although all funds raised will be donated to the Cystic Fibrosis Foundation and the Cystic Fibrosis-
Reaching Out Foundation, both organizations fund the Augusta University Cystic Fibrosis Center. In 2015, the Reaching Out Foundation donated more than $14,000 to the Augusta Cystic Fibrosis Center, and $5,000 of those funds was money raised by 65Roses.
"When we give money to these foundations, that money stays here," Brantley said. "That means a lot to people who donate money, and it means a lot to me. If we raise the money, we want it to stay local."
Last year, 65Roses had 48 team members run the Augusta half marathon, and they expect similar numbers for this year's race. Several team members have elected to walk the course with a weighted backpack. For every $25 donated on a participant's behalf, they will add a pound to a rucksack. 65Roses calls this challenge "#poundoutCF."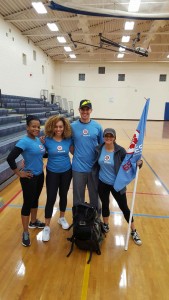 "Our runners are meeting this challenge, and some will be adding up to 30 pounds to their backpack," Brantley said. "We are excited about this challenge."
Brantley continues to be motivated by her desire to run for her children and other cystic fibrosis patients.
"I'm thankful for the strength God has given my family and for how heroic my kids are," she said. "It says everything when you see a cystic fibrosis patient meet the disease head on, come out the other side and overcome it. I'm really thankful for the staff at Augusta University Cystic Fibrosis Center. They walk this journey with our children and provide excellent care along the way."
The 65Roses team will participate in the Augusta University Half Marathon and 10K on Feb. 28, 2016. To learn more about the team, visit their website. For runner sign up or to make a donation, visit the donations page. For more information on the Augusta University Half Marathon and 10K, visit http://www.augustahalf.org/.