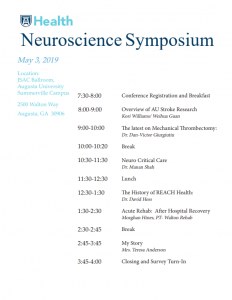 Augusta University's Advanced Comprehensive Stroke Center is hosting the fifth annual Neuroscience Symposium Friday, May 3, in the Jaguar Student Activity Center's Ballroom.
Home to the area's advanced stroke center, Augusta University's yearly symposium works to update both the staff at AU Health and the surrounding medical community on the latest breakthroughs in stroke care.
The symposium is one way the Comprehensive Stroke Center is helping those impacted by strokes, which are not only the fourth cause of death in Georgia but the leading cause of long-term disability. Educating the surrounding medical community can help to improve treatment rates and reduce the overall burden from a stroke.
Those interested in the event can register for $35 if they register by Monday, April 1. The amount raises to $50 if registered after Monday.
AU Health employees can attend for free, and Continuing Education Units will be offered.
For more information about the symposium, or if you would like to register contact Holly Barnes or call 706-721-4086.