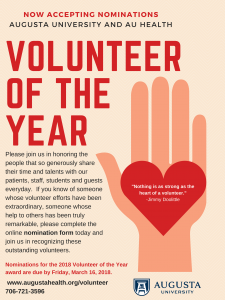 The Office of Volunteer Services and Engagement is now accepting nominations for the 2018 Volunteer of the Year.
This recognition is the perfect way to show the love to the special volunteers who so generously share their time and talents with our patients, staff, students and guests every day. If you know of someone whose volunteer efforts have been extraordinary, someone whose help to others has been truly remarkable, please take a moment to complete the online nomination form today.
We look forward to celebrating all of the nominees and winners for their outstanding efforts.
Nominations for the 2018 Volunteer of the Year are due by Friday, March 16, 2018.
Nominate online  or call 706-721-3596 for more details.