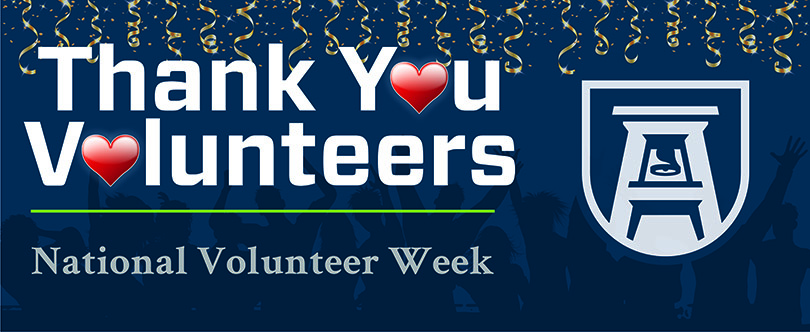 The Office of Volunteer Services and Engagement at Augusta University will be celebrating volunteers during the 2018 National Volunteer Appreciation Week (April 15-21).
Starting with their National Volunteer Week Ice Cream Social Drop-In on Monday, April 16, the weeklong event is a celebration of the people who have given their time, talent, voice and support to the university. These volunteers demonstrate how service can bring people together and help to create change and strengthen our community.
The Office of Volunteer Services and Engagement offers a multitude of volunteer opportunities for both adults and teens, including pet therapy, Healing Arts, patient and family advisors and more.
"We have so many programs and I don't think that people really realize the value that volunteers add," said Vanessa White, program manager in the Office of Volunteer Services and Engagement. "We want to highlight these diverse volunteers who have committed time, dedication and talent."
Last year, volunteers generously served more than 15,000 hours dedicated to providing a more positive student and patient experience in the university and the medical center.
One example is the musical group Timbella that performs in the lobby of the Children's Hospital of Georgia for Volunteer Services' Music at Midday.
Timothy and Izabela Parsons are a husband and wife duo who started volunteering at Augusta University toward the end of 2017. Their first performance was a Disney and princess themed event where they played Disney classics for the children to enjoy, but also some original pieces.
"I think it's a wonderful idea to bring music and art — any type of art or music — to a hospital environment because there is so much research about music being a healing power," said Izabela. "Having that here in Augusta is definitely a fun thing for us to be a part of and also something that we deeply care about."
The Parsons, who work for Whole Life Ministry, try to perform once a month and usually with a different theme for each show.
"One of the things we were hoping was to be an encouragement to the community and to show that it doesn't need to be complicated to go and do outreach," said Timothy. "It can be simple. So if you use the gifts you have, call Volunteer Services and see if you can provide it."
And while the Parsons are just beginning on their volunteering journey at Augusta University, another volunteer is coming to an end of his.
Len Carlson has been volunteering with the basketball team at Augusta University for over ten years, but he's been with the university for much longer.
"I came here as an assistant basketball coach in 1967 when I was 28 years old, and this was my first job outside of playing [professional basketball]," said Carlson. "I had a lot of affection for the school on Summerville Campus and there was only about 3,000 of us. We knew all the faculty. It was like a family."
After that he coached in Europe and at Indiana State before working for what became, after several mergers, VWR International, where he retired at 60.
Carlson had returned to VWR as a consultant for a year when Augusta men's basketball coach Dip Metress reached out.
"Dip got word that I was working and he asked, 'Since you're working, can you give us three hours a day and come up here and coach,' said Carlson.
Ten years later, Carlson is in his last year of volunteering and hopes that other people offer their expertise.
"It's a privilege to be almost 78 years old," said Carlson. "It's a privilege to be able to still work and contribute."
Augusta University is celebrating 2018 National Volunteer Week with prominent appreciation signage, social media coverage and multiple appreciation events, including a Volunteer Ice Cream Social, Volunteer Awards Brunch, a Pet Therapy Volunteer Drop-In and a Youth Volunteer Field Day.
If you would like to help make a difference by volunteering, contact the office of Volunteer Services and Engagement at 706-721-3596 or visit them online to see what opportunities are available.
And don't forget to mark your calendars for 2018 Day of Service on Saturday, November 3. Day of Service is a special day each year where faculty, staff, students and families of Augusta University have the opportunity to come together and positively impact our community though meaningful service. Join us as we 'Lend a Paw' to help our community and those in need with a wide variety of community partners across the CSRA.