After submitting his resignation to the Board of Regents, Dr. Ricardo Azziz, President of Georgia Regents University and CEO of Georgia Regents Health System, spoke with the GReport in order to directly address faculty, staff, and students of the combined institution he created.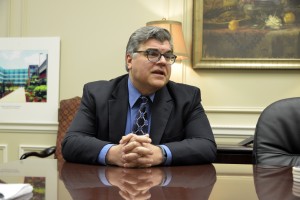 "I consider myself to be lucky and honored," he said Thursday. "How often does a person come in and not only get to create a whole new university – and a university with a grand vision, not just a university with ho-hum vision – but also to create a health system, which we didn't have? That's just extraordinary."
Azziz was named president of the Medical College of Georgia in 2010 and was inaugurated just before the Board of Regents moved to consolidate the institution with Augusta State University. He then led the successful implementation of the consolidation of the two Augusta institutions.
Given the school's achievements and the ties he and his family have built, the decision to resign wasn't easy, he said, but he felt the time was right.
"It's important to know that you can't be the forever president, that each president has a mission and when you accomplish those things, you need to decide if it's better for somebody else to carry it to the next level," he said. "I'd rather be the person who's accomplished a lot, transformed the institution into a much better place and set the stage for the next thing, and leave on top."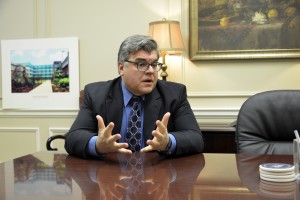 Acknowledging the criticism that followed him throughout the consolidation process and beyond, he remained positive about his treatment by the community.
"There are always people who will disagree, detractors if you will, and that's normal when you're creating a health system that didn't exist, or creating a new university that didn't exist, or you're just pushing the boundary or demanding excellence," he said. "But this has been a great community. The people are really charming and wonderful and hospitable, and we have many, many friends here."
Board of Regents Chair Neil Pruitt highlighted Azziz's contributions to the University System saying, "Dr. Azziz's contributions to Georgia Regents University and Georgia Regents Health System will have lasting impact for the benefit of the students and patients served. I thank Dr. Azziz for his leadership and service to the University System and his steadfast support of our mission in public higher education."
University System of Georgia Chancellor Hank Huckaby recognized Azziz's leadership of Georgia Regents University saying, "Dr. Azziz has led the transformation of Georgia Regents University into a nationally recognized research institution. He outlined a vision for the new institution and positioned GRU for a bright future. He is a valued colleague. On behalf of the University System, I thank Dr. Azziz for all his contributions and we wish him and his family the very best in his future work."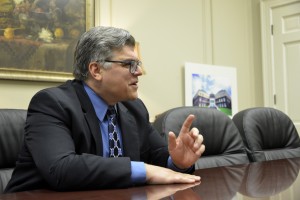 Though the list of successes is long, Azziz said he was most proud of the increase in student success.
"The fact that we're improving graduation rates, the fact that we're improving retention rates, the fact that we're improving the student experience – that's what matters," he said.
His message to the GRU community was succinct and heartfelt.
"First: my whole-hearted thanks," he said. "I really, truly mean that. You cannot achieve what we have achieved without everybody going in the same direction at the same time and everybody believing in the future.
"Second: Stay on course. Believe in your greatness, because we are a great institution."
Azziz said that while he will be stepping away from his administrative duties effective June 30, he plans to remain at the university as a professor.
"I haven't had any time off to reengage with my academics in 35 years, so I'm really looking forward to that," he said. "And then we'll see what the future holds."