Pediatrician, father of four shares advice with dads on how to have healthy relationships with their children
A mother's role is vital in the growth and development of a child. But far too often dad's role in the process is underestimated, or even overlooked.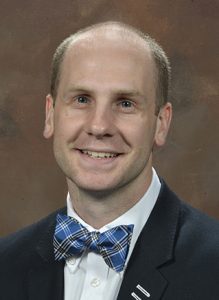 "There is much evidence that interactions with a father are just as important as interaction with a mother in a child's positive development," said Dr. Jacob Eichenberger, a Children's Hospital of Georgia pediatrician and father of four. "A strong paternal influence should be cultivated from the time your children are born and maintained as they grow and mature through adolescence."
Despite new expectations, related responsibilities and scientific studies regarding fatherhood, many men still enter it with little idea of what their new role is and how it will affect their own lives, according to a report from the American Academy of Pediatrics on Enhancing Men's Roles in the Care and Development of Their Children.
"This report found that children with strong support from a father had a greater sense of social competence and fewer depressive symptoms," Eichenberger said. "Like similar studies, this reinforces that, as fathers, we've got to be and stay involved in our children's lives."
"Father's Day is a good reminder of how important fathers are," Eichenberger said.
In honor of this special day, Eichenberger shares the following 10 ways to nurture a healthier relationship with your children:
1. Make mealtime memories. Invite your kids to help you gather ingredients, prepare the food or set the table for meals. Also make a commitment to have dinner together as a family at least five nights a week.
2. Become book buddies. Curl up together with a good book.
3. Keep the conversation going. Talk to your children about their friends, feelings, school, hobbies and everything else that may be important to them.
4. Share something special to you. Let your child in on a fond memory or favorite pastime.
5. Be a home body. Spend time with the kids at home – inside and outside the house. Play games, watch TV or a movie together, exercise together, or just hang out together.
6. Take day trips. Go to the park; the zoo; or a fishing pond. If you've got teens, try the mall or a movie.
7. Give them responsibility. You can assign simple tasks, such as picking up toys, to children as young as three. You can increase their tasks with age, and be sure to hold children accountable.
8. Discipline them. Children need consistent, simple rules and boundaries. Be sure kids understand the rules and know the consequences if they fail to follow them.
9. Praise them. Work toward a daily climate of respect and affection. Catch your children doing things right and let them know it. Keeping the atmosphere positive and supportive will enhance your child's emotional development.
10. Practice what you preach. Kids learn from you, dad, even when you think they're not looking; so be a good role model.
"The key ingredient in most of these ideas is time," Eichenberger said. "Invest time in your children and your family. Be creative, and have fun. Fatherhood is a commitment for life, so embrace it fully and celebrate it daily."
The 154-bed not-for-profit Children's Hospital of Georgia is the second-largest children's hospital in the state, providing a wide range of general and complex health care for children, including the highest level of pediatric critical care and neonatal intensive care, and a 16-bed pediatric emergency department with trauma care. CHOG was recently ranked as the nation's top performing hospital in pediatric quality and safety by the University HealthSystem Consortium of academic medical centers. Visit facebook.com/GAChildrens or follow on Twitter at twitter.com/GAChildrens