As the new executive vice president for finance at Augusta University since May, Yvonne Turner believes people often underestimate the power of listening.
"Generally, I am a quiet person," Turner said, smiling. "In fact, when most people see me in the room, I'm not talking a lot. But what I'm really doing is actively listening. And once someone finishes talking, I ask a lot of questions."
Listening can be one of the most useful tools in a leadership position, especially when financial numbers are involved, she said.
"I like connecting the dots," Turner said. "And I've always been a curious person. I still am. So, I like to listen more than I talk because I'm listening for what's the story line and looking beyond just the numbers.
"I like to ask myself, 'What are the numbers telling us?' And then talking to people about what the numbers mean."
Meeting in the middle
Prior to joining Augusta University as the deputy chief information officer in December 2018, Turner served as the deputy director in the Governor's Office of Planning and Budget in Atlanta, where she helped balance the state's budget, created a financial training program to bridge the gap between accounting and budgeting and reduced expenses through contract negotiations and interagency agreements.
"I started in the Governor's Office of Planning and Budget under Georgia Gov. Sonny Perdue and finished under Gov. Nathan Deal, so I was in the governor's office for a little more than 10 years," Turner said. "It was a prestigious job, and I actually loved it. I'm a solution-oriented person, so I liked the idea of people in the governor's office giving me a complex problem and I was able to use my skills to figure it out."
Turner said she isn't a supporter of slashing a budget by looking at the numbers without asking questions.
"Most people will probably tell you that I never told anybody, 'No,'" Turner said. "Instead, I always say, 'Well, let me think about it, and I'll come back and give you some options to consider.' And, hopefully, we can find someplace in the middle."
Tying it all together
By utilizing both her accounting background and art of negotiating, Turner said she was able to assist with finding ways to fund the majority of the goals set forth by the governor's office for the state of Georgia.
"I enjoy always having a robust conversation because it helped answer some of the whys," Turner said. "That way, if somebody looked at the budget and asked, 'How did you come up with this dollar value?' we could show them the analysis, and we could show how it all tied together. That's what I'm hoping to bring here to Augusta University."
Over the past several months, Turner has begun studying the story behind the budgetary numbers at Augusta University.
"I want to know more," Turner said, sitting in her office inside the Kelly Building on the Health Sciences Campus. "I want to know more about these financial statements. I want to know more about how we are spending our money. I want to know the whys and the hows of these numbers, and I want to answer the question, 'Can we do things differently?'"
After all, every organization's budget can be improved upon, Turner said.
"I am going to tell you the good. I'm going to tell you the bad. But more importantly, I am also going to tell you, 'Here are some strategies we can start doing to improve our trajectory,'" Turner said. "A clear picture of what's going on gives you an opportunity to figure out, 'What's my next step?'"
Turner said it is also crucial to be honest about the financial matters impacting the university.
"Transparency is something that I love and respect. I think you can make wise decisions when you are transparent," Turner said. "Everything might not be what people want it to be, but if you are hiding it, you can't make a difference."
Budgeting the state of Georgia
During her years working with the governor's office, Turner said Georgia faced a number of financial hurdles that she helped the state overcome.
"When I first started in the governor's office about 10 years ago, we were going through a recession," she said. "We were actually having to look at how to reduce the state's budget to come back in under projected revenue. I knew we could do it. Others knew we could do it, as well. But we had to figure out what was going to be our strategy first."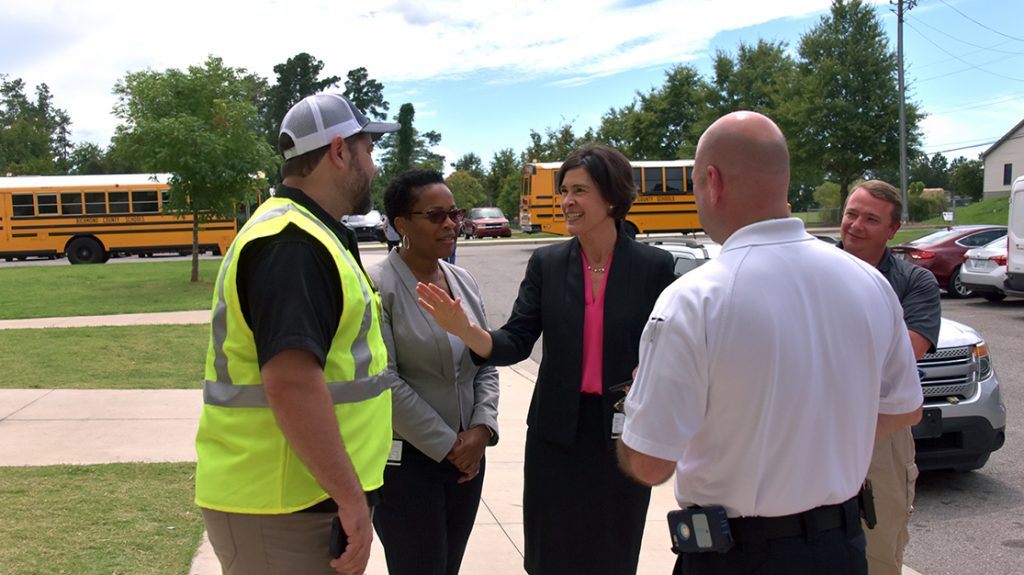 As a result, Turner realized she needed to teach her team to review financial trends over a number of years.
"Even though we were giving people a budget for something, it was important to ask, 'How are they spending it?'" Turner said, explaining that her advice helped the team better identify areas that could be cut. "We were able to fund the priorities and reduce what people like to call the 'fluff' or the 'fat.'"
Since some of the agencies or organizations seeking state funding felt every aspect of their budget was crucial, Turner said she had to also teach her team to independently recognize areas that could be cut.
"When agencies would give us their recommendations for their budgets, I would tell my staff, 'I don't want to rely on what the agency tells us. I want you to do your due diligence and you look at the data and then you tell me where you would reduce. And then I can have a conversation with the agency,'" Turner said. "I really enjoyed it because I was empowering my staff, mentoring my staff and finding time to invest in my staff."
Building a trained and qualified team makes the budgetary process run much smoother, she said.
"Mentoring and coaching as a leader is very important to me," Turner said. "I'm not a leader who just delegates and leaves you alone. I am a leader who delegates and who has an open-door policy, because I'm here to help you be your best, but I will push you.
"I set the expectations high, and I will push you. But I am here to support you as well."
There are three keys to a successful working environment, Turner said.
"Teamwork, transparency and trust," Turner said. "If you have all three of those, you will have an awesome, phenomenal team that will succeed."
Coming full circle
Turner believes many of the avenues in her life have led to her new position at Augusta University.
In fact, she was briefly stationed at Fort Gordon when she joined the Army not long after graduating from high school in Sumter, South Carolina.
"I started my career in Augusta at Fort Gordon," Turner said. "I did a little stint in the military, and it was a good experience. Being in the Army kind of prepares you, in a sense, to be grounded. It teaches you respect for hard work. And it teaches you discipline."
The Army reinforced the values her parents gave Turner and her four siblings.
"I learned about strong ethics and hard work from my parents," Turner said. "My dad was a truck driver, and my mom was a manager in retail. They taught me and my siblings — there are five of us — to live beyond what you see today."
"If you think it, you can do it. Just don't give up on yourself," she added. "That was the message that we constantly got: Never give up on yourself."
As a result, Turner is always striving to grow and become better at handling whatever challenges she faces.
"I set the bar high for myself," Turner admitted. "Everybody may have their expectations of me, but my expectations of myself are very, very high."
Choosing the right path
After her military experience, Turner enrolled in Central Carolina Technical College to begin pursuing her dream to go to college. Not long after, she moved to Georgia and enrolled in Clayton State University in Morrow, Georgia, to get a bachelor's degree while she was still working full time.
"The one good thing about me working full time and going to school full time was, whatever I learned in that classroom, I could immediately bring it back to work," Turner said. "Typically, with any kind of instruction, everything that is in a book is not always how it happens in reality, so I got to see both worlds."
When Turner initially enrolled at Central Carolina Technical College, she was considering a completely different profession.
"The irony of me coming here and working with the health system is that I first went to college to be a nurse," Turner said, smiling. "But when they really started talking about picking a specialty and they told me, 'You will be dealing with blood,' I was just like, 'That's not me.' So, I switched and decided to go into information technology."
Not long after, Turner realized IT was not a good fit for her, either.
"It was a bore," Turner said, laughing. "I was not going to major in that, so I chose accounting so I could eventually graduate."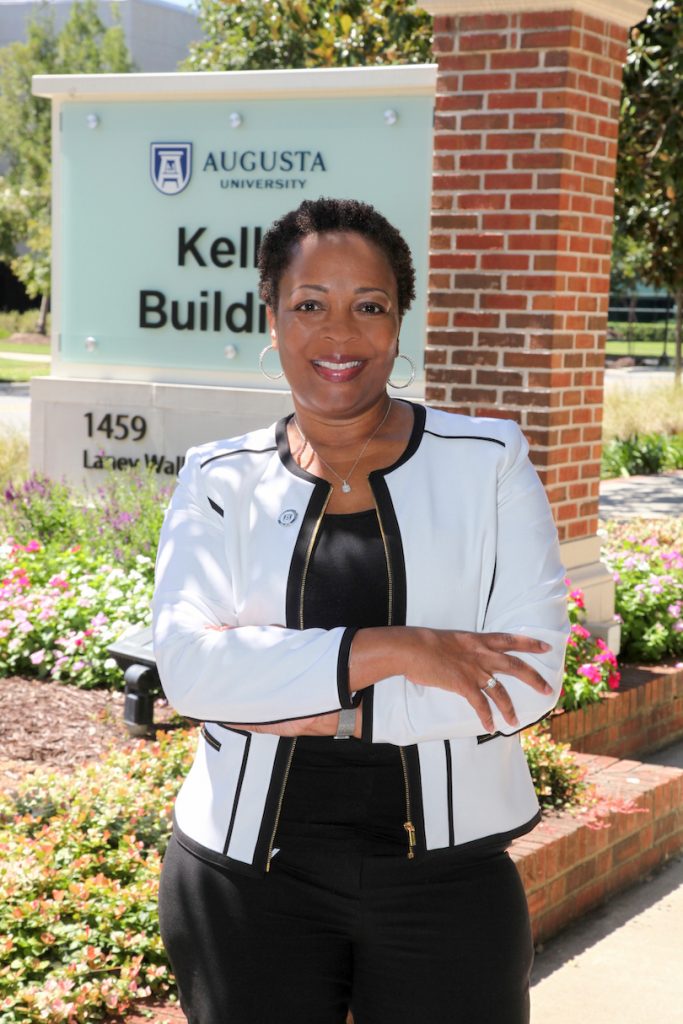 But all of her life choices seem tied together, she said.
"The irony of me coming to Augusta is, originally I was working in the IT department and now I'm working with the health system," she said. "So, it was like those tidbits early in my life were showing me where my life was headed. Because I even started my career in Augusta at Fort Gordon. And now, I'm back. So, it is almost like I came full circle."
Not afraid of a challenge
Now that Turner has returned to Augusta, she loves exploring the city and the surrounding areas in her free time.
"I like the beauty of nature, and I like to hike. Very few people know that," Turner said, chuckling. "Most people would be surprised that I hike. Because, when they see me in the office, they will see me wearing business attire and ready to get to work. But, in my off time, I like to just hike and chill."
Some of her favorite local places so far are the Greeneway Trail in North Augusta, the Savannah River Bluffs Heritage Preserve, the trails along the Augusta Canal and Blanchard Woods Cross Country Trail.
She recently introduced her 4-year-old granddaughter, who lives in Atlanta, to the Greeneway in North Augusta.
"I enjoy spending time with my daughter and granddaughter. They keep me on my toes. In fact, my granddaughter is a comedian at heart," Turner said. "For instance, when she came to visit, she was riding her little bike with me while I was walking the Greeneway.
"As I was walking, she kept asking me, 'Grandma, are you tired yet?' and I said, 'No.' And I just kept walking."
About a quarter mile before finishing their walk along the trail, her granddaughter, named Skylar, just stopped.
"I asked, 'Sky, what's wrong?'" Turner said. "And she said, 'Grandma, I can't feel my legs.'"
Turner couldn't help but laugh.
"I guess what she was trying to say when she was asking me if I was tired was that she was actually tired and ready to stop," she said. "So, I had to roll her on her little bike the rest of the way home. She literally would not pedal anymore. She was done."
Turner says she loves a good challenge, but even she put her hiking skills to the test last spring when she decided to tackle Echo Canyon in Arizona.
"I don't think I realized how high it was," Turner said. "It was a hike that was a constant incline, and honestly, I got scared once I got to the top. So, coming back down to the bottom, I would say that I sat some and crawled down."
Hiking Echo Canyon was difficult, but Turner was determined to conquer that mountain.
"It wasn't pretty, but I made it down," Turner said, laughing. "I made it up, and I made it down. I never gave up. I never give up."