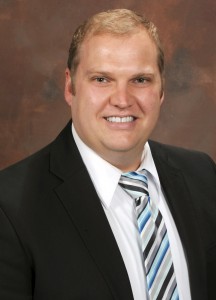 AUGUSTA, Ga. – Dr. Adam Wyatt, Georgia Regents University's Director of Academic Programs, has been named the university's Associate Vice President for Academic Affairs and Student Success as of Feb. 1.
In this position, Wyatt will lead efforts to enhance student retention, progression, graduation, and post-graduation success. He will oversee the Advising Center, Career Center, and the Office of First and Second Year Experiences.  He will also act as the primary liaison for the academic partnership between Georgia Regents University and East Georgia State College.
Wyatt joined GRU in 2012 as the Director of Planning and Assessment in the Division of Institutional Effectiveness.  After serving in that position for a year, Wyatt became the Director of Academic Programs in GRU's Office of Academic and Faculty Affairs. As part of his duties, Wyatt helped with the development of new academic programs.  He also served on the leadership team to develop program-level student outcomes for all programs within GRU's nine colleges and managed the institution's partnership with East Georgia State College.  In addition, he has taught graduate courses in GRU's College of Education and served as an INQUIRY 1000 course instructor for the university's First Year Experience program.
Wyatt is an award-winning analyst in the field of educational research and has presented his work at numerous academic meetings including the Consortium for Higher Education Researchers Annual Conference in Italy.
Wyatt received a Bachelor of Arts degree in French and a Master of Education degree in Postsecondary and Student Affairs from the University of Southern California. He also earned a Doctor of Philosophy degree in Higher Education from the University of Georgia, and he is expected to earn a Master of Environmental Planning and Design degree from UGA this year.
###
Georgia Regents University is one of four public comprehensive research universities in the state with nearly 10,000 students enrolled in its nine colleges and schools, which include the Medical College of Georgia – the nation's 13th-oldest medical school – the nationally ranked Hull College of Business, and Georgia's only College of Dental Medicine. The clinical enterprise associated with the university includes the 478-bed Georgia Regents Medical Center and the 154-bed Children's Hospital of Georgia. GRU is a unit of the University System of Georgia and an equal opportunity institution.  gru.edu