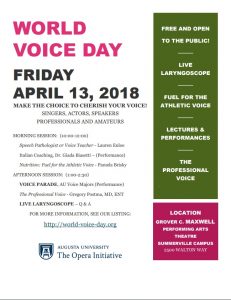 The Opera Initiative at Augusta University will celebrate World Voice Day on Friday, April 13, at the Maxwell Theatre on the Summerville Campus.
The event, which begins at 10 a.m. and runs through the afternoon, includes performances from Augusta University music students and professors, Italian coaching, nutrition information and a live laryngoscope.
The Opera Initiative is made up of faculty at the university, and includes a speech therapist, a nutritionist and an ear, nose and throat doctor. Focused on the care and longevity of the young singer, the Opera Initiative is the only program of its kind at the undergraduate level.
Don't miss this chance to celebrate the importance of voice while bringing awareness to voice problems.
Schedule of Events
Morning Session:
10:00-10:10 Welcome – Tonya Currier- The Vocal Athlete
10:15-11:00 Speech Pathologist or Voice Teacher: Lauren Enloe, Speech Therapist, PRN
11:00-11:10 Performance: Italian Aria – "Caro Nome" from Rigoletto by Verdi-Raji Venkat, Soprano & Dr. Rosalyn Floyd, Pianist
11:10-11:30 Italian Coaching – Dr. Giada Biasetti
11:30-12:00 Nutrition: Fuel For the Athletic Voice – Pamela Brisky
12:00-12:45 Lunch Break – Maxwell Lobby
Afternoon Session:
1:00-1:30 Voice Parade – AU Music Dept. Voice Students
1:30-2:15 Gregory Postma, MD, ENT – The Professional Voice
2:15-2:30 Live Laryngoscope – Gregory Postma, MD & Katisha (Jovania Coleman)