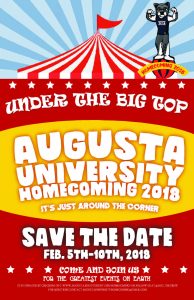 It's Homecoming Week, Jaguars, and we all know what that means: Good food, great company and a ton of opportunities for you to show the world just how #Prowld you are to be a part of Augusta University.
First things first, though: It's time to elect a new Homecoming Court.
Homecoming Court Elections begin Monday, Feb. 5, at 8 a.m. and run until midnight on Wednesday. Choose carefully, though. This year's decision is especially tough, with a broad field of more-than-qualified candidates to choose from. Click here to view a list of this year's Homecoming Court Candidates.
Homecoming Week officially kicks off Monday, starting with Wear Blue, Get Food on the Jaguar Student Activities Center patio from 11 a.m. – 1 p.m. The first 500 students to show up wearing their best Augusta University blue will earn some well-deserved snackage. Students will also have the opportunity to participate in fun, interactive activities through the JSAC.
Have any legacy-branded gear or an old shirt from another university? Bring it to Wear Blue, Get Food and swap it for a 2018 Augusta University homecoming t-shirt. One shirt per student, please.
On Tuesday, make your way to the JSAC Patio for Athletic Field Day from noon to 1:30 p.m. Test your athleticism and celebrate homecoming week by joining the Homecoming Executive Committee and Augusta athletic teams for a field day. If you missed Monday's t-shirt swap, you're not too late. Bring your old shirts to field day and trade them in for a homecoming t-shirt.
Wednesday is Augusta University Idol. Come out, sing or shout (though singing is preferable) and show us how Jaguars roar. The stage will be set in the JSAC breezeway from noon to 1:30 p.m. Homecoming shirts will also available at Augusta Idol. Just don't forget your old college or university t-shirts.
Hustle over to Christenberry Fieldhouse on Thursday evening for the Jaguar Mania: Step and Dance Show from 7 p.m. – 9 p.m. The show will feature performances from different groups and organizations in two categories: step and dance. Brandon T. Jackson, actor and comedian, will MC the event. You may recognize him from the Percy Jackson movies or Tropic Thunder.
Friday evening join us in Jaguar Park, next to Oak Hall, to "Go Downtown" (7 p.m. – 9 p.m.) with your classmates and the Homecoming Court to learn about local businesses and restaurants. This year's Go Downtown will feature free food, live entertainment, and engaging activities. It's sure to bring out students, alumni and friends.
And finally, Saturday, Feb. 10, brings it all home with Jaguar Jam, a celebration of all things Jaguar Nation, at the Christenberry Field House from 11:30 a.m. – 2 p.m. Join us for a tailgate before the big game. There will be free food, games and music.
Later that afternoon, be sure to come out and support our Jags as they take on the Georgia College & State University bobcats and be ready to congratulate your 2018 Homecoming Court as they take the floor to be crowned.
Celebrate with us on Twitter using #AUGhomecoming and #AUGhome. Make sure you show the Jaguar Production Crew some love by shouting them out on Twitter and by following them on Instagram and Facebook. For more information about Homecoming and Homecoming Week events, visit Student Life and Engagement's website.