Augusta University President Brooks A. Keel, PhD, spoke this week before the U.S. House Energy and Commerce Subcommittee on Health in Washington, D.C., at a hearing called "Caring for America: Legislation to support patients, caregivers and providers."
MCG 3+ program is an accelerated medical school curriculum that has been developed to recruit, train and place more primary care physicians in underserved communities around Georgia.
Keel discussed the MCG 3+ program as a solution to address the growing concerns over physician shortages, student debt crisis, disparities in health care and the need to provide better access to care in rural and underserved areas.
"This program aims to eliminate medical school tuition debt, reduce disparities by increasing access to care in rural and underserved areas across the state of Georgia and begins to tackle the extreme physician shortage that we are experiencing in one of the top 10 most populous states in the country," Keel told the Subcommittee on Health on Oct. 26.
Keel explained the MCG 3+ program will substantially reduce the cost of medical school, shorten the time required for physician training and incentivize physicians to practice medicine in rural and underserved parts of Georgia by offering the opportunity to have medical school tuition eliminated.
"First, by employing a unique and novel curriculum, we have shortened medical school from four to three years. Right away, this reduces medical school debt by 25%," Keel said. "Second, we are asking first year medical students who have a passion for primary care and a propensity for practicing in rural and underserved Georgia to commit to a primary care residency in Georgia. This alone will significantly enhance the chance that these students will continue to stay and practice in the state once they complete their training."
Keel said he was referring to "primary care" in the broadest of terms to include family medicine, internal medicine, pediatrics, psychiatry, obstetrics and gynecology, emergency medicine and general surgery.
"Third, if these motivated students will commit to establishing their clinical practice in an underserved, rural area in Georgia, and will agree to practice in these areas for at least three years post residency training, we will waive their medical school tuition," Keel said. "In other words, free medical school in return for a year-for-year clinical service commitment in rural Georgia."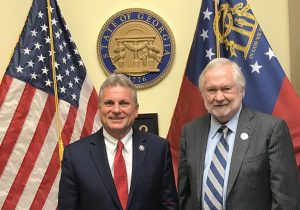 According to the Georgia Board of Health Care Workforce, 60 of the state's 159 counties have no pediatrician, 76 are without an obstetrician or gynecologist, 18 have no family medicine physician, 32 have no internist and 74 do not have a general surgeon.
"I should point out that while the primary impetus for the 3+ program was to incentivize physicians to establish a clinical practice in underserved and rural Georgia, this overall approach would also lend itself to tackle other vital needs of the state," Keel said. "For example, we are exploring whether the 3+ program will allow us to address a critical shortage of medical examiners and forensic pathologists in the state."
MCG 3+ was implemented in fall of 2021 and the program is expected to continue to grow and attract future physicians to establish a clinical practice in underserved and rural Georgia, Keel said.
"MCG contracted with eight, first-year medical students to join the 3+ primary care pathway program in the fall of 2021. We hope to add another 10 next year," Keel said. "We recently received a $5.2 million gift from Peach State Health Plan, a subsidiary of Centene Corporation, in support of the 3+ rural program. This was matched by another $5.2 million from the State of Georgia, allowing us to establish a $10.4 million dollar endowment to cover the tuition costs of these physicians."
Watch: Claud Bugheni will complete medical school in 3 years thanks to the 3+ program.
Augusta University is aggressively seeking additional public and private philanthropic opportunities that would allow MCG to support additional students who desire to take advantage of this program, he said.
"Our goal is to create a continuing pipeline of physicians who are dedicated to meeting the health care needs of the state, both now and well into the future," Keel said. "We believe that, through leveraging the combined efficiencies of the accelerated three-year MD curriculum, coupled with a tuition-free medical education and an in-state primary care residency experience, MCG will dramatically enhance our contribution to Georgia's physician workforce and significantly impact the health and economic prosperity of all Georgians, especially those living in our rural and underserved areas."
U.S. Rep. Cathy McMorris Rodgers (WA-05), a member of the subcommittee, asked Keel if he thought MCG 3+ is a program that could be implemented in other states across the country.
"This can clearly be implemented in any state and I would be happy to talk to anyone about what we are doing and how we are doing it," Keel said, adding that about 20 other medical schools across the country have some form of an accelerated MD program, but it is not at the same large scale as MCG.
However, Keel said a key to the success of the program will rely on the support from the individual states to create public and private philanthropic opportunities.
"I think the individual states themselves are going to have to step up and the local communities themselves are going to step up as well to try to support this kind of program," Keel said "It's not just about eliminating the debt, but it's also finding ways to cover the cost of setting up a practice in a rural area."
U.S. Rep. Anna G. Eshoo (CA-18), the chairwoman of the subcommittee, told Keel that she sincerely appreciated his testimony.
"Thank you, Dr. Keel. That's helpful. It's not only helpful, it's hopeful," Eshoo said. "And we all need hope."