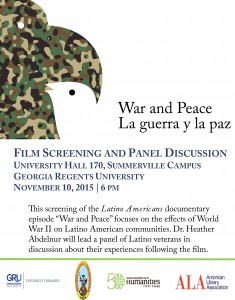 The Georgia Regents University libraries will host a screening of "War and Peace" ("La Guerra y La Paz") on Tuesday, Nov. 10 at 6 p.m. in University Hall Room 170.
Produced by Daniel McCabe and John J. Valdez, War and Peace is the third episode of the six-hour-long "Latino Americans" documentary. Covering the period during and shortly after World War II, "War and Peace" features several prominent Latino American heroes, including Macario Garcia, the first Latino recipient of the Medal of Honor, and Guy Gabaldon, a Marine interpreter who captured more than 800 Japanese soldiers in a single day.
Following the screening, Dr. Heather Abdelnur, associate professor of history, will lead a panel discussion with Hispanic/Latino American veterans.
Click here for more information about the Latino Americans series, hosted by GRU libraries.