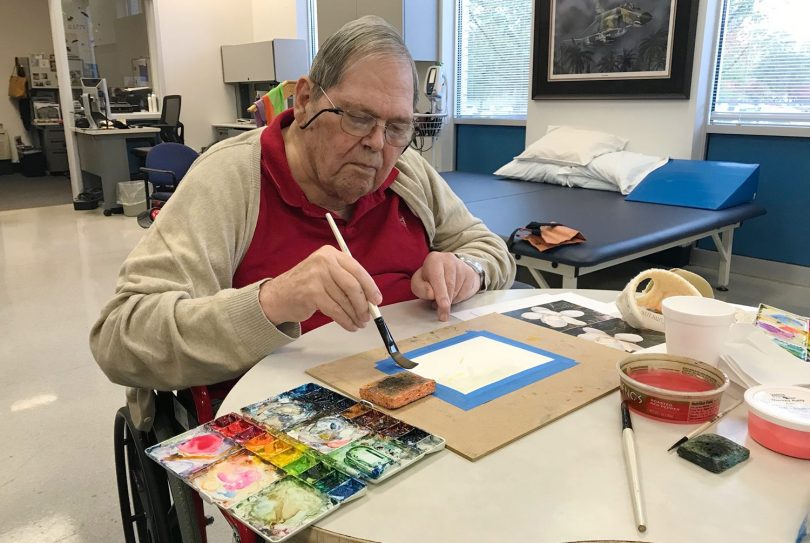 He may have served in the Navy during the Vietnam War era, but the battle that retired anesthesiologist Dr. Robert S. Crumrine can't seem to forget is the one he fought against infant and child mortality.
"I got tired of children dying following surgery. It goes back to the fact that you can't treat babies like little adults," said the 83-year-old Georgia War Veterans Nursing Home resident, recounting his early career.
Crumrine served in the Medical Corps of the U.S. Naval Reserve from 1963-65. As chief of pediatrics in the Dependents Clinic and Dispensary in Little Creek, Virginia, the former lieutenant estimates that he cared for more than 300 babies and children a month during that time.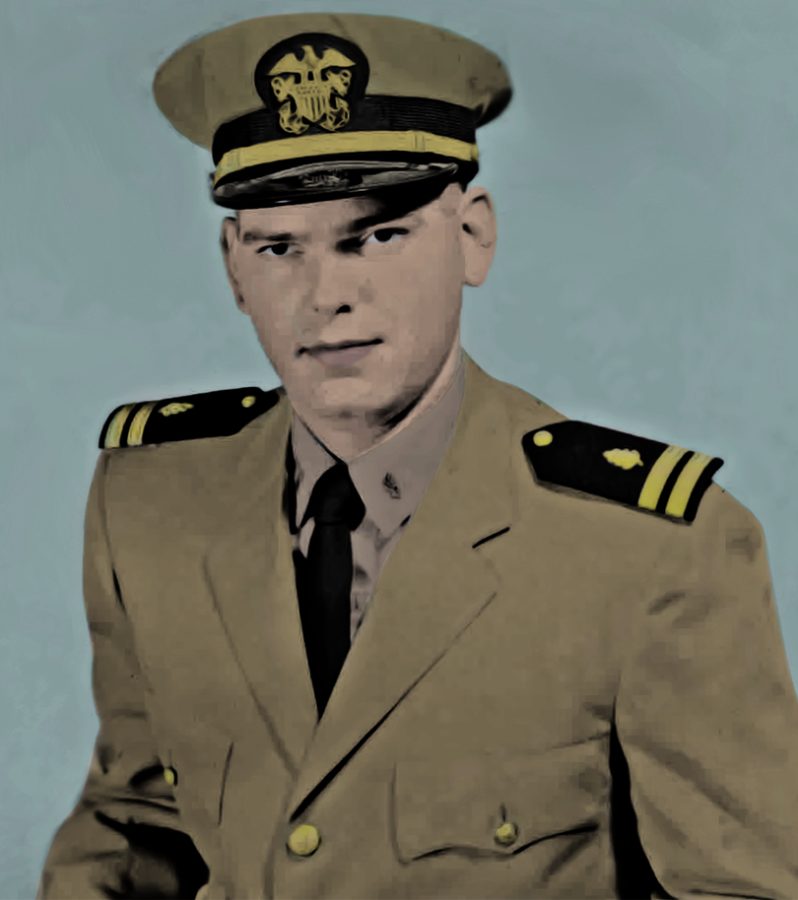 "I took care of the sailors' babies, and I always examined the children as the mom held them on her lap," Crumrine said, recognizing early on that pediatric patients require a different approach than their parents.
After leaving the Navy, Crumrine completed a pediatric residency and an anesthesia residency at the University of Rochester, since he already had experience working with babies and children. That's when he was confronted with a life-threatening issue.
Many surgeons were using adult-sized equipment for operations on babies and children, he explained.
"They used to do tracheostomies, which was a disaster really, the tracheostomy tubes were not the right size," Crumrine lamented. "They didn't have the wherewithal to keep them on the appropriate ventilator support."
Furthermore, the ventilator settings were not adapted to the mechanical and physiological properties of pediatric lungs, according to studies at the time. As a result, airways were compromised and babies were dying.
"They just ran out of steam essentially," said Crumrine. "I got tired of children dying because they couldn't breathe. And I thought, 'There ought to be some way to fix that.'"
He and other pioneering anesthesiologists remedied the problem with endotracheal tubes, he said.
"The idea is that you can't treat babies like little adults," he reiterated.
"My husband had good ideas in how to care for children," said Patricia Crumrine, his wife of 57 years. "He was one of the first 50 pediatric anesthesiologists in the country."
In her husband's early years as a pediatrician and anesthesiologist, Patricia said things were different than they are today.
"In the halls you didn't see murals or animals and fun things for children," she said. But in time, hospitals became more aware of making children comfortable."
For example, she reminded her husband that he instituted the "play lady" program in Rochester.
"Yes. Child Life," said Crumrine, "though the concept actually started at Boston Children's."
"Yes, but they didn't have one in Rochester until you got there," his wife reminded him.
"One of the things that I did was let parents go back to the recovery room," said Crumrine, which was not a common practice at the time. It would be hard to imagine separating children from their parents during this crucial time today.
"The other thing that's interesting … I don't know what hospital I was in … but we put footprints on the ceiling going into the operating room and footprints leading out."
The doctors wanted the kids to know they would be coming out, he said.
"The whole idea was to make it less scary."
Another way he put children at ease was with his surgical cap.
"Yours had Winnie the Pooh on it," Patricia  said. She also brought up the introduction of flavored anesthesia for children, another kid-friendly intervention that Crumrine adopted early on.
"We put flavored oil that smelled like mint around the inside of the mask," he recalled. "We had vanilla, strawberry and bubble gum, too."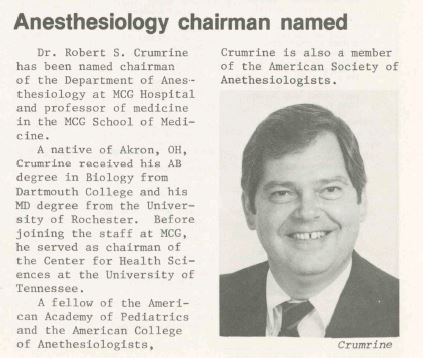 Dr. Crumrine went on to share tools of the trade and learn new ones at Case Western Reserve University and its Rainbow Babies and Children's Hospital in Cleveland, Ohio, and Le Bonheur Children's Hospital at the University of Tennessee in Memphis, before joining the Medical College of Georgia in 1985 as chair of Anesthesiology.
During his tenure at MCG, Dr. Crumrine received the Margaret B. DeVore Residents' Choice Award from the Anesthesiology Department in 1992, and he helped establish the certified nurse anesthetist (CRNA) program at the College of Nursing in 1995.
The pediatric specialist was also among the teams that planned the building and construction of the Children's Hospital of Georgia, which turns 20 this year.
"It's just a magnificent hospital," said Crumrine. "Dr. Charlie Howell gets a lot of credit for that."
He also lauds the late Pat Sodomka, who was a national and international leader of the Patient- and Family-Centered Care movement. PFCC means involving patients and families in their health care decisions, and Children's Hospital of Georgia was built for kids and with their input.
Crumrine said planners wanted to make the Children's Hospital look and feel less frightening than an adult hospital. The dinosaurs and technology design scheme make it attractive to kids.
A feature in perioperative medicine is that children who are about to have surgery get to select a toy from a special stash before going in the operating room, Crumrine said.
This practice continues today, with about 3,000 toys being given to pediatric surgery patients each year. In addition, patients may choose from 15 different flavors of anesthesia, or "sleepy medicine," and they can be wheeled around the Children's Hospital in a red wagon rather than a wheelchair.
"It's quite a facility," said Crumrine, who retired in 1999, just three months after the hospital officially opened.
The MCG professor emeritus and Anesthesiology chair emeritus was presented with the Crawford W. Long Award by the Georgia Society of Anesthesiologists in 2007. Crumrine presided over the Georgia Society of Anesthesiologists in 1996 and was instrumental in establishing its headquarters, structure and services. The Crawford W. Long Award is the highest honor that GSA bestows to physicians who have made exceptional contributions to the Society in the tradition of service as exemplified by the life and medical practice of Crawford W. Long, a Georgia doctor and the originator of medical use anesthesia.
In addition, the MCG Department of Anesthesiology created an award in his honor. Each year, the department recognizes first-year residents who exemplify the characteristics of an anesthesiologist with the Robert S. Crumrine Award.
In January, Crumrine moved into the Georgia War Veterans Nursing Home, a skilled nursing facility that provides continuous professional nursing care to veterans of Georgia who have served in the armed forces during war time. The home is owned and funded by the Georgia Department of Veterans Service and operated through an interagency agreement with Augusta University Health. Because of this association, Georgia War Veterans Nursing Home is considered a leader in the area of geriatric educational training for Augusta University.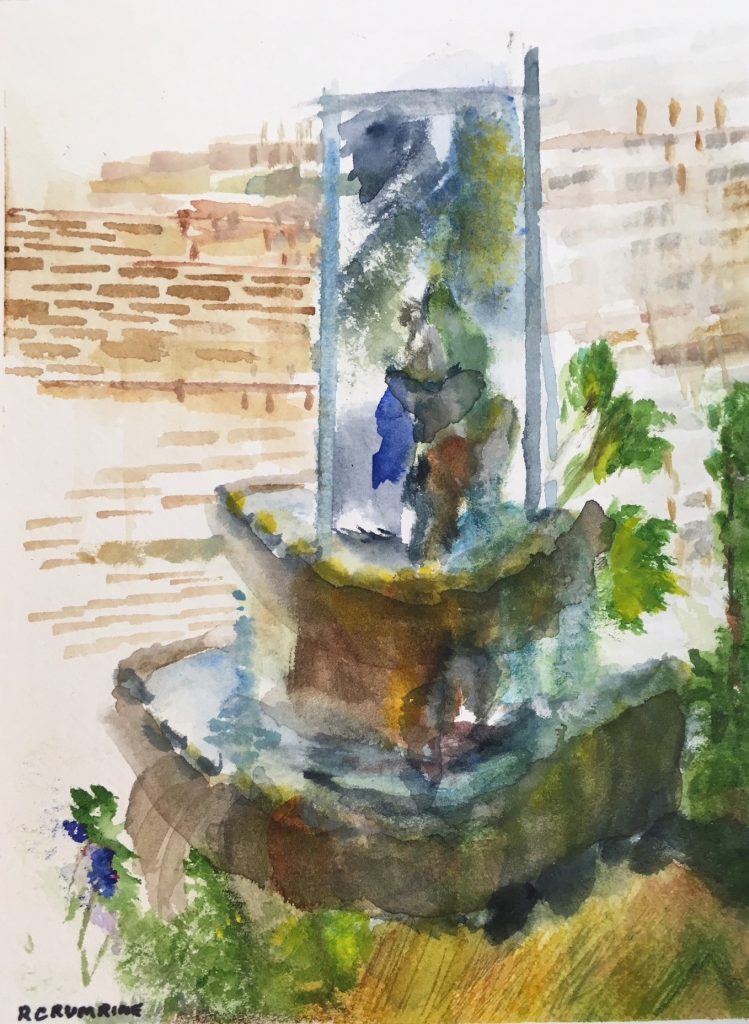 Crumrine is "quite the professor still," said Laurie Cordaro, director of Occupational Therapy at Georgia War. "He interacts with palliative care medical students and occupational therapy students while he's exercising or painting," she said.
Cordaro said Crumrine was pleasantly surprised to meet Caroline Cain from the College of Allied Health Sciences and to learn that she is the daughter of one of his past anesthesia residents.
"Laurie and the occupational therapists here are spectacular, as are the physical therapists. I think that's the best thing about Georgia War," said Crumrine, who has developed a talent in painting with watercolors.
"He gets plenty of attention from both therapies, and the activities here are wonderful," said Patricia, who spends about half of each day with her husband at Georgia War. She said that the care at Georgia War is great as are the teams from the medical school and the dental school.
"And while I would hate to see three white coats coming toward me, he perks up," said Patricia C. "He likes to interview each one — 'What year are you in medical school?' 'Where are you going for your residency?'"
Perhaps that's because even in his 80s, the professor and retired physician has wisdom to share.
"He truly is passing on his knowledge to the next generations of medical and allied health personnel, and is so very approachable," Cordaro said.