Zairya West has been a dominant force on the basketball court.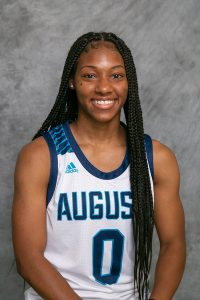 She was born in Raleigh, North Carolina, and helped Millbrook High School win a state championship in 2015-16. She was named defensive player of the year as a senior.
West joined the Jaguars women's basketball program for the 2019-20 season as a junior transfer from Norfolk State University. In her junior year, she started 18 games for the Jaguars and led her team in scoring averaging 10.8 points. She also shot 36.4% from the 3-point line for the season.
West, 22, is now a graduate student in sociology at the Pamplin College of Arts, Humanities, and Social Sciences. She is working on becoming a school counselor.
"As a first-semester graduate student in the school counseling program, the hope and plan is to become a school counselor helping high school students," she said. "I have a passion for helping children and I want to help make a difference in students' lives."
West described her move from Raleigh to Augusta as easy. She also said the Augusta University community has been both encouraging and supportive.
"Making the transition from Raleigh to Augusta has not been a difficult one," she said. "Raleigh is a little faster pace, but I also enjoy the slower life down here. I always wanted to go to school out of North Carolina, so this has been a learning experience for me that I have embraced. Augusta University and the surrounding communities are very supportive, especially when it comes to events being held by the university as well as sporting events."
The Jags played their first two games of the new season Nov. 12-13 against Southern Wesleyan University (South Carolina) and Barton College in the Peach Belt Conference/Conference Carolinas Crossover.
In the 75-50 win over Southern Wesleyan University, West played 26 minutes and scored 13 points. Against Barton College on Nov. 13, she played 25 minutes and scored seven points in the Jags' 83-61 loss. West is looking forward to the results the team will produce this season.
"I am excited about what we will accomplish as a team this year," she said. "The new pieces that we have brought on this year have helped to fill the gaps, and along with that, we all complement each other's game. I see our potential early on and I can see how successful we can be once everything falls into place."
West is a veteran member of the team and is looking to share her knowledge with her teammates.
"My personal goals for the season involve being a more vocal and consistent leader, improving my defense to become a better defensive stopper, as well as being the teammate that can be relied upon to score the ball," West said.
"Being a veteran member of the team allows me to be able to pass the knowledge on to the younger members of the team in regards to college basketball as a whole, or specifically to our program and how to be successful. As a veteran, it is my responsibility to lead by example and show my teammates what to do to make us successful as a team. It is my hope that once I am no longer a part of the team, what I have showed and poured into my teammates will continue on into the upcoming seasons."