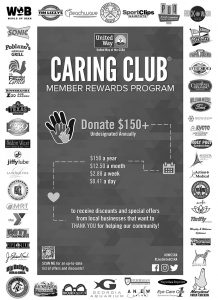 Augusta University and the United Way will celebrate Giving Tuesday on Nov. 28. United Way Campaign Committee members will be stationed from 11 a.m. to 2 p.m. in the following locations to accept United Way Pledges:
Children's Hospital of Georgia lobby
Harrison Education Commons lobby
Terrace Dining
JSAC
Annex building
Any donor who makes an annual undesignated donation of at least $150 a year ($12.50 per month) will become a member of the Caring Club and be eligible for various discounts from about 50 participating CSRA businesses.
Last year, more than 600 of our own employees were helped through United Way and its partner agencies, so your contributions make a difference right here at home!
For more information, please contact Laura Marschalk at 721-8175  or Angel Lovett at 721-6917.
Thanks in advance for your support!