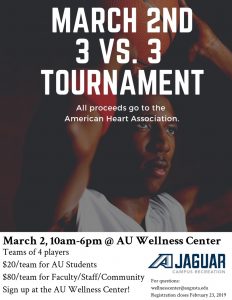 The annual 3 on 3 Tournament will be here before you know it. It will take place from 10 a.m. to 6 p.m. on March 2 in the Wellness Center on the Health Sciences Campus.
For AU students, teams are $20 and for faculty, staff and the community teams are $80. All proceeds raised will go to the American Heart Association.
Sign up at the AU Wellness Center.
Registration ends on Feb. 23. For questions, contact the Wellness Center or call 706-721-6800.