Augusta University student-athletes are benefiting from some cuddles and friendly energy as they bond with the department's therapy dog, Loch.
Loch joined the athletics department in 2019 to help student-athletes deal with the mental, physical and emotional challenges that come with playing competitive sports.
"At the 2019 NCAA Division II regional game hosted by Queens University, they had a therapy dog, and I had the idea that we should get one of our own," said Lisa Cummins, head athletic trainer for the Jaguars. "It was appropriate because COVID-19 hit soon after, and he's been a big help as far as athletes coming in that need a mental health break."
Loch doesn't just have a big impact on the AU athletes, but he also connects with opposing athletes.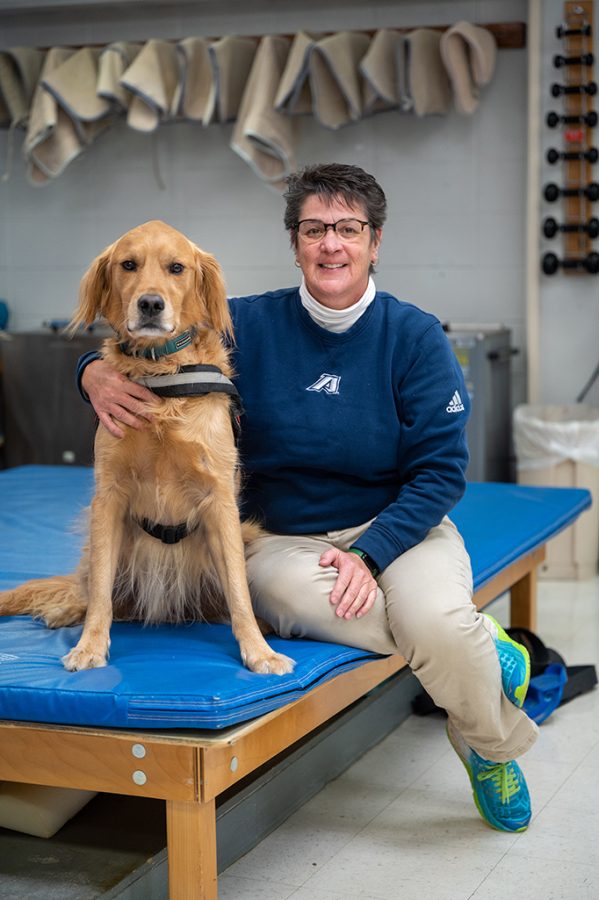 "We have visiting teams that come in just to see him as well," Cummins said. "He's lying on the floor with visiting teams' athletes while they stretch, and he just uplifts everybody's spirits."
Cummins shared an example of how Loch has cheered up others.
"A couple of years ago, we had a student come in and he was sitting on one of our tables," she said. "We could tell that he was upset, and Loch got off the table and put his head on the kid's knee. The kid talked to us about his injury while he was petting Loch, so it was interesting how Loch reacted when he knew the kid was upset."
Loch is adept at comforting others, and Cummins said the average day for him consists of activities such as running, playing fetch and hanging out at Christenberry Fieldhouse with coaches and student-athletes.
Shelbie Summerlin, a sophomore softball player, is one of those student-athletes who has a special relationship with Loch. She talked about how Loch has helped her get through the struggles she has faced.
"In the fall of 2021, I was diagnosed with compartment syndrome (which occurs when the pressure within a compartment increases, restricting blood flow and potentially damaging muscles and nerves), and it took a while to get used to not being able to do the things I was used to doing," Summerlin said.
"I was having a tough time with that but seeing Loch almost every day cheered me up. He knows when you're down or upset, so he'll just come lay his head on you and it calms you down."
Abigail Breeden, a sophomore volleyball player, also shared about her connection with Loch.
"My relationship with Loch is similar to most other athletes at AU," Breeden said. "He's always just as excited to see me as I am him, and he does something that we call the 'golden retriever hug' where he'll walk over to you if you're sitting down and put his head over your leg and wag his tail for as long as you stay there. It always improves my mood."
Breeden also said it's a relief to have Loch as a therapy dog for the athletics department.
"I think Loch adds a lot of positives to the AU athletic department," she said. "He makes every athlete feel loved and is a friend to anyone who comes into the training room, even athletes from other teams. He's just a sweet presence to have in the training room and to see after a long day or tough practice."
Someone who has also grown attached to Loch is Alexis Diaz-Infante, a senior volleyball player, and she echoed the same sentiments about the love and comfort that Loch brings to those he encounters.
"It's so nice to walk in and see a therapy dog," Alexis said.
"It's super comforting that if you're having a bad day, or a rough practice, or you're tired, you get this adorable dog who is so welcoming and nice. I think he provides an air of calmness to us athletes."