In Augusta University's top-ranked Master of Public Administration program, students can use their public administration skills to make measurable community impact long before they graduate.
Jenny Gilmore, an MPA student, recently wrote a grant as part of her MPA classwork that won nearly $15,000 for Helping Hands, Inc., an Aiken-based nonprofit. Among other things, the organization serves as an emergency home for children who have experienced abuse, abandonment or neglect.
The grant, totaling $14,850, is funded by the Community Foundation for the Central Savannah River Area, whose annual Community Grants program has awarded over 865 grants totaling more than $11.2 million to local nonprofits. For the 2022 awards, Helping Hands is one of the 50 local nonprofits that received funding.
The Community Grants program is long supported by the generosity of the Masters Tournament, as well as other donors throughout the region.
The MPA program's grant-writing course is taught by Dr. Kimberly Gray, adjunct professor and director of assessment and strategic initiatives for the Pamplin College of Arts, Humanities and Social Sciences. She has taught the class for 15 years, and this is not the first time one of her student's grants has been funded by the Community Foundation.
"When I give the students the assignment, they're kind of scared, because they have to contact the nonprofit themselves and it can be a lot of work. But in the end, they're normally thankful for the experience, because they have learned a skill, and the only way to improve your grant writing is through practice," said Gray.
"It's my favorite class to teach. I get so excited when I get that email from students saying they got funded," she continued.
"That's why I enjoy grant writing. It's stressful and a lot of work, but in the end if you get funded, it's so worth it. Students can then include this skill on their resume."
Gilmore originally did the grant work as a final project for Gray's class, but her mentor Carmen Landy — the CEO of Helping Hands and an alumna of Augusta's MPA program herself — encouraged her to go all the way, and prepare the grant for formal submission. The Community Grants application opens each summer and remains open until mid to late August.
Landy knew from personal experience that Gray's class would give Gilmore the tools she needed to submit a successful proposal.
"There are a lot of grant-writing classes that are like, 'follow directions'— real basic stuff," said Landy.
"But Dr. Gray gives you a hands-on exercise that gives you great feedback and puts you in a real-world experience. I think that's one of the hallmarks of the MPA program: It's practical. That program is focused on giving you stuff that you can use today."
Reflecting on the grant win, Gilmore is proud she could merge two of her passions — writing and advocating for children — into one project.
"I've always been a writer, but I never thought it would truly make a difference in the world. I'm so thrilled to have my passion for words feed the good in our local community," she said.
Serving as representatives for Helping Hands, Gilmore and Landy were invited to the Community Foundation's recent press conference that announced the 2022 grant winners.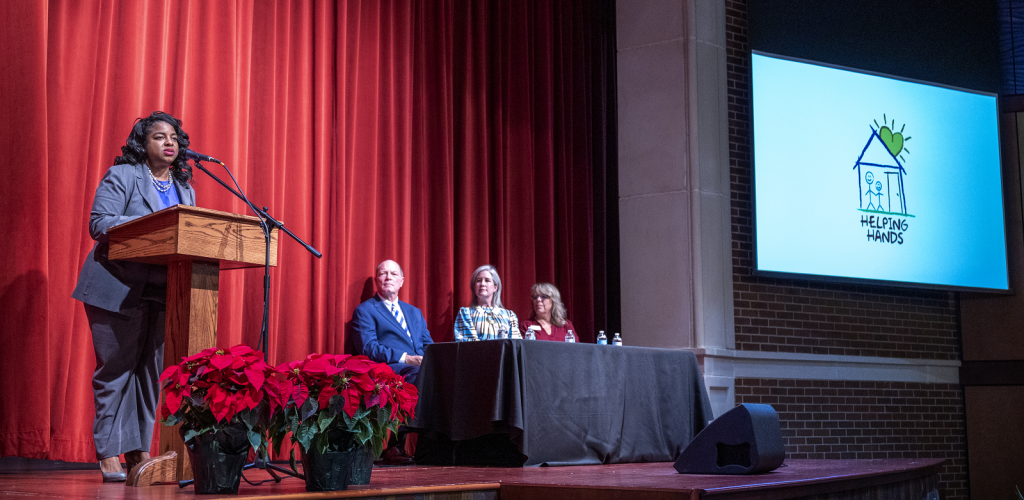 The $14,850 the organization received will be used to support 19 participants in
Level Up
, the organization's job-readiness program for Medicaid-eligible youths, which begins in January.
Level Up is a two-part program, where January through May, participants meet with facilitators to receive instruction on business etiquette, interview skills, resume writing, career exploration, college selection, financial aid for post-secondary education, problem solving in the workplace, and the impact of stress on physical and mental health.
In June, participants receive subsidized work experience at a local business, nonprofit or government office. Students receive a small stipend for their participation in the program, but it makes a significant impact, according to Landy.
"The economic impact of $150 a week in the house of a family whose annual income is $15,000 to $16,000 is tremendous. These young people are taking the burden of financing a lot of things off of their parents over the summer just by having this little part-time job," Landy said.
"If your parent is making minimum wage or 10 bucks an hour, that's $20,000 a year. And you're talking about this young person bringing in $1,500 over the course of a year in stipends and summer work experience. That's pretty cool. And in the end, they wind up with something to put on a resume."
Participants are more likely to get and keep an unsubsidized job after participating in the Level Up program, according to Helping Hands.
"Studies show that early work experience and training for youth can result in less unemployment later in life and can increase career advancement. Another study indicates that every 16-year-old that is unemployed costs taxpayers up to an additional $250,000 over their lifetime," said Gilmore.
"Also, evidence provided by the U.S. Office of Adolescent Health shows that youth who are enrolled in school and participating in other learning programs in out-of-school times are less likely to become parents. Level Up works in tandem with our other research-based programs to help enrich and educate our working-age youth towards better employment readiness and opportunities."
Gilmore is forever thankful to the MPA program for introducing her to Landy. The two met at the MPA program's annual career panel event, which Landy is regularly invited to speak on as a successful alumna. Recognizing Gilmore's interest in nonprofits, Dr. William Hatcher introduced the two and arranged a formal mentorship in early 2020.
To Gilmore, working with Helping Hands was a perfect fit. Growing up in New Ellenton, South Carolina, she was raised in a single-parent home on a single-parent income, and understands the impact of programs like Level Up.
Working with Landy and earning this grant funding has given her the courage to trust — and to volunteer — her talents.
"Everyone has a skill, even if they're not using it professionally," Gilmore said.
"Whether you're in construction or you're a writer or you're an artist, use it for good in your local community. Because you have that skill, and our community needs it."