When a group of poets gathers to read their work for the show, The Catacomb and Chrysalis of Poetry, as part of the Westobou festival, the audience might not realize many of the poets have strong ties to Augusta University.
"There are poets being produced at Augusta University," said poet James Aaron Snow, the coordinator and moderator of the show in the Westobou Gallery on Saturday, Oct. 5. "There are poets who have graduated from here and there are poets who are on staff such as Professor Anna Harris-Parker, who is an author of the recently published chapbook, Dress. So, there's a lot of poets connected to Augusta University."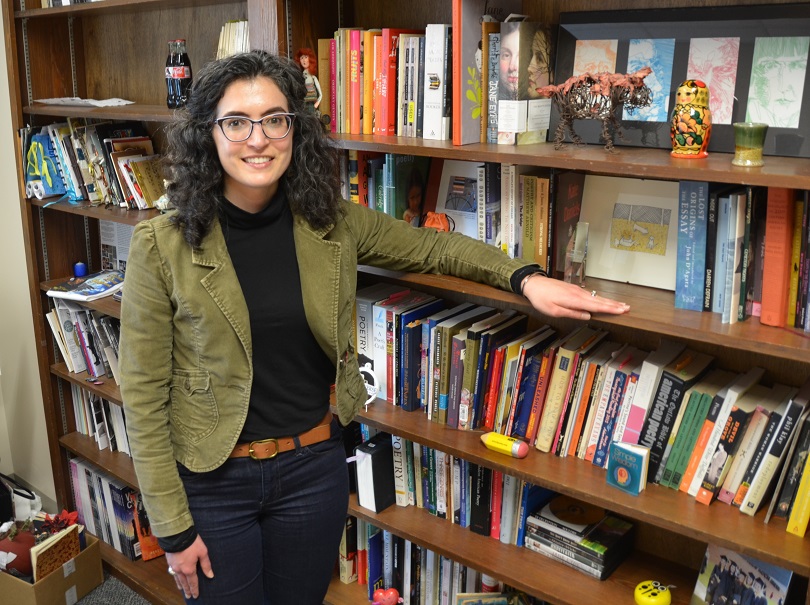 Snow, who is a non-traditional student in Augusta University's social work program, was honored when Westobou organizers asked him if he would be interested in coordinating this event as part of the festival to showcase local poets.
"They gave me free rein in organizing this gathering," Snow said. "They just gave me the timeframe and the date. The rest is total freedom, so this is going to be an event to remember. And it's free. All you have to do is just walk in the door. You don't have to buy anything. Just walk in the door."
Writing poetry to be read
During the event, six poets will have approximately 20-minute slots to present their work to the audience, Snow said.
"We are going to have poetry of all different styles and people of different ages coming out," he said. "These are extremely talented poets and published poets we are talking about here. Many of them have ties to Augusta University. And my hope is that, maybe if others see it, then they'll ask, 'Who else is writing that we don't know about?'"
Snow, who is also pursuing a minor in creative writing at Augusta University, said his love for poetry began in high school growing up in Warner Robins, Georgia.
"It actually began as a joke," Snow said, smiling. "I had been studying poetry that semester and I was sitting outside this classroom and the door was locked. So I literally wrote a poem called, The Door is Locked, and from there I just kept writing."
In poetry, no subject is taboo and there is freedom to express emotions that are often difficult to communicate, he said.
"I wrote about everything from Sloppy Joes to heartbreak," Snow said, laughing. "I just never stopped writing. Of course, my poet voice has evolved a lot over time, but I love it. I write to be read."
The power to change lives
As he was putting together the Westobou show, Snow said he reached out to poets with a similar passion for writing, such as Harris-Parker and Augusta University alumna Leah Smith.
Known by the stage name TheActivistArtist, Smith graduated with a degree in English and creative writing from Augusta University in 2014. She has released two collections of poetry, Milledgeville Uncensored and (…Pleroma), as well as a full-length album called Fire2Feelings.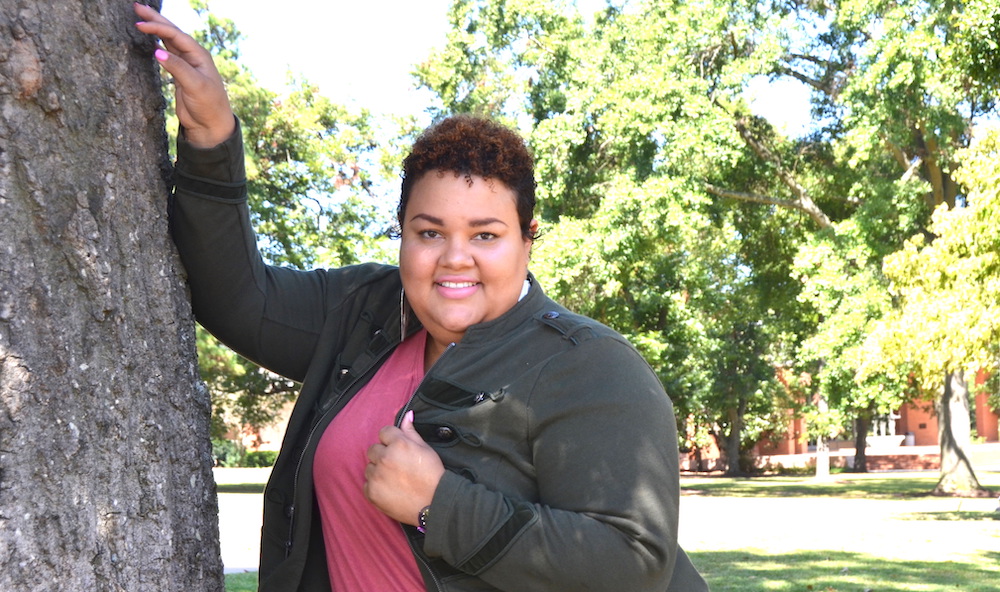 When Smith reads her poetry, she commands the audience's attention with her powerful words.
"It's funny. I don't like to be in crowds, but I love people," Smith said. "So, I love to read my poetry because I believe, in this existence, we are all just feeling our way through life and we are just trying to do what makes breathing easier."
Over the years, Smith has learned that sharing her poetry with others has a tremendous impact on the audience, as well as herself.
"We have the power to change people's lives," Smith said. "It's in a word. It's in a smile. It's just in holding the door open for someone. People want to be heard. People want to be understood and people want to know that they are not alone. This is one way I connect with people."
When she reads her poetry, Smith lets an audience see her deepest emotions, ranging from tremendous love to devastating pain.
"I think I am a metaphysical poet in essence," she said. "I also like to weave in elements of Christianity. Those are my influences, but I also talk about real world experience. I speak from the perspective of a black woman who has lived a life."
The bond of poetry
Smith also has connections with many of the poets who will perform at the Westobou event, including Harris-Parker and Calvin W. Pennywell Jr., who graduated from Augusta University in 2014 with a bachelor's degree in creative writing.
"I was in school at Augusta University from 2010 to 2014 and I was a non-traditional student, as was Calvin. We actually graduated the same year," Smith said. "Anna (Harris-Parker) was our professor and it was her very first year here. So, the graduating class of 2014 was a very special class. There was a real bond there."
Smith also likes the fact that this Westobou event supports all forms of poetry, not just the popular form of spoken word poetry.
"I think having this many people from Augusta University will shed light on poetry that is written for the page because I think that gets lost in the spoken word community," Smith said. "I'm not knocking spoken word at all. It can be powerful. But you've got a lot of poets who are seriously talented on paper, but maybe don't feel comfortable with the performance aspect."
After all, spoken word performances can be a little intimidating, she said.
"Spoken word artists are intense," Smith said, laughing. "So, can you imagine being an introverted person who writes poetry and likes to go read being surrounded by all of this intense energy? That can scare poets away."
The Catacomb and Chrysalis of Poetry event will encourage writers to share their poems in a welcoming atmosphere, Smith said.
"I hope doing this will establish a platform for creative writers here at the university," Smith said. "People who want to come out and read their works and show who they are and show why what they do has value. Because it absolutely does have value."
Providing healing
Growing up in Thomson, Georgia, Pennywell said he has always had a passion for poetry.
"I have been doing poetry as long as I can remember," he said. "As a young boy, it started with just regular stories and I got interested in poetry around middle school. I was a huge introvert, so the only way I could communicate how I felt was through writing and, primarily, poetry."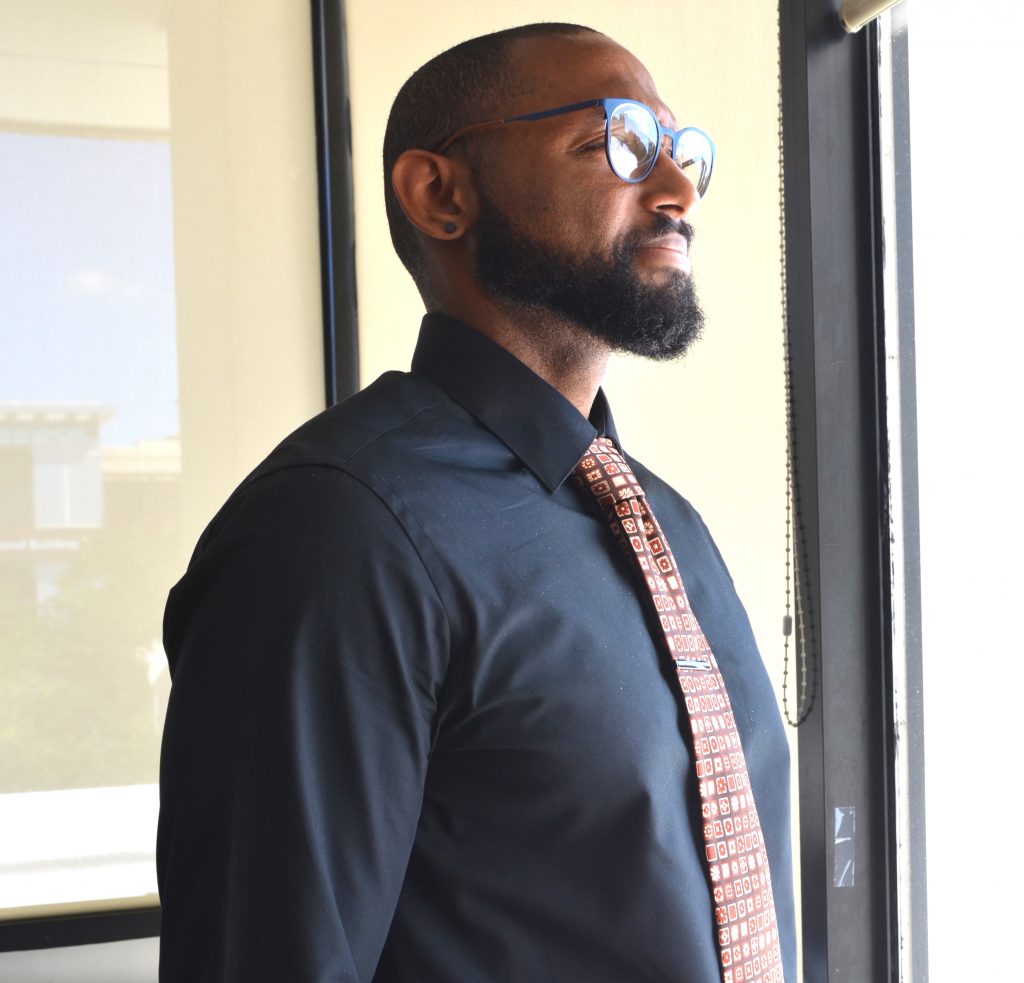 He continued writing poetry in high school and was inspired to take creative writing at Augusta University after an encounter with a high school English teacher.
"I had a literature teacher that used to look over my work and she would mark it with red ink. And every time I got my paper back, it was butchered," Pennywell said, shaking his head. "So, once I graduated from high school, I told myself if I am going to go to school for anything, it's going to be for poetry so I can strengthen my work."
Pennywell also supports the idea that this Westobou event features more "podium poets" because they often don't have as many local venues available to present their work.
"There is a difference between the spoken word poets and podium poets, as we call them. Podium poets read their work," Pennywell explained. "Obviously, there is a difference between the genres. One is more theatrical, but both of them are highly effective."
In general, Pennywell describes his poetry as a hybrid of the two forms.
"I can read my poetry as spoken word. The only thing is, I don't take the effort to memorize it," Pennywell said. "So, having a piece of paper in front of me is not only comforting, but it's an intimate exchange.
"There's just something about having that paper in your hand and reading from it. On that paper is a poem that you put so much time into and you're hoping that it reaches whoever listens. To me, my poetry is therapeutic with the intent of providing healing."
Poetry as a release
Madison Brown, a junior studying literature in Pamplin College of Arts, Humanities, and Social Sciences, is also one of the poets featured in the Westobou show. She has read her poems in the past at the Women's and Gender Studies Conference at Augusta University, as well as the Writers Showcase.
"I started out as a fiction writer, probably when I was around 13," said Brown, who is a native of Cordele, Georgia. "I kind of went through some mental health issues for a long time and I got into poetry that way because I was like, 'How in the world do I get out what I'm feeling?'"
Poetry was her release from some of those emotions, Brown said.
"The problem was, I didn't want to tell anybody, so I was just trying to find a way to write it down," Brown said. "That's how I got into poetry and I have been writing it ever since."
Initially, Brown wanted to major in poetry in college, but after taking a few classes, she changed her mind.
"Poetry as a major kind of made me not want to write anything," Brown said, laughing. "So I wanted to get back to a place of where it was something I really cared about. Having classes where I was writing poetry for a grade, took the fun out of it for me.
"That's why these kinds of opportunities to share my poems with an audience, no strings attached, means so much to me."
Her poetry comes to life when she reads it in front of an audience, Brown said.
"There is just something different when you read it and a line is really powerful than when you hear it and a line is really powerful," Brown said. "They are both amazing emotions, but when you hear it out loud, I think it hits a little closer to home. I love that feeling."
The Catacomb and Chrysalis of Poetry is a free event located at the Westobou Gallery on 1129 Broad St. The event is from noon – 2:30 p.m. Saturday, Oct. 5.