Dr. John Sutherland, the interim dean of the College of Science and Mathematics at Augusta University, has been named the college's dean.
Sutherland joined Augusta University in the summer of 2015 as the college's associate dean for research and graduate studies, after serving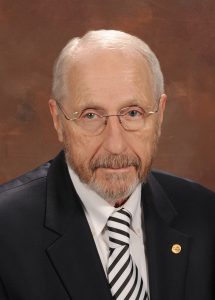 14 years at East Carolina University as professor and chair of the Department of Physics. He succeeds Dr. Rickey Hicks, who passed away on Jan. 7.
"Dr. Sutherland is a nationally recognized researcher and skilled academic leader. His wealth of knowledge and experience will help advance not only the vision of the college, but the university as a whole," said Dr. Gretchen Caughman, executive vice president for Academic Affairs and provost for Augusta University. "We are pleased to have such a distinguished scholar at the helm of this college. Under his leadership, the College of Science and Mathematics is well positioned to grow and advance."
Prior to his tenure at ECU, Sutherland taught and conducted research at several institutions, including Brookhaven National Laboratory, the University of California at Irvine and the Walter Reed Army Institute of Research.
He is an award-winning physicist who has focused his research on studies of biological molecules using ultraviolet light and the effects of ultraviolet and ionizing radiation on DNA and biological cells, including cells in human skin. He has been recognized for inventing IMAGESystem, an electronic camera used to measure DNA damage, and the Fluorescence Omnilyzer, a light detector that records the wavelength, excited-state lifetime, and polarization of light emitted by a fluorescent molecule.
Sutherland attended the Georgia Institute of Technology, where he earned his bachelor's, master's and doctoral degrees in physics; his dissertation research was performed at the Oak Ridge National Laboratory. After serving on active duty in the Army Medical Service Corps, he received a fellowship from the National Institutes of Health for postdoctoral research at the University of California, Berkeley.