Nearly half a century ago, the United States was roiled by racial strife as many fought in the Civil Rights Movement to ensure equal rights for African Americans.
The residue of racial tension from the decades-long struggle led to numerous protests across the country, including the 1970 riot in Augusta that left six dead.
Our nation's intervening years have been filled with steps forward and backward. Today, Augusta University history major Montrel Wingate is doing his part to ensure our nation continues to overcome social barriers to create a strong foundation for future generations.
"Although we have come a long way, our nation is still healing from wounds that remain evident today," said Wingate. "I believe we should always look at our past mistakes to avoid repeating any decisions that would hinder our growth as a society."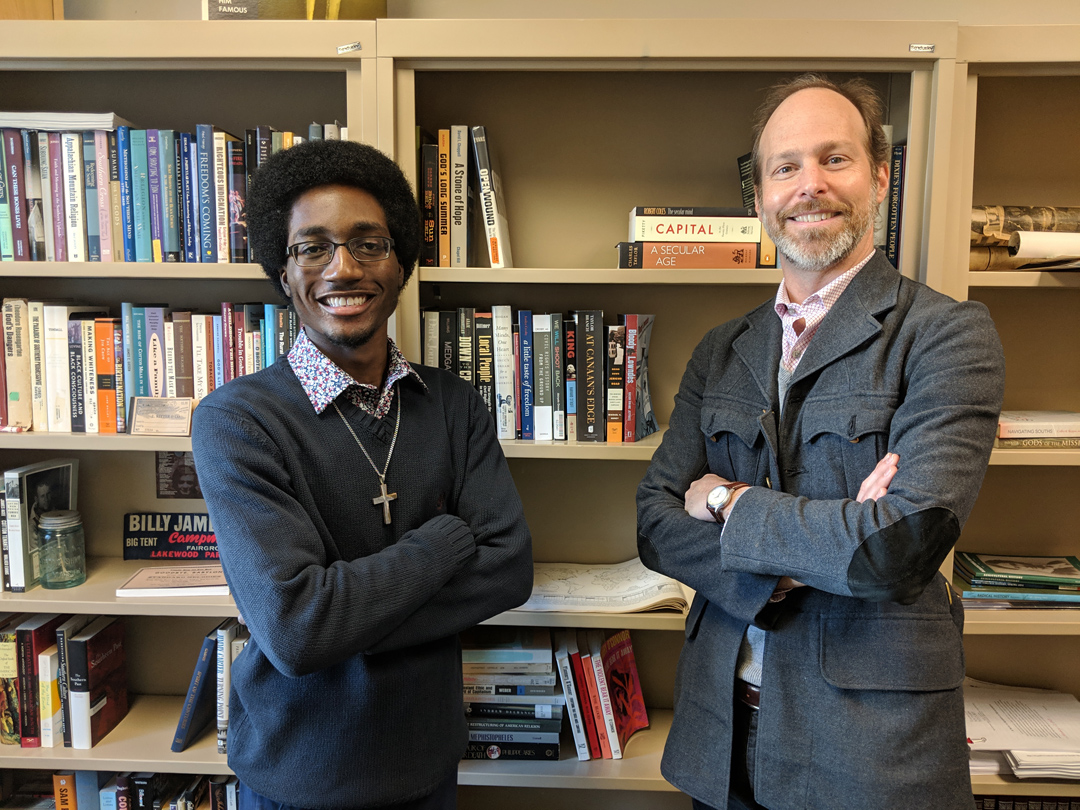 Despite his quiet demeanor, Wingate evidenced a passion for social justice that caught the attention of John Hayes, associate professor of history. Hayes says Wingate is a student who not only excels academically but is filled with potential to spark change in the community and on campus.
"Beneath Montrel's soft-spoken personality lies a fierce thoughtfulness and a commitment to social justice," said Hayes. "He is a careful thinker, and I am impressed by how he wrestles with the past while developing his voice to inspire positive change for the next generation."
Last summer, as part of a "Civil Rights in the Deep South " class, Hayes and a group of eight students embarked on a two-week tour of historical civil rights landmarks throughout the Deep South, including the iconic Edmund Pettus Bridge in Selma, Alabama, and the National Civil Rights Museum in Memphis, Tennessee. Wingate was one of those students and says the experience was life-changing.
"It's one thing to read about these stories online or in books, but I will never forget what I felt walking across the Pettus Bridge in Selma," said Wingate. "As we crossed the bridge in the blazing heat, I couldn't help but think about those brave men and women who crossed this bridge just like I did and how their act of courage helped reshape our nation."
As Wingate prepares to graduate in May, he says his academic journey at Augusta University is preparing him for law school. He hopes to practice either entertainment or civil rights law.
I could have gone to any other institution, but I am glad I started my journey at Augusta University," said Wingate. "Teachers like Dr. Hayes helped give me the foundation needed to not only discover my passion but the skills to help me be successful in my pursuit in having a career in law."
Wingate is a participant in the university's  Center for Undergraduate Research and Scholarship efforts, and he is currently working with Hayes on a study that focuses on uncovering the role of religion during the Civil Rights Movement in Augusta.
Wingate is from Waner Robins, Georgia, and a student in the Augusta University Honors Program. He serves as an ambassador for the Pamplin College of Arts, Humanities, and Social Sciences as well as a bass player for the Augusta University Gospel Choir.