Augusta University, with help from the Center for Instructional Innovation, is hosting its third annual student innovation competition, INNOVATE, from September through April. Registration is now open for student teams.
The theme of the 2021-22 competition is "Solving Community Needs," which aims to tap into student creativity and innovation to solve critical challenges facing communities. This year's competition has support from the Office of the President and the Office of the Provost.
For INNOVATE 2022, students can choose to tackle any community challenge, with the solution taking the form of a product or service. The goal of the competition is for all students and faculty, regardless of their area of academic interest, to come together to find creative, interdisciplinary solutions for the greater community.
Leadership for INNOVATE 2022 includes Dr. Vahé Heboyan, associate professor of health economics at the Medical College of Georgia and director of the Health and Behavioral Economics Research Lab; Scott Thorp, associate vice president of research and chair of the Department of Art and Design; and Lynsey Steinberg, board-certified medical illustrator and team member of the CII.
"INNOVATE is an opportunity for students to explore their passion and curiosity for innovation and creative ideas. Being a student is the time when each one of them has the luxury to be curious, experiment, explore, try, fail and succeed before graduating onto the next chapter in their lives," said Heboyan.
"We believe that INNOVATE provides the space and opportunity to gain a hands-on experience not available in traditional classrooms, and INNOVATE may help to find the next successful start-up entrepreneur!"
The theme of the competition changes every year. INNOVATE 2021 focused on COVID-19 response, and 2020 focused on a significant health care challenge: the colostomy bag.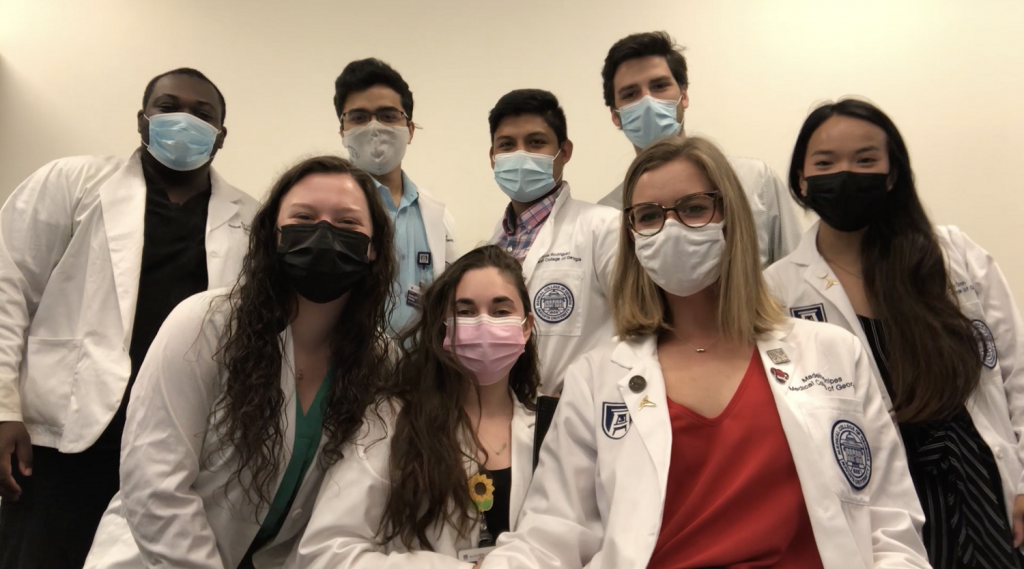 Steinberg has been impressed every year by students' continued passion and interest to make an impact beyond themselves. She reflected on the success of the 2020 competition and the student collaborations.
"Students wanted to help change the lives of 300,000 patients, like Emma, suffering from the problems of living with a colostomy bag. Their ideas and solutions were remarkable," said Steinberg.
"By developing a student pitch competition, we have been able to propel our students toward innovative mindsets through interdisciplinary collaboration to tackle real-world problems."
INNOVATE 2022 begins with three information sessions, which will be hosted from late fall 2021 through spring 2022. These sessions will focus on collaborative problem-solving, design thinking skills and impressing an audience, respectively.
The competition will culminate in April 2022 with "live pitch" presentations where teams will showcase their challenge and its innovative solution.
INNOVATE 2022 is open to all Augusta University students, including undergraduate, graduate and professional students. Student teams are encouraged to be interdisciplinary to foster collaboration across various colleges and fields of study. All teams must have an Augusta University faculty or professional staff member as a mentor and advisor.
Challenge solutions will be judged on the following criteria:
Creativity: The proposal is high-quality and the idea itself is like no other.
Viability: The solution to address the problem is potentially effective, i.e. not purely theoretical.
Sustainability: The concept has the potential for growth and impact.
Presentation: The team composes a compelling and persuasive concept that convinces the audience it's worth implementing.
Winning teams will be awarded as follows:
First place: $5,000
Second place: $3,500
Third place: $2,500
Honorable mention: $500
Faculty mentors to the three winning teams will also be awarded $1,000 each.
To learn more or register for INNOVATE, visit the competition's website. To inquire about being a speaker or faculty sponsor, email the CII.