A topological insulator is a material that is able to conduct electricity on the surface but insulates material underneath the surface.
This may sound like a standard definition or just a bunch of words to some, but to Kenny Stiwinter, topological insulators represent a combination of his two passions: programming and physics.
During summer 2017, these passions took Stiwinter to Illinois, the farthest he's ever traveled from home, to participate in a National Science Foundation funded Research Experience for Undergraduates program at Southern Illinois University.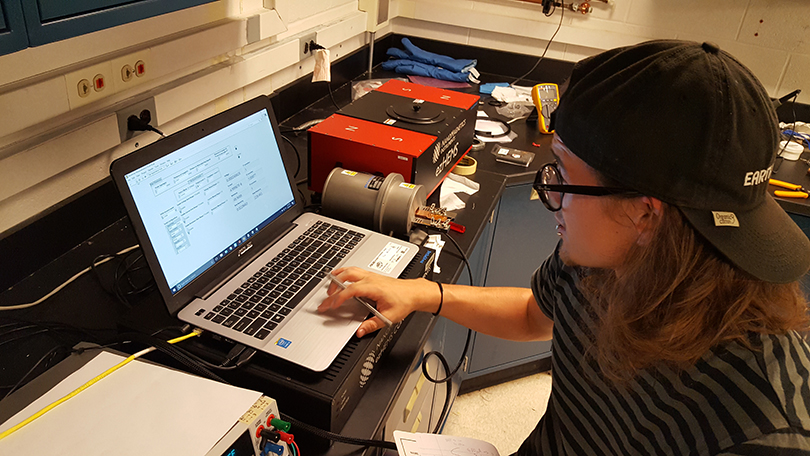 At Southern Illinois, Stiwinter researched the conductivity of topological insulators, and wrote a computer program that will automatically measure the resistance of regular materials, like metal.
"The insulators are very robust and have the ability to further computational technologies," Stiwinter said. "Because of their time symmetry protection, they're able to be resistant to change, and we're able to get the materials themselves to make transistors and make them smaller than we are able to today."
This is important because, according to Moore's Law, every couple years the power of computers increases and the number of transistors in a circuit also increases.  This could be one reason why people find themselves upgrading to a new cell phone every two years.
However, the Moore's Law has a limit, and this limit will be reached by 2020. At this time, transistors won't be able to get smaller. This will cause prices of computers and other devices to rise, according to Stiwinter. He believes topological insulators may be the solution.
"We need a new way to make smaller transistors for computers in order to keep prices down," he said. "Investing time and research in this field could make this a possibility."
Stiwinter enjoyed the opportunity that the NSF funded research afforded him.
"It was definitely a moment of freedom," he said. "You're able to let go of things that don't matter and focus on what you want to do with your life. It allowed me to get out of my comfort zone and grow in ways I wouldn't have been able to otherwise."
After arriving at Southern Illinois University, Stiwinter spent the summer conducting research and writing a computer program. He worked with Dr. Dipanjan Mazumdar, assistant professor of physics at SIU, in his novel materials and heterostructures research laboratory. Although the research experience was initially overwhelming, Stiwinter enjoyed being able to immerse himself in research.
"I got to meet graduate students which shed some light on how graduate school works and what I could be doing in the future," he said. "I got the opportunity to learn what 'big boy' research was about, and I learned more than I could have if I didn't have this opportunity."
Although Stiwinter is now back in Augusta, the program he wrote while at the research experience is still being used by researchers at Southern Illinois University. He may also have the opportunity to join researchers as a third or fourth author on research publications.
Stiwinter credits his success at the research experience, in part, to his education at Augusta University and his professors in the Department of Chemistry and Physics.
"The physics classes I took really helped prepare me for this experience," he said. "I had already taken quantum mechanics, and that helped me to understand the mathematics of insulators. Also, the whole physics department faculty is amazing. They help push you to do more than you think you're capable of. I doubt I would believe in myself as much as I do without the faculty and Dr. Datta. They really make you believe in yourself."
Stiwinter will present his research from Southern Illinois University at an upcoming Brown Bag Seminar. Learn more about the Department of Chemistry and Physics.