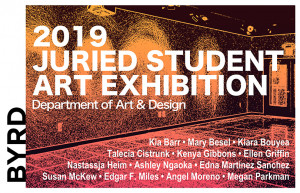 The 2019 Juried Student Art Exhibit opened March 14 with a reception and award ceremony. The exhibit, which will be open for two months, was juried by Julio Gonzalez, a contemporary artist based in Charlotte, NC.
The exhibit allows students the opportunity to experience the jurying process and gain firsthand exposure to the workings of the art world. This year's exhibit will showcase the works of students Kia Barr, Mary Besel, Kiara Bouyea, Talecia Cistrunk, Kenya Gibbons, Ellen Griffin, Nastassja Heim, Ashley Ngaoka, Edna Martinez Sanchez, Susan Mckew, Edgar F. Miles, Angel Moreno and Megan Parkman.
The exhibit is being showcased in the Mary S. Byrd Gallery in Washington Hall. It is open Monday – Friday, 10 a.m. – 4:30 p.m. For more information on the exhibit, please contact Shannon Morris.